UNICEF will continue to support the Government to tackle the remaining issues in the areas of health, nutrition, education, and child protection, but we will also address emerging challenges
"Scaling up parenting programmes requires the full integration of evidence-based intervention into the work standards of health, education and social protection systems, supported by multi-sectoral policy formulation, programming, coordination and financing. As the new UNICEF Representative, I'll focus on the implementation of the agreed measures and scaling up of the results in cooperation with the Government during its short tenure as it was announced" said Deyana Kostadinova, UNICEF Representative in Serbia in an exclusive interview for December issue of Diplomacy&Commerce magazine.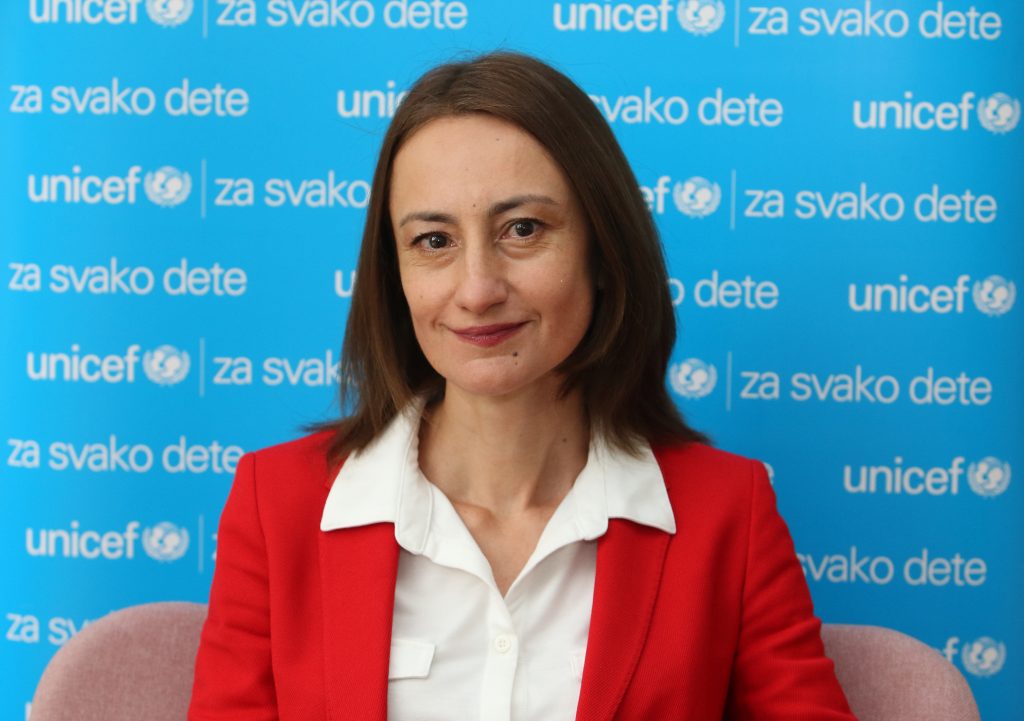 You have recently been appointed as the UNICEF Representative in Serbia. What are your priorities now and in the period ahead?
I've joined UNICEF in Serbia less than two months ago at the end of the implementation of the current Programme of Cooperation with the Government of the Republic of Serbia. It has contributed to achieving important results for children, as the latest MICS Survey has shown. Over the past five years, UNICEF, in line with its core mandate, focused on advancing the equity agenda. Equity means that no one is left behind, that we all work on reducing disparities, that all citizens, children and youth in particular, have fair opportunities to survive, grow and develop to their full potential.
In January 2021, a new Country Programme of Cooperation cycle will commence. Over the next five years, UNICEF will continue to support the Government to tackle the remaining issues in the areas of health, nutrition, education, and child protection, but we will also address emerging challenges. There will be a renewed emphasis on adolescents and young people, with a focus on skills building and entrepreneurship, mental health and participation. Special attention will also be paid to innovations and digitalization in education which have become even more crucial now in this new COVID reality. Climate change and environmental protection will be new areas of operation. Last, but not least, juvenile justice will remain a priority in the area of child protection.
---

"The situation of children in Serbia has improved in some very crucial areas over the past years"

---
World Children's Day was marked in November. Given the situation with COVID-19, what was the main message this year?
This year's World Children's Day was devoted to youth participation and young people who are especially affected by the COVID-19 pandemic. An entire generation of young people will live with the impacts of this health crisis in the future. Therefore, we enabled young people to come together, to tell us about their challenges, to offer solutions that will ease the pandemic's consequences, and to reimagine a world they want to live in. The Government, through the Ministry of Youth and Sports, recommitted to encourage young people's participation in volunteering and other forms of activism and integrate young people's positions into the recovery plan. Together with the Minister, we launched the volunteer platform Online Volunteers (Volonteri na mreži).
UNICEF has recently presented the results of the MICS 6 survey, which is the most comprehensive source of data on the current situation of women and children in Serbia. Can you tell us a bit more about the data?
The situation of children in Serbia has improved in some very crucial areas over the past years. For example, exclusive breastfeeding of children up to 6 months and preschool education attendance have increased. However, speaking about preschool education, less progress is observed for children living in the poorest households, Roma children and children living in South and East Serbia. It is important that these improvements continue to be prioritized so that all children, regardless of socio-economic status, geographic location or ethnicity have their rights fulfilled.
Inclusive action targeting the most socially excluded children has also yielded results. Figures on child mortality and immunisation of Roma children have significantly improved. However, in many cases, their situation is still far from the national average, and therefore the continuation and systemic implementation of inclusive measures that ensure every child thrives remain critical.
The MICS survey has also shown that there are areas of stagnation as well, such as violent disciplining of children and child marriage of Roma girls. Children living in the poorest households continue to lag behind their peers when compared across most indicators. For example, only half of children up to 5 years of age living in the poorest quintile have 3 or more books at home, compared to 90 percent of children from the wealthiest quintile. Therefore, we need to build on and accelerate the progress made in health, education, social protection and make the changes work for all children.
The Parents in the Spotlight conference was recently held. How important is it to develop supportive parenting, especially in today's circumstances?
Parents are the key architects of children's lives, shaping the future generation and society. When we invest wisely in parents and families, the next generation will pay that back through a lifetime of productivity and responsible citizenship. Global and massive evidence suggests that child services are most effective when they involve intensive parental support.
The impacts of COVID-19 on young children are less visible and risk being overlooked.  Child development, learning and play cannot be postponed. The first 1,000 days are the most crucial period of growth and development in a child's life. The crisis of care and learning generated by the pandemic, where parents became frontline responders, receives little attention and there is an urgent need to raise awareness among policy makers, including financial decision makers.
While families experience extreme vulnerabilities, they are also the greatest source of resilience for children. This is a crucial time for health promotion, in particular mental health promotion, to support the capacity and desires of caregivers to care for themselves and their children.
We have witnessed disruption of some essential services for children during the pandemic.  To help overcome this situation, UNICEF has been undertaking measures which have the potential for delivering much needed support to young children and their families in more cost-effective ways by taking advantage of technology (e.g. tele/video counselling when outreach and home visits were not possible, use of digital platforms, radio, television, social media to provide parents with information and support).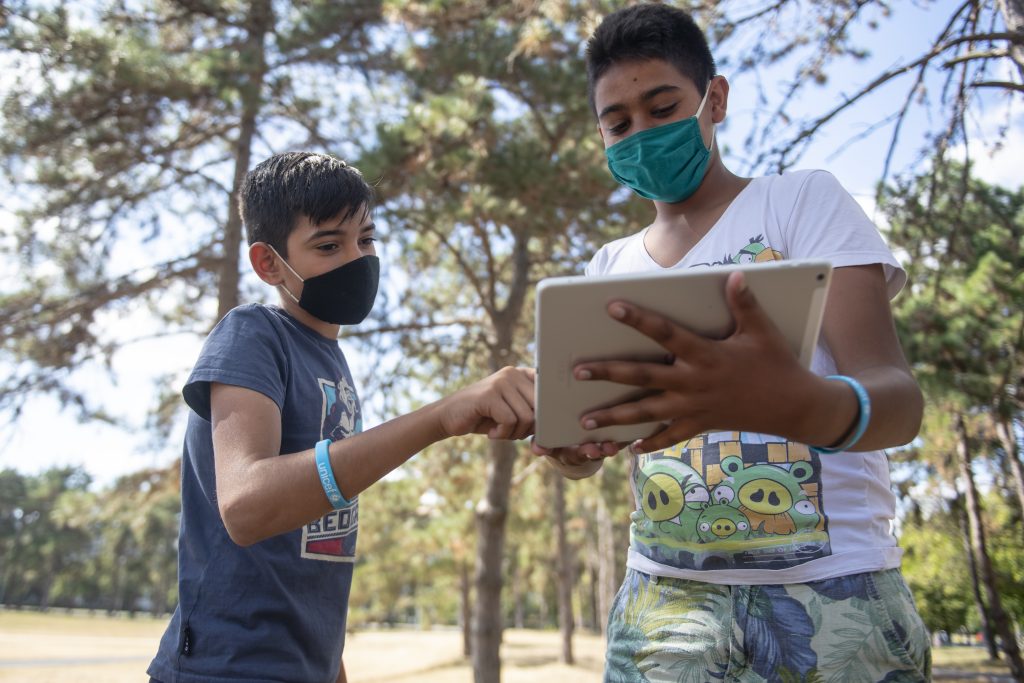 You have extended experience in the field of children`s right. How important is the spirit of community, especially in a crisis?
Whilst children, fortunately, seem to be less severely affected by the direct health impacts of COVID-19, the secondary impacts on children and families across the world of this rapidly escalating situation are unprecedented.  Already 1.6 billion children are out of school and housebound due to COVID-19 related school closures – a number rising daily.  The impact on families and caregivers is huge, with illness, isolation, fear and loss of livelihoods creating extremely challenging situations for many.  Already vulnerable children are more at risk of abuse, neglect or exploitation as the safety nets of school, social services and community are eroded, and vital caregivers fall ill or die.  Those already living in poverty will be pushed into even more dire straits as livelihoods collapse and economies suffer. In severely affected countries, health systems are already being pushed to breaking point whilst trying to cope with high numbers of people being infected.
The outbreak has also created a cascade of misinformation and fear that has spread even faster than the virus, further risking lives and damaging prevention efforts. New forms of cooperation, bold ideas and reforms are needed for policymakers, the business sector, and civil society to build a more resilient world and communities to restore confidence. It is important to invest in measures to meet the needs of people in emergencies, and especially to address the specific vulnerabilities of children and families. They may not know where to turn to for guidance, and it is crucial to strengthen information and awareness, as well as technical skills.
The most important lessons learned from this crisis is that we can gather together as a community to face the challenge together. And one of the strongest voices in this community is the voice of young people who want to shape the world they will live in.
---

"We work to protect uprooted children from exploitation and violence, especially those who are not accompanied by parents or caretakers"

---
How does UNICEF help children and young migrants stranded in Serbia?
Children are children, no matter who they are and where they come from. Every child must be protected, cared for and receive all the support and services needed to thrive.
In Serbia, UNICEF's response focuses on the overall wellbeing of all refugee and migrant children and adolescents. We work to protect uprooted children from exploitation and violence, especially those who are not accompanied by parents or caretakers; we support school administrations to enrol and ensure regular attendance of refugee and migrant children in Serbian schools; we work with local partners to promote non-formal education and psychosocial activities, and we provide technical support on nutrition and early childhood development to institutions and frontline workers.
UNICEF designs its emergency interventions to ultimate­ly strengthen national and local protection systems by working together with the government, local authorities and institutions at both central and municipal levels. The excellent cooperation with the Ministry of Education, Science and Technological Development resulted in significant achievements in enrolment of children on the move in pre-university education in Serbia.
What do you see as the biggest challenges for Serbia when it comes to caring for children and youth on the one hand, but also for parents, on the other?
The biggest challenges are related to the most vulnerable children, adolescents and their families living in poor households, Roma settlements, remote and rural areas and those with health problems, developmental delays and disabilities. Another group that deserves our efforts are children in detention centres and of those who are separated from their families and placed into residential care. The COVID-19 crisis is bringing an additional burden, as it could cause increased violence and worsening of mental health conditions due to increased stress levels. Over time, multiple vulnerabilities may also lead to increases in child labour, juvenile offending, child marriages.  All this results in an increased demand for social and child protection services.
All parents need support. Therefore, universal social services together with wider social support networks play an essential role. Still, some parents need more support than others due to multiple vulnerabilities. Support for families with children in the context of the pandemic has become increasingly important. For that reason, UNICEF is working in partnership with the government and non-government actors to further strengthen universal, and particularly specialized services and measures for the most vulnerable families with children. For instance, in partnership with the Working Group of the Ministry of Health for the Improvement of the Patronage Service and selected primary health centres, we are supporting the patronage service to develop quality ways of communicating with families via video or phone calls. Early childhood interventions teams in selected locations are continuously providing online or phone support to families with children with disabilities. We are also supporting Health Mediators to intensify their contacts with families living in Roma settlements through proactive phone calls, to help them in using health services in changed circumstances and provide them with information about COVID-19 prevention.
Finally, in the context of COVID-19, the biggest challenge is the deepening of the gap between the most excluded children and the national average in Serbia. If not addressed on time, this process could increase the inequalities and jeopardize the development of the society as a whole.
---

"I am impressed with the private sector response to the coronavirus pandemic in Serbia, despite the economic slowdown"

---
UNICEF's numerous initiatives since the onset of the coronavirus pandemic have been strongly supported by the private sector.  How would you assess the overall awareness in Serbia?
I am impressed with the private sector response to the coronavirus pandemic in Serbia. Despite the economic slowdown, the private sector, and particularly the business community, demonstrated a high level of solidarity and promptly responded to UNICEF's appeal. At the end of May this year, the private sector response to the pandemic in Serbia was ranked as the third best response globally. Thanks to this precious contribution we have secured significant support to the health system in Serbia.  The members of our Business Advisory Board played a leading role and demonstrated commitment to results for children. I hope that we'll keep this momentum and scale up the achievements overall children's policies.
---
Cooperation with institutions
Are you satisfied with UNICEF's cooperation with the Government of Serbia, institutions and state bodies, etc.?
UNICEF is committed to supporting the Government to achieve better results for every child in Serbia. We cooperate closely with the Government, our primary partner, at all levels.  Over the last decade, Serbia has made significant strides in closing a number of gaps in the realisation of child rights, such as in deinstitutionalisation and education. With further socio-economic development, but also the new situation posed by the COVID-19 pandemic, new challenges are emerging, such as the mental health of children and youth and an overarching concern about climate change, among others. We really need to jointly galvanise efforts and resources to ensure that the rights of all children in Serbia are met. We see as very important the roles of a vibrant civil society, socially engaged private sector, strong independent monitoring institutions and the media. Building a better world is a joint task.