Invitation for representatives of the diplomatic corps in Serbia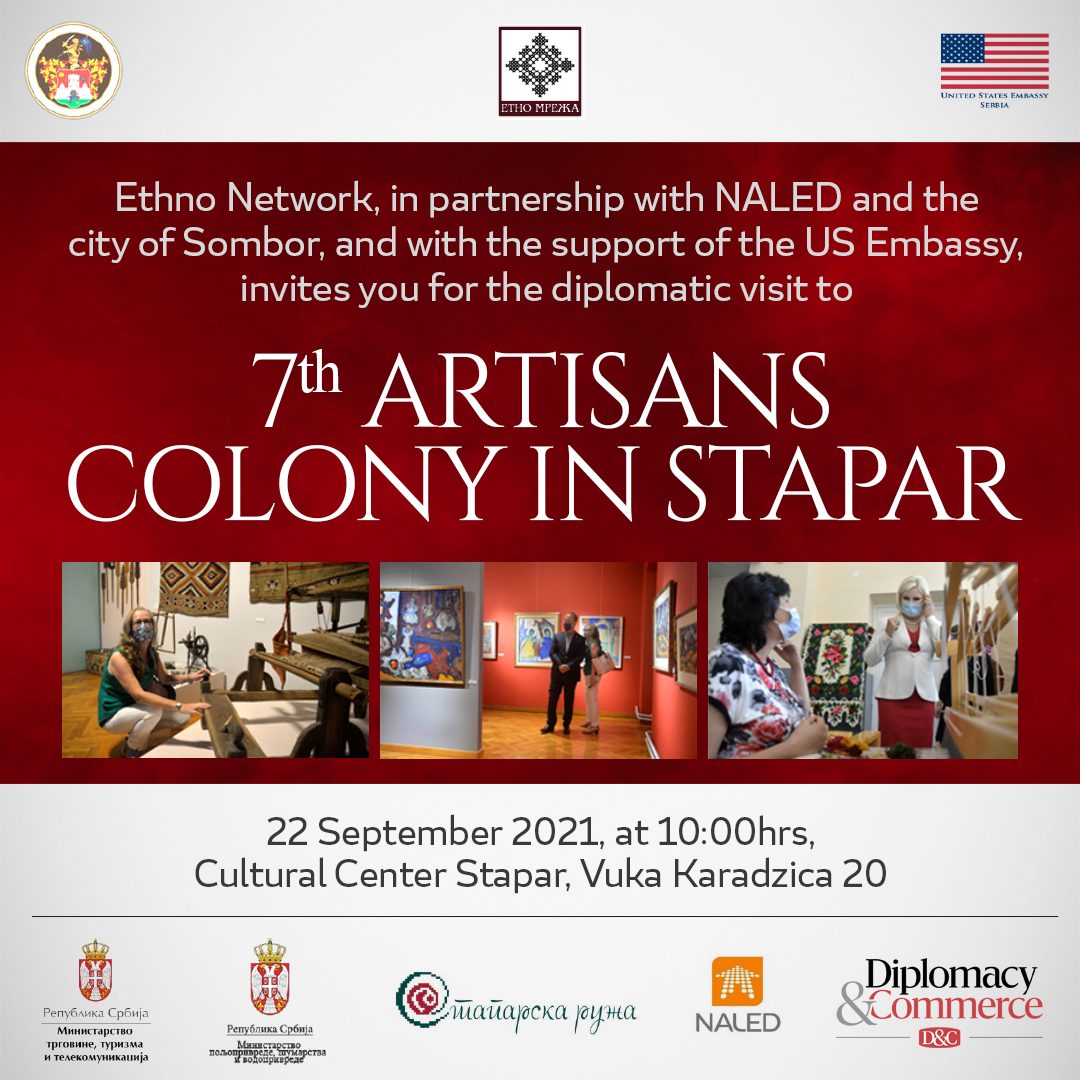 In partnership with NALED and the City of Sombor, and with the support of the US Embassy, Ethno Network would like to invite you to join the diplomatic visit to the 7TH ARTISANS' COLONY IN STAPAR 2021. The visit will take place on 22 September 2021, at 10:00hrs. The guests will gather at the Stapar Cultural Centre, 20, Vuka Karadzica Street, Stapar.
The event's hosts will welcome state and local officials, diplomats and media to enjoy the festive programme of the 7th Artisans' Colony on Wednesday, 22 September, and convey a message about the importance of preserving the cultural heritage and natural attractions of the Bačka Danube region.
With the participation of skilful weavers from all over Serbia, the colony creates a unique ecosystem for the promotion of weaving as a foundation for the preservation of traditional carpet weaving, in which organizers take great pride. They are also looking forward to the meeting in Sombor, the city of culture.
The guests will have the opportunity to visit the colony, talk to weavers and hosts, as well as taste local gastronomic brands. Then the guests will leave for Sombor, where a reception will be held in the Town Hall's ceremonial room, after which they will take a horse-drawn carriage ride to the town centre called Venac. After the ride, the guests are invited to tour the Sombor City Museum and get acquainted with the permanent exhibition of this regional museum centre. After the visit to the gallery dedicated to the renowned painter from Sombor, Milan Konjović, the guests will head to the Andrić fish restaurant, located on the bank of the Veliki Bački Canal, only a 10-minute drive away.
Representatives of the diplomatic corps who want to attend this unique event organized by the Ethno Network, NALED and the City of Sombor, with the support of the US Embassy, can register for the visit and get more information about it by sending an e-mail to philomena@belgradefvc.com or by calling +381 63 120 8624 and +381 63 1075 173.