Gebrüder Weiss, with around 6,000 employees, 150 of its own branches and an annual turnover of 1.28 billion euros (in 2015), is among Europe's leading transport and logistics companies. In 2015 the company significantly improved its position on the Serbian market. It was with this in mind that we spoke to Dragan Simović, CEO at Gebrüder Weiss in Serbia.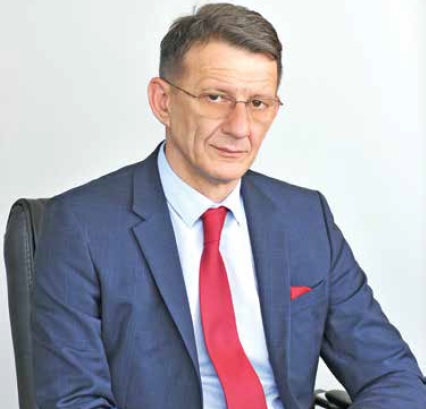 The company last year invested in a logistics centre in Dobanovci and you opened a branch office in Novi Sad. How significant are such projects, considering the fact that you are a leader in the field in which you do business?
— Gebrüder Weiss has invested eight million euros in the expansion and upgrading of facilities, in accordance with the latest technical standards. This year's campaign, under the slogan "We are where you are", states that we are closer to our clients. New projects that ensure greater competitiveness and better service to our customers are significant for our long-term development.
How can transport and logistics solutions be reorganised in order to provide for the more modern, more economical and safer transportation of goods?
The key values of Gebrüder Weiss are independence, sustainability, commitment and quality of service. One of our main goals is to ensure customer satisfaction. From the perspective of logistics companies, the client is satisfied when its goods are found in good and safe hands. This is also the reason why Gebrüder Weiss makes every effort to provide customers with a sense of security. TAPA (Transported Asset Protection Association), to which our company belongs, represents the best guidelines and standards. Gebrüder Weiss invests in safety and thus in the safety of goods in the supply chain. All Gebrüder Weiss locations possess TAPA certification, have warehouses monitored by a CCTV system, special alarm detectors and lighting that enables the identification of people in the dark, precision control systems, documented processes for safety and special training for drivers based on the theme of security. With the help of these measures, Gebrüder Weiss is in a position to set itself apart from the competition on the market.
The fact that business is constantly growing via the internet imposes the need to develop innovative tools. What kind of solutions does Gebrüder Weiss offer?
It was back in 1988 that Gebrüder Weiss developed the IT system Isis, which enabled the electronic tracking of shipments. The client receives their own code and at any time, via an Internet connection, can find out about the status of their goods. Through the application Internet Shipment Dispatching and Order, the client can send an order for their goods. With its flexibility and constant development, we provide a guarantee that we will continue to be a key partner in the future; that we will respond to the challenges of modern technology and ease the daily work of our customers.
How important is the status of Authorised Economic Operator, which the company possesses, and what does this certificate mean?
— Among providers of transportation and logistics services, Gebrüder Weiss was the first in Serbia to receive the solution of Authorised Economic Operator (AEO). Customs authorities approved our application for the status of AEO on 1st September 2014 and Gebrüder Weiss was among five companies that submitted requests to gain that status. The status of Authorised Economic Operator is established on the basis of the customs regulations of the European Union, which provides the possibility for businesses that comply with the regulations and that are reliable to utilise exemptions in connection with customs procedures and customs control. Gebrüder Weiss is also the holder of a third type of authority: AEO F – for customs simplifications/security and safety, which is issued to a business entity that fulfils the criteria of customs compliance regulations, has appropriate standards of record keeping, financial solvency and complies with all relevant
safety standards and protection. Clients who clear customs with goods will be able to receive their goods more quickly via company Gebrüder Weiss, because of simplified customs procedures in import/export, as well as faster and easier transit of goods at border crossings.
What are your expectations with regard to the further growth and expansion of companies on the Serbian market in 2016?
— Investing in our employees is an investment in the company. Gebrüder Weiss is the most desirable employer in Austria. Through continuous professional development, training and seminars, we are investing in the future of the company. In the last six months
we have hired 100 new people, so that Gebrüder Weiss Serbia now employs 250 workers. Gebrüder Weiss, at locations in Dobanovci, Stojkovac, Niš and Novi Sad, represents a synonym for optimal transport and logistics solutions, the highest quality of service and full commitment to the customer, reliability and professionalism. By the end of the summer we will expand the branch office in Niš, with new offices and warehouse space. This year we will try to ensure further expansion and new strategic investments to secure stable operations