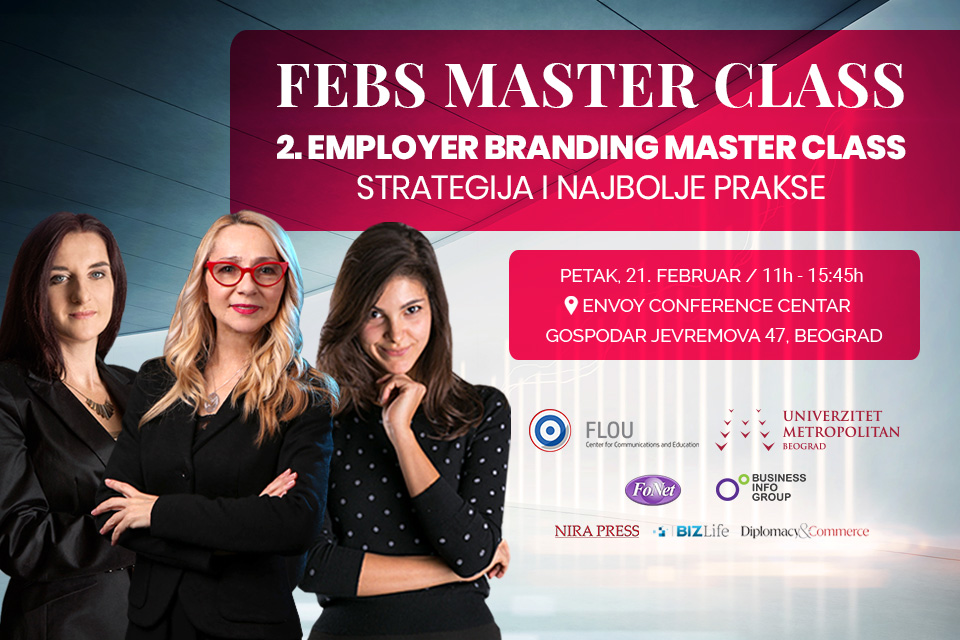 The fourth FEBS Master Class, organized by the FLOU Communication Centre, sponsored by Metropolitan University, Faculty of Management, will once again be devoted to a very current topic – EMPLOYER BRANDING strategy and best practices – which will be discussed by leading experts from home and abroad. Sonja Jovanović, PhD, Director of the Department for Human Resources at Ernst & Young (EY) and Milica Radojević, People Experience Partner at the Blinkist Company. The introductory lecture will be delivered by the creator of this unique programme in our country, Professor Milica Slijepčević, PhD, who will also be the moderator of the panel discussion.
This Master Class is being held on Friday, February 21, 2020, at the Envoy Convention Centre, the Salvador Dali Hall (47, Gospodar Jevremova Street, Belgrade).
All participants will receive certificates and Blinkist has provided vouchers to the winning team which enable free access to premium content via the app for 12 months.
Eminent media sponsors – FoNet, Business Info Group – Nova Ekonomija, Nira press – Biznis and Ekonometar magazine, www.diplomacyandcommerce.rs and BIZLife – will all provide media support to the 2nd EMPLOYER BRANDING MASTER CLASS strategy and best practices. The event's general sponsor is Metropolitan University, for the fourth consecutive time. Book your place today and become a part of a group of successful global employers who create a different, successful image of companies – desirable companies.Registration is required because the number of places is limited.