Will Michael Kirby, like his predecessors, return to Belgrade after his diplomatic mission as a consultant of some corporation or will he replace his retirement days with subversion days
Author: Aleksandar Apostolovski, Politika

On a mythical Serbian hill, which the local socio-political geography considers the highest peak in the world, just a few metres taller than Mount Everest, Michael Kirby was also charged with sharing the fate of all American ambassadors, accommodated under golden cages. Certainly not in the American fortress on Dedinje, nor in the foothills, was he threatened by a danger that could scare his colleagues while market days last in Baghdad. However, if he was perfectly safe in the land of Serbia, in the heavens and in the pro-government tabloid press and television, such as "Informer" and "TV Pink", things were pretty tough for Michael, because he was presented as a wicked guy from Langley tasked with destroying Vučić.
What must Michael have thought when he'd danced his last Belgrade waltz and packed his personal belongings in crates that would travel over the Atlantic by diplomatic mail? Was the day he offered his credentials as U.S. Ambassador to Serbia a happy day for him, or a cursed one? Will months of retirement be replaced by years of subversion? Or will Michael Kirby actually return to Serbia after a year, in compliance with the rule that once should spend a year out of the country where one's service has ended, this time donning the attire of a corporate advisor? Perhaps he will find a job with Miodrag Kostić, who he praised so much that the tender words about the king of sugar as a possible prime minister even made their way to Vučić? However, strange are the ways of ambassadorship.
When we read the scant information about Michael Kirby from public sources prior to his arrival as a replacement for Mary Warlick, as we now speculate, reading the scant details from the biography of his successor, Kyle R. Scott – who is this guy, really – I actually wonder if I've overdosed on conspiracy theories or whether it's just that simple a thing. Does the capital of Balkan espionage need players who create coups, invasions or bombardment, or just material for the latest Oliver Stone flick? Perhaps it's something far more trivial. Perhaps Serbs have too high an opinion of themselves, thus making us the ideal region for the lucrative business ventures of all former, precious U.S. ambassadors. And are we in the right when we consider them to be some sort of fathers of ours, good or bad, in their own way? Because in the post-Tito era they are the ones who made us!
William "Bill" Montgomery, for example, has long since forgotten that America exists, thus in his new home country, which he deprived Slobo of and during whose mandate Đinđić was assassinated, this former Green Beret from the jungles of Vietnam launched a business with Gradimir Nalić, a former confidante of Vojislav Koštunica, and Goran Matić, Mira Marković's spokesman, who after 5th October, magically, like in a game of shadows, successfully joined, and especially was photographed with, many Americans.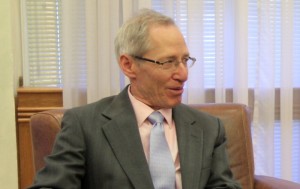 The subsequent engagements of U.S. ambassadors actually reveal their character and who their cronies were while they were serving the State Department. Monti has, in parallel with his business endeavours, become a top political consultant, Americanising and de-Šešelj-ising the Radicals, as an advisor to Tomislav Nikolić and later Aleksandar Vučić. But if we have long since accepted Monti as our precious Montgomerović, Cameron Munter managed to return almost unnoticed, after his mission to Belgrade during which he had a key influence on the formation of the pro-European Tadić-Dačić government, alongside tycoons Miroslav Mišković and Dragan "Simpo" Tomić in the Businessman Club. He did a few crucial things during his tenure. He included tycoons in his programme of cleansing biographies; he legalised Ivica as a politician far more desirable than Čeda, while he managed to turn the possibility of a DSS-SRS-SPS coalition government into the category of a fairy tale from the haunted forest.
However, when Cameron – following important missions in Iraq and Pakistan – returned to Belgrade almost invisibly in 2013, he sought out other people. He became an advisor to the board of directors of the Balkan's largest cable operator, SBB, which was already preparing at the time to include television programme N1 in its offer. That television station, although only in the making, was even then announced as the informative cavalry that should persuade Serbs, and especially Vučić, that getting too friendly with the Kremlin is not advisable, and especially not with guys like the Dirty Harry of Russian politics, Dmitry Rogozin.
Munter fit into this scenario easily, because Americans don't have the time to build a theatre with lots of complex characters in order to disguise their plans. Otherwise, the role of head of the Global Institute of American investment company KKR, which acquired a majority stake in SBB, would not have been given to former CIA boss David Petraeus. What different worlds we are! Let's just imagine that the new owner of TV Pink is Jovica Stanišić, while Frenki is editor of entertainment programming.
This prompted Michael Kirby, in one of his farewell interviews for daily Danas, stated that Serbs are kings! He actually admitted that he would leave as a man who is aware that it was today's Serbian lands that brought forth former Roman emperors. It is hard to expect this knowledge to change the global politics of the empire – for the Serbs to be treated as barbarians.
The State Department gained, with Michael Kirby, another diplomat in the "old for new" programme, who thought he was a much cooler guy than his predecessors and that he is the one who will finally beat this disobedient Belgrade, tug its ears and send it to stand in the corner. But, like his predecessors, Michael realised that he is not a nursery school, but rather a borstal, an exclusive and simultaneously dark location, around which several heroic figures from the encyclopaedia, on the board of emperors, broke their teeth.
Shortly before his departure, when Vučić started considering possible Russian weapons for the Serbian Army, television N1 suddenly began revealing the prime minister's flaws and his exotic team, and in that revelation it was joined by converted tabloid Kurir, as the torchbearer of free journalism, thus this new and unnatural alliance was assessed by the prime minister's media allies as – an attempted coup. It is actually difficult to connect the ideals of the Balkan branch of CNN and the moral principles of the Rodić family, the Serbian Murdochs from Ripanj. But Americans are partly to blame for that. Both Mary Warlick, at the time of the Democrats, and Kirby, at the time when Rodić junior boasted that he belongs to the SNS election team, visited that editorial department and together gave a kind of legitimacy to this new media and family lineage cultivated near Belgrade.
However, when Vučić's media artillery identified Kirby as the head of the coup in the shadows, Kirby unusually urgently, via email, convened a briefing for all editors of political sections of the Belgrade media, in order to inform them that he had personally conveyed to the Prime Minister that he is not toppling his government. This manner became a novelty in the dealings of U.S. ambassadors. In the old days, the ruler of the Serbs would be demolished in silence, and only then would an ambassador organise a cynical revenge ceremony marking Independence Day, where, on the carefully nourished lawn of Užička Street 44, in a long queue, sweat the surviving members of the Serbian elite. And some of them, who might dream that they're carrying clubs, end up singing the U.S. national anthem, complete with cake in their hands!
On the eve of his departure, Michael Kirby gave his support to the scheduling of early elections and wished for Serbia to gain a strong government, which is recognised as tacit U.S. support for Vučić and paving the way for Ambassador Scott, who is set to move into the U.S. residence in Dedinje. Scott is described as an expert on Russia, a diplomat of the highest rank and a lover of the arts, especially the artistic direction known as – coloured revolutions!
Scott's mission will only form part of U.S. policy towards not only Serbia, but also Europe and Russia. There are many reasons why the Obama era is perceived as one of American indifference regarding the continent. And that is not just due to the fact that a bust of Winston Churchill was removed from the Oval Office back in 2009.
Has the Asia Pacific region replaced Europe and the Atlantic on Obama's Radar? And has the decade in which Europe has been left alone to show that it is capable of passing through puberty without consequences, as we can see, proved to be misspent?
It is probable that Americans wanted to see the proof that Europe needs a guardian. And who is more ideal to act as collateral damage in this exercise if not us and our neighbours, Muslims and Albanians? Somehow we accept, as a rule, poorer American plans rather than European peace plans, thus we became part of the experimental disciplining of Europe and our own castration.
The Serbian leader who considers that this experiment has not been completed and has trouble buttoning up his pants – and is also fuller than necessary, like when reading Chekhov and looking towards Russia – will be under America's particular scanner. This will certainly be considered by Aleksandar Vučić when he accepts the credentials of Kyle R. Scott.