The Digital Day 2022 conference under the slogan 'The End of the World as We Know It' will be held on June 9 in the Dorcol Platz area of ​​Belgrade.
The impressive list of speakers who are not only great in the world of hectic digital transformation but also personally create it and define its shape was joined by:
Dimitris Dimitriadis, Chief Innovation Officer, The Future Cats, who will convey to us the details of his vision that the future of the media is bright only if they dare to undergo substantial and courageous changes. In the new digital world of general interconnectedness, we will still want to tell and listen to good stories, but we will do so with our whole body and with complete and imperceptible interaction with the real or virtual environment.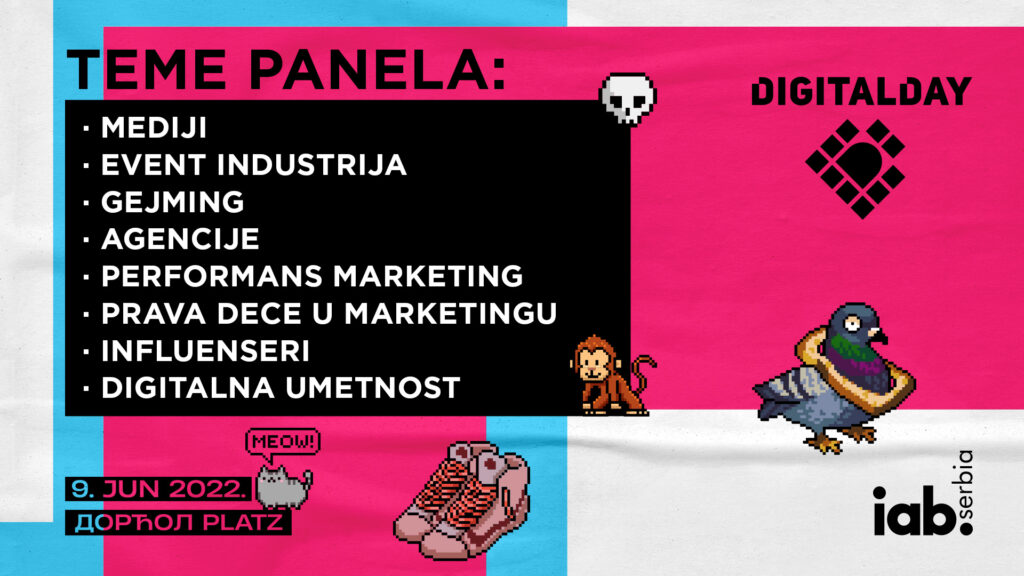 According to Dimitris, the future does not belong to smart digital technologies, which forcibly interfere in people's lives, but to those that enter those lives with respect for human time and needs. In the "new world", we want people to take control of their own attention and get the most out of intensive interaction with technology.
Matija Golubović, Co-Founder, OMNIUS, MARS, will take us through the serpentines of e-commerce. In an industry that is recording unprecedented growth rates, participants are at the same time expecting turning points that are sharp enough to derail poorly prepared people.
According to Matija, e-commerce will continue to grow for decades, but in which direction? The pandemic has formed new habits of people and consumers, causing tectonic changes in the industry. We will find out in Matija's lecture which key trends will dominate until 2040 and how we can use them for the needs of our own business.
The list of keynote speakers will be added with also Jovan Tišma, Co-founder, ALL.ART & SolSea and Vanja Bertalan, CEO, Human with his special focus on the acquisition and application of digital experiences in the emerging world.
Digital Day 2022 has provided additional reinforcements when it comes to discussion panels.
Game over. Or is it? is a panel dedicated to video games – an industry bigger than music and film together and will be moderated by Vladimir Tošić, COO, Two Desperados, with the participation of Andrej Kugonič, Head of Growth, Nordeus, Lane Čubrić, Head of Marketing, Two Desperados and Ivan Dimitrijević, Head of Marketing, Webelinx Games.
The panellists will bring us closer to the relations that prevail in that industry, such as the relations between gaming studios and advertising agencies and the great importance of branding, especially in the dominant field of games for mobile devices.
Panellists will also explore the role of marketing in the pre-and post-launch phases of the mobile game. The world of gaming is full of data, however, few people are exactly familiar with the nature of this data and what it can be used for. Finally, the answer to the dilemma will be sought – is it too late for marketing agencies to jump into the hyperfast train of gamers?
The Wild Rodeo that is Digital Industry Today will bring together the moderator Radomir Basta, CEO, Four Dots with panellist participants Igor Chernishevsky, Managing Director, Method Agency and Mihailo Ponjavic, Chief eCommerce Officer, Tehnomania, who will explain that unpaid invoices are the only constant in the life of a digital agency. Everything else is the Wild West of uncertainty: the financial crisis, the pandemic, the wars, inflation and the looming recession. However, we will be reminded of Sun Cua's words: "In the midst of chaos, an opportunity lurks", and it will be up to the panellists to identify and bring this opportunity closer to us.
Under Stereotyping Ads for Children is the title of a panel sponsored by UNICEF with Nataša Krstić, Associate Professor at FMK – Faculty of Media and Communications (UNICEF), Lazar Džamić, FMK lecturer and Ivan Živković, founder and managing director of Pioniri Communications.
According to UNICEF, gender inequality is present in the lives of children and especially visible in the way certain characters are presented in the media. With globalization, children today are more exposed to the media and marketing than ever before. As a result, new questions are being raised about the developmental and well-being of children exposed to these influences, answered by companies, marketing agencies and the media, in ways that promote gender equality while preserving legitimate business interests.
TikTokers Among Us is a panel that will bring together four people from digital marketing who also create content on TikTok. The moderator is Gorana Risteski, Creative Strategist, Grow Mojo, and the participants are Aleksa Todorović, Digital Marketing Specialist, Bazzar.rs, Igor Radulović, Project Directorate, Žiška and Miloš Lalić, Junior Account Manager, Balkan Tube Space.
TikTok is one of the most popular social networks, especially among young people, and this panel will be the right place to ask the question: "What do brands need to learn from influencers?"
Tickets can be purchased online until June 6 at a guaranteed price for conference participants.