Food planet By Vanja Kovačev
"There is a stereotype that Germans are eating only "Wurst" and potatoes, which is far from being true"
Germany is in many ways a diverse country- from north to south, from east to west, climate, landscape, history, traditions and cuisines vary in many ways. From February this year, as you are already used to, DC magazine brings you closer to other countries food cultures, traditions and speaks to interesting people from the Belgrade expat community – in this issue to Mrs. Claudia Schieb the spouse of the German ambassador to Serbia.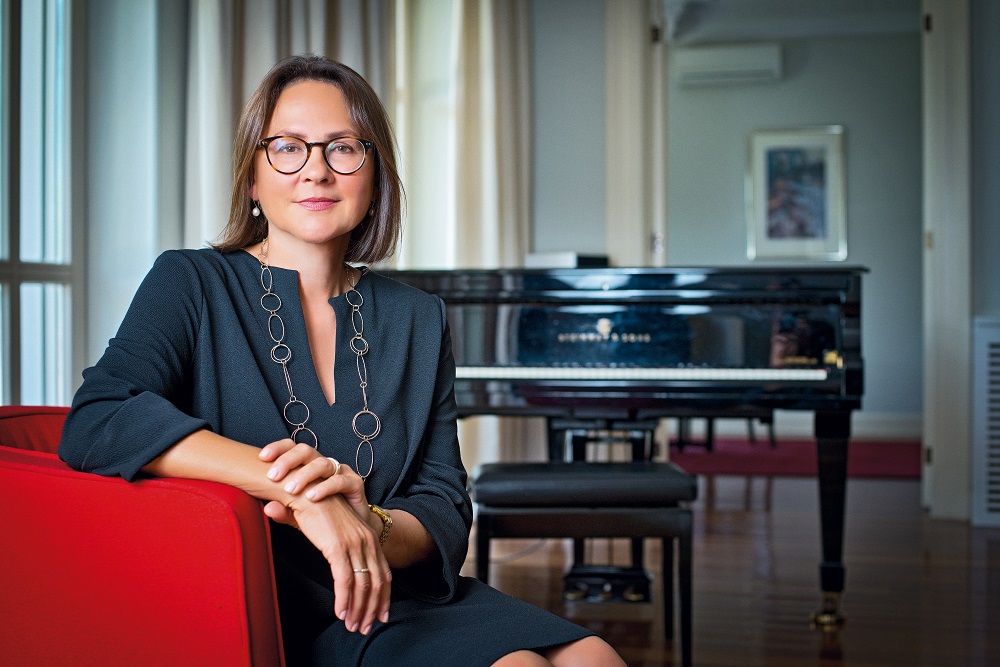 What are the main characteristics of German food? Is it "wonderfully traditional" and down-to-earth cuisine?
Every German region is proud of its food prepared indeed with local ingredients, with respect to tradition but with openness to modern culinary methods and extravagant seasonings. The great variety of Germany´s cuisine is not so well known around the globe. There is a stereotype that Germans are eating only "Wurst" -sausage and potatoes, which is far from being true! In fact, Germany currently has the fourth-highest number of Michelin-starred restaurants in the world. The "secret" ingredient added to a variety of the traditional dishes nowadays is "an immigrant influence".  Since the 1960s many Yugoslavs, as they were called back then, Turks, Italians and Greeks moved to Germany and brought their culture and their tastes. The "wonderfully traditional" German cuisine, as you call it, melded with new spices and tastes from all over the world in order to create a modern version of traditional German meals. Nowadays it is quite normal to eat "classical" German meet-balls with oriental flavors or traditional potato soup with anise or lemon. Vegetarian and vegan recipes are becoming more and more popular. Hence, a tofu-schnitzel or even tofu sausage with standard German potato salad is not a rarity in German households anymore. A good example of cross-cultural-culinary exchange typical for modern Germany is the famous Döner-Kebab sandwich. Turkish immigrants living in Kreuzberg – a part of Berlin created a delicious meet-meal "to go". The ingredients were Turkish but in this form, it didn´t exist in Turkey, it was a purely Berlin invention.
---

"Every German region is proud of its food prepared indeed with local ingredients, with respect to tradition but with openness to modern culinary methods and extravagant seasonings"

---
Meanwhile, there are more than 16.000 Döner shops in Germany, even small towns or villages have it and they are considered to be a symbol of successful Turkish integration and Turkish impact on German eating culture. While I was growing up a peculiarity of German eating culture were its "fixed eating hours". Germans liked to have an abundant breakfast usually consisting of different varieties of bread; there are more than 3000 types of bread in Germany), with marmalade, eggs, deli meats and various cheeses. Traditionally, the main meal of the day has been lunch -Mittagessen, eaten around noon. Dinner- Abendessen or Abendbrot, unlike in many other countries, was always a smaller meal, usually just a sandwich. However, this tradition changes, young generations in big cities don´t have time for big breakfast and usually don´t eat lunch so early but if you are a tourist, Germany is certainly the place where you should enjoy traditional lavish breakfast offers.
Which part of Germany do you come from? What are the 3 most known German meals and sweets from your region?
I come from southwest of Germany, from Stuttgart, the capital of the state Baden-Württemberg and the so-called Swabia region. It is one of the most popular touristic regions of Germany. Culinary wise this region of Baden-Württemberg is home to famous pasta-like products such as "Maultaschen" and "Spätzle" as well as world-acclaimed "Schwarzwälder Kirschtorte" -to name just a few highlights of Swabia-cuisine.  "Maultaschen" or "Herrgottsbescheißerle" – engl. little God-cheaters is a dish often compared to Italian ravioli as it consists of an outer layer of pasta dough, filled with meat and/or vegetables. There are many variations of filling and methods of preparation such as frying or boiling, they can be served either whole or cut into pieces. The legends say that this special dish originated in the 17th century during the 30 Years' War when the Catholic Swabians were forbidden to eat meat on Fridays. Determined to get around this rule, "Maultaschen" was created by the monks to conceal the meat in a pastry thus keeping it hidden from the watchful eyes of their God and so they got their nickname of 'God's little cheaters'. "Spätzle" – Engl. "little sparrows" are specific egg noodles. The original preparation of Spätzle is very peculiar. The dough contains mainly flour, egg and water although occasionally ingredients such as spinach or tomato are used for coloring. Traditionally, a dough is spread out on a wooden board and then cut into thin bands which are then boiled. These can be served directly after cooking but usually, they are briefly turned in the liquid butter before serving. It can be a side dish to almost anything: meat, vegetables, it can even be a desert. Every B-W family is proud on their own way of making "Maultaschen" or "Spätzle" those are meals so common but then again so peculiar, so personalized for different tastes. "Schwarzwälder Kirschtorte" doesn´t need a lot of introduction- it is a most amazing and unique mix of sweet cream and, sour cherries with tender chocolate-dough, it is rather complicated to make but its taste is unbeatably good.
What are the German meals you prepare in Serbia?
I prepare "Maultaschen" quite oft. However, what I am missing here is white "Spargel" or asparagus. For us Germans, nothing is more of a symbol of spring than the cooked white asparagus! It is being harvested from mid-April to the end of June- it is the so-called "Spargelzeit" Engl. time of asparagus. Hence, for us, asparagus defines a time of the year, which says enough about German passion for "Spargel". It is a very healthy vegetable, full of minerals and very low in calories and it goes well with meat, fish and with other vegetables.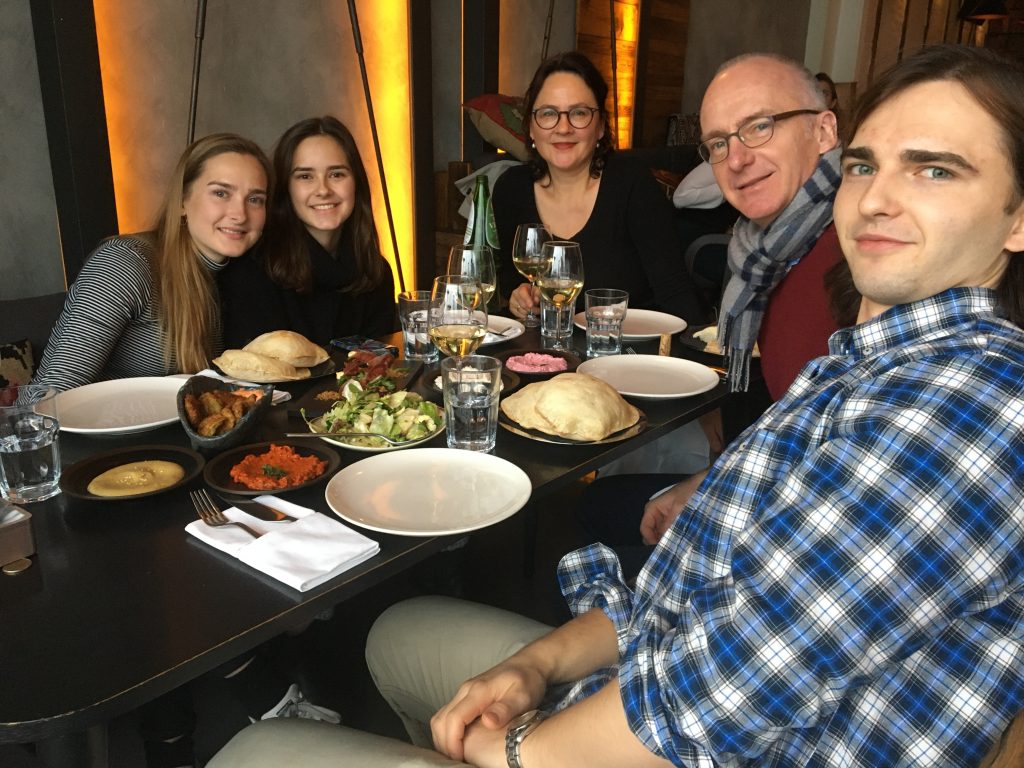 What is your favorite Serbian dish?
It is definitely ajvar. I love both spicy and plain version of it and can eat it as a side dish, as an appetizer, as a dip, spread on pasta or risotto, or on pastry or simply with the spoon –as my children usually do it.
How do you like living in Belgrade? Which regions/cities have you visited and which is the one you would recommend to your expat friends and why?
I love living in Serbia. Belgrade is a vibrant city with a diverse cultural and culinary scene which many compare to Berlin and even New York- and I can only affirm it. It is a city with great history and there is always a new story to be discovered, just around the corner. I like exploring different city districts as well as walking along the rivers Sava and Danube. I am fascinated by the fresh green markets as well as by the little designer stores. Unfortunately, corona prevented many cultural events from happening but hopefully, this will change soon and Belgrade's cultural scene will live life to its full again!
My husband and I try to make excursions outside of Belgrade as much as we can. Serbia is a fascinating country with a contrasting landscape: Vojvodina valley in the north and mountains like Tara, Zlatibor or Kopanik in the south. However, one thing stays the same everywhere you go and that is this wonderful Serbian hospitality for which I am very grateful.
A RECIPE FOR MAULTASCHEN:
INGREDIENTS
2 2/3 cups flour (all-purpose)
3/4 teaspoon salt
3 large eggs
1 tablespoon oil
3 tablespoons water
2 to 3 slices of bacon (cooked and chopped)
1/2 medium onion (chopped)
1 clove garlic (chopped)
1 ounce bread (day-old)
5 ounces frozen spinach (thawed, squeezed dry, and chopped)
2 tablespoons parsley (chopped)
1 tablespoon mustard (spicy)
1/4 teaspoon thyme (dried)
1/4 teaspoon marjoram (dried)
8 ounces beef (ground)
1 pinch pepper
1 to 2 quarts broth (beef or other)
Garnish: chives or parsley (chopped)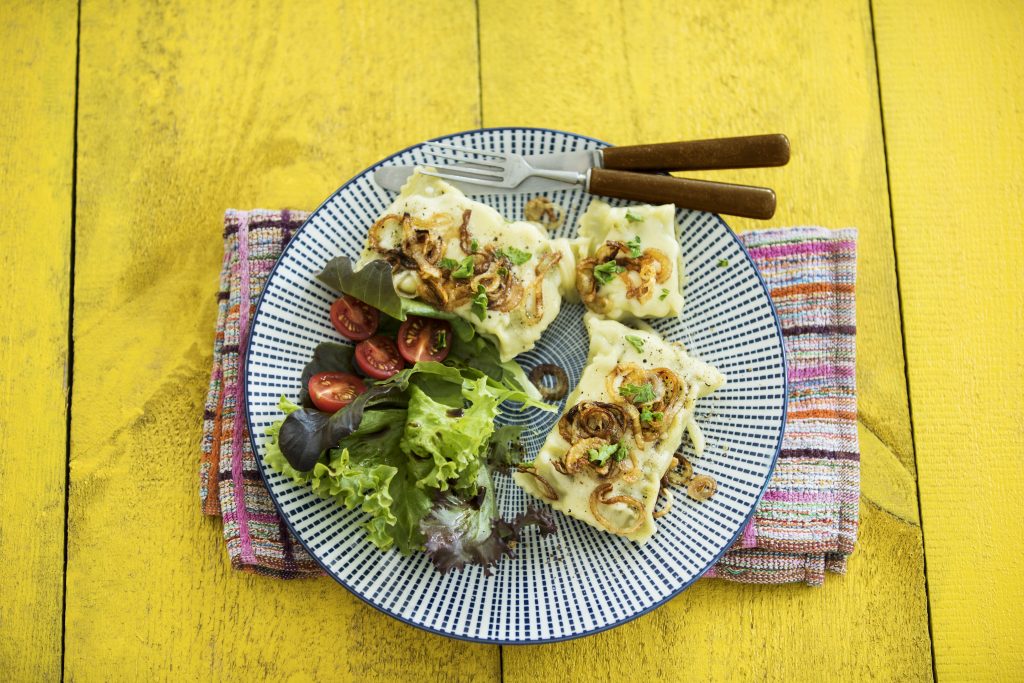 MAKE THE DOUGH
Mix 2 2/3 cups of flour, 1/2 teaspoon salt, 2 eggs, 1 tablespoon of oil and just enough of the 3 tablespoons water to make a smooth dough.
Knead for 5 to 10 minutes, until satiny. Form dough into a ball, oil surface, wrap in plastic and let rest for at least 1 hour.
MAKE THE FILLING
Cook bacon and remove from pan. Sauté onions and garlic in bacon drippings until translucent.
Mix together bacon, onions, garlic, bread, 5 ounces spinach, 2 tablespoons parsley, 1 tablespoon mustard, 1/4 teaspoon thyme, 1/4 teaspoon marjoram, 8 ounces beef, 1 egg, 1/4 teaspoon salt, and a pinch pepper until well combined. If you want a finer texture, put ingredients through a meat grinder, too.
FORM THE DUMPLINGS
Roll out half of the dough to 1/8 inch thickness or thinner. You should have a sheet of about 12×18 inches. You also can use a noodle roller to make flat sheets with 1/5 of the dough at a time.
Score the dough with a knife, one time through lengthwise and five perpendicular cuts to make 1 dozen rectangles.
Place 1 tablespoon dough on each rectangle.
Fold rectangle over and pinch sides to close.
Repeat with the other half of dough.
COOK THE DUMPLINGS AND SERVE
Bring broth to a simmer and place 1/3 of the maultaschen in the broth. Cook for 15 to 20 minutes. Remove and drain. Keep warm if not serving immediately. Repeat with the rest of the maultaschen.
Serve in a bowl with some broth and sprinkle with chives and parsley.