Galenika donated funds in the amount of one million dinars to the "Milica" Women's Center. The goal of the donation is to establish a unique National Center for providing experiential and psycho-social support to women from all over Serbia who have suffered from breast and cervical cancer.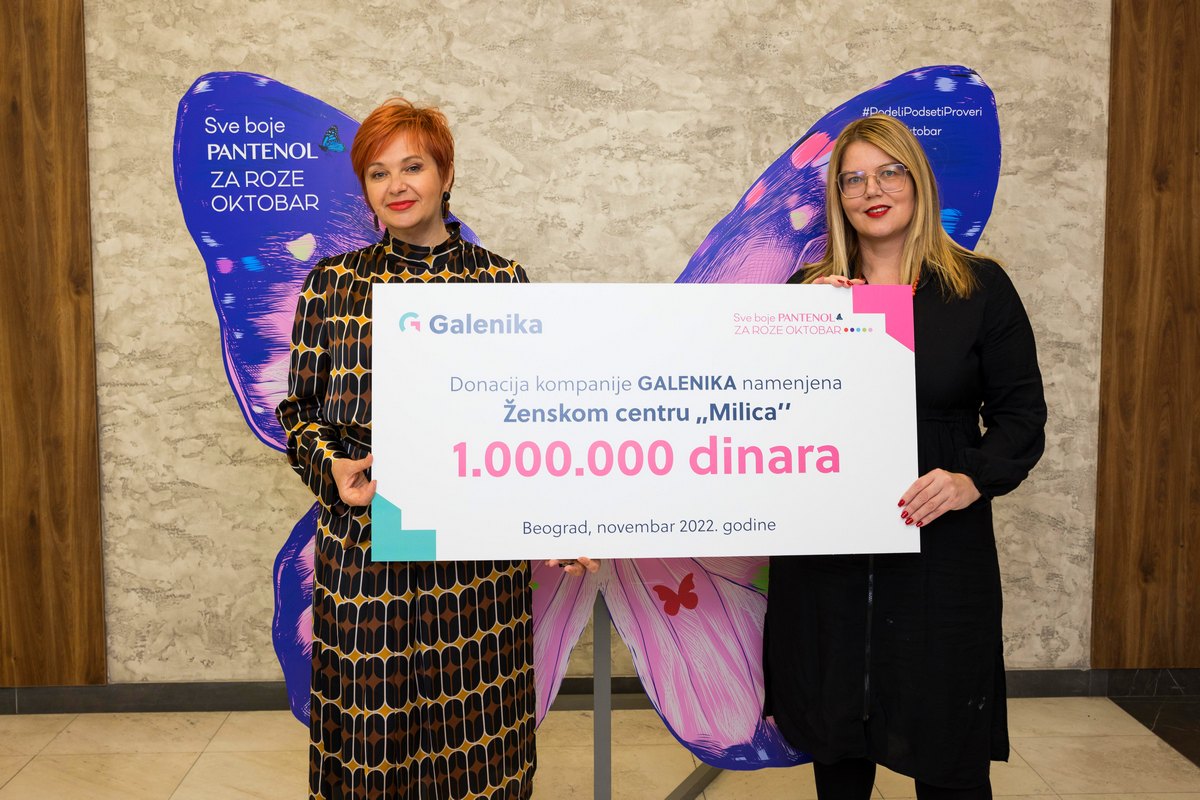 As a part of the large donation campaign "All colors of Pantenol for Pink October" on the occasion of marking the International Month dedicated to the fight against breast cancer, Galenika set aside 20 RSD from each Pantenol product purchased, for the needs of the National Center for experiential support for women suffering from breast and cervical cancer. In the center, patients and their family members will be provided with consultations by distinguished experts in the fields of oncology and psychology.
"The donation is the result of Galenika's commitment to people and health. The support of the system, family and environment in the treatment of breast cancer is extremely important. That is why the establishment of such a center for provision of support to women suffering from breast cancer is of great importance. We are grateful to everyone who participated in the campaign, because together we contribute to raising awareness about the importance of prevention, regular examinations and the importance of experiential support in the fight against breast cancer," said Jelena Parojčić, Executive Director for Human Resources at Galenika company.
The National center will also hold educational component with the aim of linking the activities with the work of prevention centers of primary health centers in Serbia, in order to jointly inform girls and women about the importance of screening and self-examination training. It is also planned to open an "Academy for female patients" where training for educators will be conducted by health professionals, which will provide availability of accurate and important information to every woman in Serbia, regardless of where she lives. Further development of support will include the creation of a protected web platform for female patients where all useful information for the fight against breast cancer can be found.
"In front of the "Milica" Women's Center, I want to thank Galenika for the donation for the creation of the National Center. With socially responsible contribution, Galenika enabled us to build the National Center in Belgrade, which is a pilot project, and in the future we plan to implement this type of center in other cities of Serbia," said Vesna Bondžić, president of the "Milica" Women's Center.
According to the research of the Women's Center "Milica" conducted this year among 750 women with breast cancer of the average age of 45, 47% of women declared that they find information about their disease on the Internet, 28% go to a place more than 100 kilometers away for air therapy from the place of residence, 34% were not informed about their rights during treatment, while one third of the respondents declared that their quality of life was worse during and after the illness.