Guitar Art Festival and Belgrade Youth Center present the 22nd edition of the International Guitar Festival, which will be held from June 1st to 5th, 2021, under the slogan "Digital Revolution". Belgrade sends a signal and celebrates the guitar through 8 concerts of classical, pop and rock music and other following program of the festival.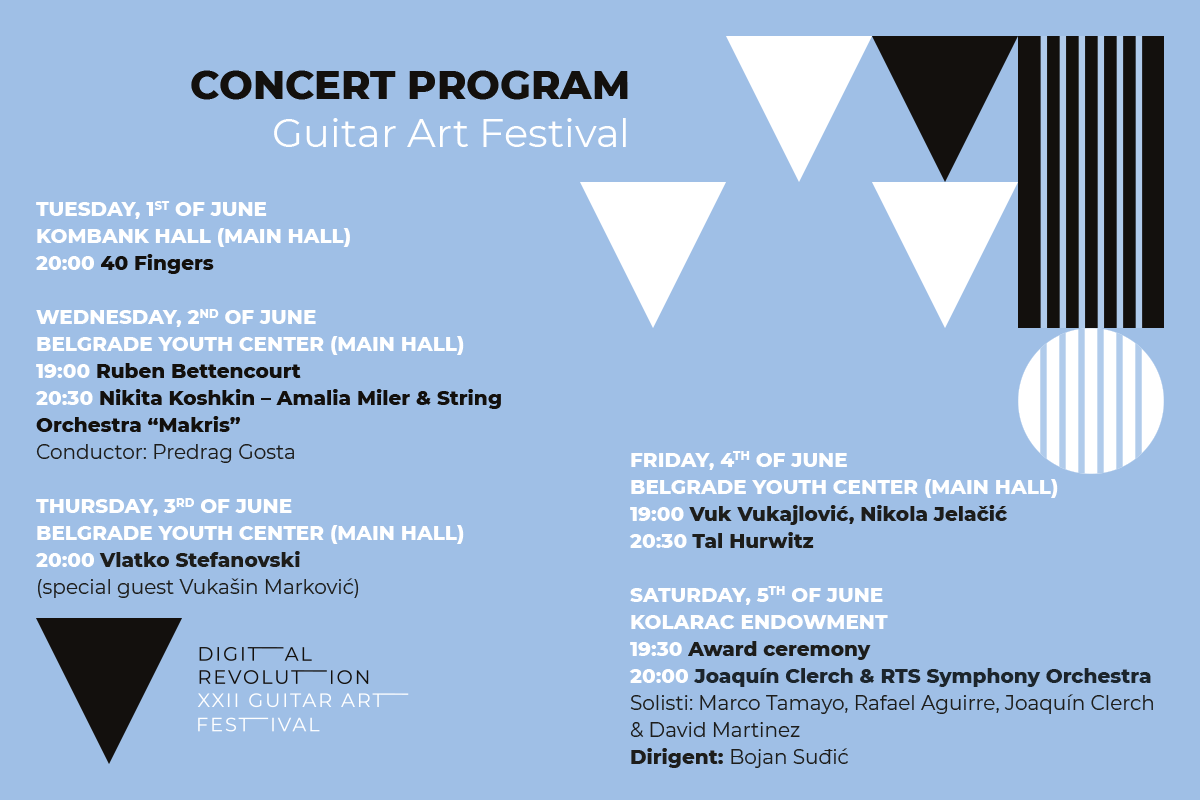 Guitar Art Festival is one of the most important cultural events in Serbia and an internationally recognized festival that bears the title of one of the 5 most important festivals of guitar art music in the world. The greatest guitarists and musicians of the world have contributed to that status of the festival, and among them are Paco de Lucia, Sting, Ennio Morricone, Mariza, Tommy Emanuel, Luz Casal, Rosenberg Trio and many others.
The long-awaited concert of the popular guitar supergroup "40 Fingers" opens the Guitar Art Festival on the 1st June, at Kombank Hall. The musicians are looking forward to performance in front of the Belgrade audience, which has been postponed three times so far. The new music and stage spectacle of the Italian guitar quartet "Guitar Rhapsody" will present famous film music, original songs, followed by an energetic part with cult melodies and popular arrangements of pop and rock hits in a special arrangement for 4 guitars.
The celebrated guitarist Vlatko Stefanovski is a regular guest and part of the Guitar Art Festival. This time, at the concert on 3rd June in the main hall of the Belgrade Youth Center, he will be joined by a special guest, Vukašin Marković, a singer and trombonist, with whom he will perform popular guitar songs in special arrangements. The greatest talents of Serbia occupy a special place in the program scheme of the festival this year. The festival wants to support and promote guitar virtuosos, introduce them to the world and help them start successful international careers.The concerts will be held by young guitarist Vuk Vukajlović, winner of the "Virtuoso V4 +" competition that has existed in Hungary for six years and which promotes young talents of classical music, Nikola Jelačić, virtuoso of the Belgrade Faculty of Music, as well as Amalia Miler, princess of six-stringed instrument, who will perform a concerto with a string orchestra.
Classical music concerts at the Guitar Art Festival will also be held by top guitarists, including Ruben Bettencourt from Portugal and Tal Hurwitz from Israel.
The closing ceremony of the festival is reserved for June 5th on the big stage of Kolarac endowment and the world premiere of the concert "Recuerdos de Belgrado" by German composer Joaquín Clerch, who dedicated the concert for guitar and symphony orchestra to the Belgrade Guitar Art Festival.
The RTS Symphony Orchestra performs under the baton of conductor Bojan Suđić, and the soloists of the concert are Marco Tamayo from Austria, Rafael Aguirre and David Martinez from Spain