On May 24, 1946, the President of Mexico, Manuel Avila Camacho, and Marshal Josip Broz "Tito", Head of State of the Socialist Federal Republic of Yugoslavia, welcomed the establishment of diplomatic relations. This was the beginning of a strong friendship, based on mutual respect and collaboration between nations that shared similar values and goals. 
The 75th anniversary of diplomatic links allows us to assess our achievements, the challenges and opportunities we currently face in the pandemic scenario and to reflect on where we want to elevate our ties in the near future.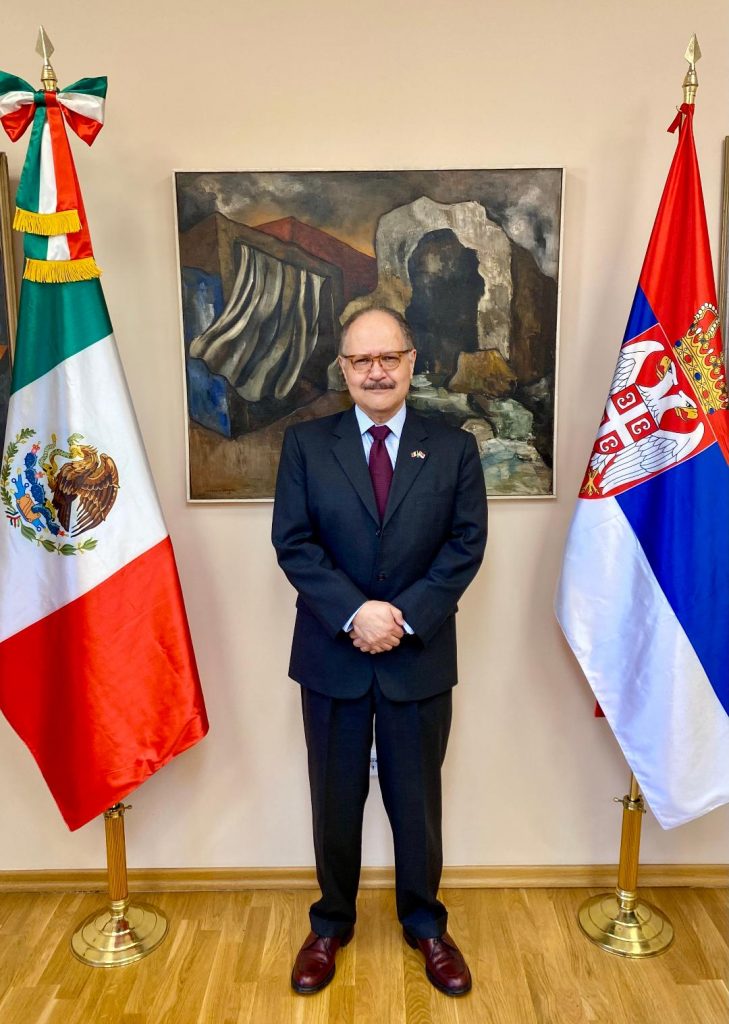 The first 75 years of diplomatic relations has been very positive. The bilateral relationship has developed mainly in two axes: intense political dialogue at the highest level; and a wide range of multiplication of cultural and academic exchanges. These strong pillars show that the core of our links that have focused on the social dimension of the bilateral agenda, with an intense interaction of our societies, constituting solid foundations for widening and consolidating our bonds in other areas of opportunity. 
The first pillar of intense political dialogue at the highest level is shown through Mexico's companionship to Serbia throughout many historic events and political processes in the Balkan Region. After the disintegration of the former Yugoslavia and the consolidation of Serbia as its successor nation, Mexico has spoken out for the respect for its territorial integrity and the search for a peaceful and negotiated solution to the Kosovo conflict, with full respect of human rights, and in accordance with the basis of UN Security Council resolution 1244. Currently, Mexico as a non-permanent member of the UN Security Council, 2021-2022, has ratified its position, based on its principles of its foreign policy, the international law and its solid friendship with the people of Serbia. 
In the first 60 years of bilateral links, seven state visits took place: three Mexican presidents visited Belgrade: Adolfo Lopez Mateos on March 1963, Luis Echeverria Alvarez February 1974 and Miguel de la Madrid, January 1985.  
Mariscal Joseph Broz Tito went to Mexico on two occasions, October 1963 and March 1974. In addition, Sergej Kraigher in October 1981 and Lazar Mojsov October 1987. In September 2010, the first Vice Prime Minister and Minister of the Interior Ivica Dacic attended the ceremonies of the 200 years of the fight for Mexico's Independence. 
During the first 75 years of our bilateral links, the political dialogue between our two nations reflected the coincidence on positions towards different international issues in complicated historic moments. The relevant role of the Non-Aligned Movement was an opportunity to work together searching and promoting pragmatic solutions to reach peaceful and sustainable solutions to complex problems, such as decolonization, racism, independent economic development and the menace of arm race including nuclear weapons. 
The other pillar of Mexico-Serbia bilateral links is the profound cultural and academic exchanges which have expanded the knowledge, understanding and communication between our two societies. 
The promotion of different elements of the Mexican Culture is widely known in Serbia: literature, painting, music, contemporary art, folklore and art pop. Many Mexicans and Serbians graduated in high educational institutions, thanks to the generous scholarship programs granted by the two governments. In literature, more than 20 works of Mexican writers have been translated to Serbian. Pop culture of Mexico through blockbuster soap operas or telenovelas was other social connection with Serbian audiences and was an important vehicle to promote Spanish in the Balkans. Sports is another element that links Mexicans and Serbians, especially football where the work of Mr. Bora Milutinovic as the Head Couch of the Mexican National football team and other main professional teams is greatly remembered.     
In the pandemic scenario, Mexico and Serbia faced challenges and opportunities that require deepening political dialogue, in favor of a coordinated international response to address the pandemic and its effects, boosting the themes of the 2030 agenda and reducing tensions in the Balkan region. Mexico's participation as a non-permanent member of UNSC 2021-2022 is a valuable space to advance these issues. 
At the bilateral level, Mexico and Serbia have the challenge and opportunity to strengthen and expand their cooperation in other areas: trade and investment in different sectors, in support of inclusive economic development-, taking advantage of Mexico's privileged position with its network of international free trade agreements, – TCMEC, Association with European Union, Pacific Alliance and CTPP.
Other collaboration projects should cover science and technology; tourism; mining, energy, military, and the strengthening of institutions to fight corruption and organized crime.
At this stage, both countries must deepen the extensive cultural and academic exchanges, incorporating issues of gender equality, youth, and sports. We must continue strengthen the social element of our bilateral agenda as a central pillar of our links. Our greatest asset has been and will continue to be to nurture our human capital and promoting better understanding and communication between our two societies.
Finally, Mexico and Serbia can craft a route map for closer collaboration in the coming years with specific targets and benchmarks to elevate our links to the real potential and capacity in many areas and to confront with the challenges of the international pandemic scenario.