The last country report of the EU noted progress in various fields, mainly economic reforms, migration management, and cooperation in the field of security
Relations between the two countries, challenges that await us in the coming year, but also impressions of Belgrade are topics that  H.E. Pierre Cochard, Ambassador of France to Serbia talks about in his interview for Diplomacy and Commerce magazine.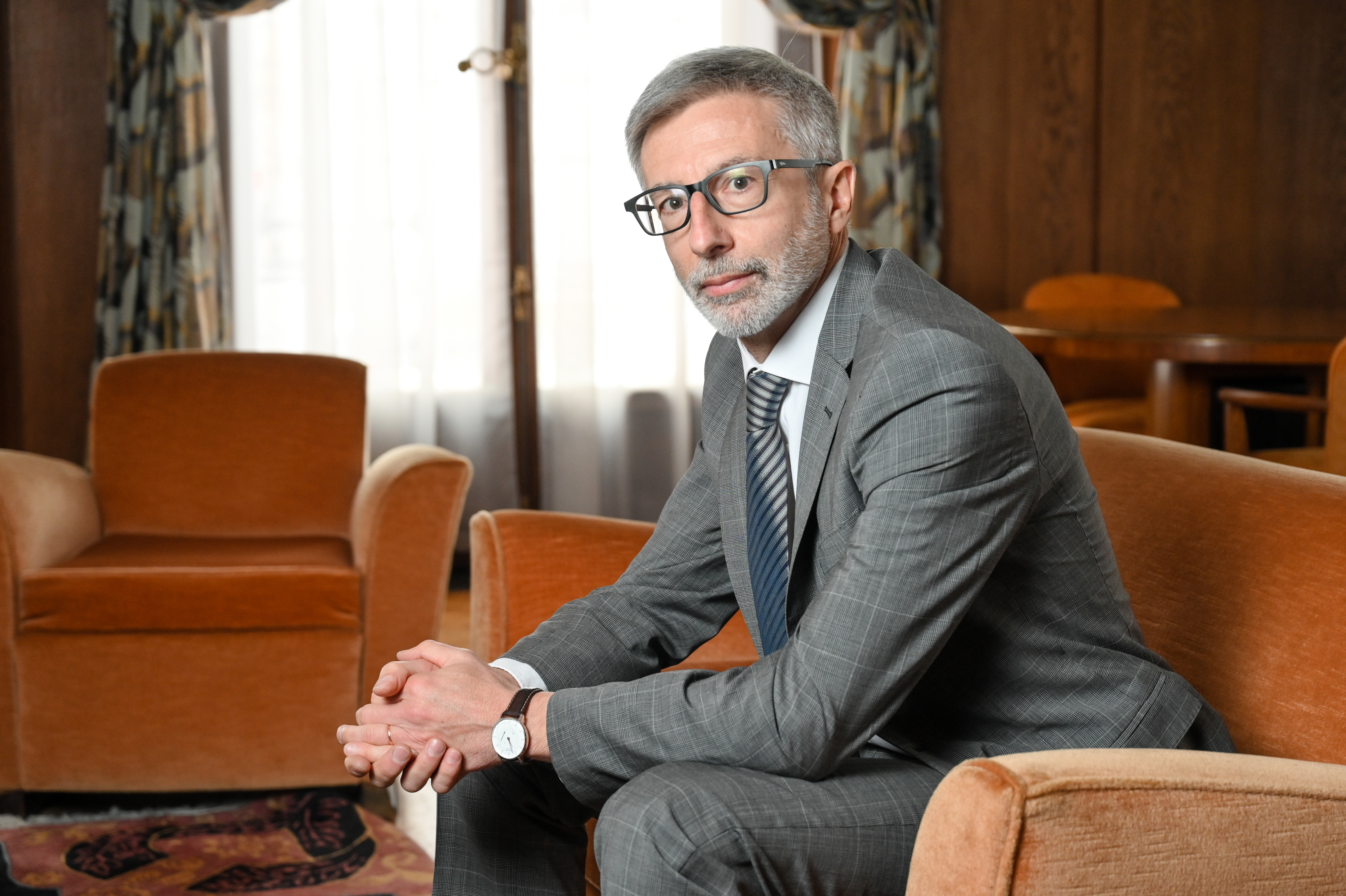 Your Excellency, you are at the beginning of your mandate in Serbia. What priorities have you included in your agenda and what challenges do you expect to encounter?
My priority is to develop the already very dynamic bilateral relationship between our two countries and support Serbia's EU accession process: France has expertise and can export norms as well as technology to implement the reforms undertaken by the Serbian authorities.
After a period during which we were not as active as we could have, France is back in Serbia and the Western Balkans. This culminated with President Emmanuel Macron's visit to Belgrade in July 2019, who called upon a new commitment of France in Serbia.
My guideline is the French Strategy for Western Balkans, released in 2019. I will do my best to facilitate political meetings, which always impulse ongoing and new cooperations. Minister Nikola Selaković, visited France on 16-17 December and other ministerial visits should follow in 2022. I also intend to pursue our efforts in the field of economy, security and defence, culture and science. Last but not least, I will continue promoting French language in Serbia and support Serbia's will to become a full member of the International Organisation of La Francophonie (OIF).
The EU integration of Serbia will remain the "golden thread" of my action. Since 1 January, France holds the presidency of the Council of the European Union, under the slogan "recovery, power, belonging". Serbia and the Western Balkans are a priority, which President Emmanuel Macron mentioned explicitly. A regional conference will be organised next June.
---

The French Development Agency (AFD) allocated three loans to Serbia this year and offers grant-based supports, totalling about 230M€

---
What is the current situation in your country and what measures are in place when it comes to the Covid-induced crisis?
France is experiencing a fifth wave of Covid, after curbing down the contaminations during fall. While the vaccination rate is high – 90% of eligible citizens are fully vaccinated – the government is now focusing on a booster shot campaign. The generalization the Covid pass helped us control the speed of contaminations so, as 15th of January, its validity will be conditioned to a third dose.
In order to avoid the Omicron variant to spread, conditions to enter France have been tightened. It remains possible to enter our territory with a PCR or antigenic test but – clearly – holding a valid vaccination certificate still makes a big difference to enter France without justification, avoid quarantine and circulate freely in the country.
What do you think will be the biggest challenges for Europe and France in the coming year in terms of the health and economic crisis?
The Covid-19 pandemic is not over. We have to learn to live with it and hope for it to become milder, thanks to immunization or a variation of the virus. So mass vaccination remains a priority, as well a robust healthcare system. We should fight Covid-related ailments, but at the same time we have to continue investing in other public health issues. Because of Covid, prevention and detection of other diseases are going "under the radar".
In the midst of the pandemic, the EU supported businesses and jobs in an unprecedented way, to keep away from a deep crisis. This will come with a cost if we don't build favourable conditions to relaunch our economy. During the French presidency, we will pursue our efforts towards strategic independence: we want industries to flourish again on our territory, recovery plans to focus on competitiveness and innovation, climate change and social cohesion. This requires a strong political will, financial efforts, well targeted public incentives and new coordination mechanisms.
When you presented your credentials to the Serbian President, you confirmed the readiness of the French Development Agency to significantly increase its engagement in Serbia. What does this mean for our overall relations?
This means that we want to support the development of clean infrastructures in Serbia, in line with EU-standards. This is not only part of its EU-accession process but also of its development policy and international engagements in the field of Climate. The French Development Agency (AFD) allocated three loans to Serbia this year and offers grant-based supports, totalling about 230M€. It operates in partnership with other international funders, with whom investments are in the pipe for 2022 and 2023. For our overall relations, this also means that Serbia is a priority in French foreign policy.
Your country supports economic, social and democratic reforms in Serbia. What priorities should the Serbian government have?
The last country report of the EU noted progress in various fields, mainly economic reforms, migration management, and cooperation in the field of security. We also noted significant legislative progress in the field of rule of law, including the long-awaited ongoing constitutional reform on Justice, which was drafted in an inclusive and transparent manner.
An important frame-law in climate change was also adopted, which paves the way for more robust policies on the matter. For all of these reasons, I'm very happy that EU member states decided to open cluster 4 in December, on green agenda and sustainable connectivity.
This being said, there is still progress to achieve, notably regarding rule of law, freedom of media and high corruption: while I commend the legislative efforts in the field, ultimately they have to be translated into facts. General elections are coming up in Serbia and should serve as a good benchmark to assess the progress.
The Belgrade-Pristina dialogue is still pending and I know how sensitive the Kosovo issue is for Serbia. I am convinced of the necessity of a European mediation: in September, a temporary solution was found to the dispute over car plates, which is positive. This being said, France call for the resumption of the discussions, in a spirit of compromise, and for the implementation of what has been agreed. This implies a strong political will on both sides and the guarantee that no unilateral action will be carried out.
---
As for improvement perspectives, I wish that more French companies will invest and create new employments in Serbia

---
What are your impressions of the overall cooperation between France and Serbia? In what areas can these relations deepen and improve?
The cooperation between France and Serbia is thriving despite the covid-19 crisis. As mentioned, the field of cooperation is very diverse so I'll just mention a few.
First off, French companies are involved in major projects in Serbia. Egis is in charge of feasibility studies for the Belgrade's underground and Alstom will provide the rolling stocks. Vinci operates Nikola Tesla international airport where a new terminal will be inaugurated shortly. The waste reprocessing plant of Vinca, managed by Veolia-Itochu, should also be mentioned as it started operating in August. Technologic excellence and respect of the highest environmental standards are the common ground of those projects.
I'm also proud of our partnership with Novi Sad, European capital of Culture in 2022. Its very diverse cultural program will include several renowned French troops and the French Institute of Novi Sad will move into a new and modern location in the heart of its Creative District.
2021 also set milestones in the field of defence cooperation, which fostered our partnership agreement signed in 2011. General Lecointre, Chief of Staff of the French Armed Forces, visited Belgrade in June and French troops took part in Platinium Wolf, an international military exercise conducted by Serbia. Our troops are mostly interoperable, as Serbia actively takes part in several EU and international peace keeping operations.
As for improvement perspectives, I wish that more French companies will invest and create new employments in Serbia. This would generate more people-to-people ties, give more attractiveness to French language, foster more academic and youth exchanges etc.
What should Serbia focus more on and improve to attract more French investors?
I'll start by saying that Serbia is very attractive for French investors, who express their satisfaction on the business environment and their operations here: infrastructures are growing, workers are very qualified, speak languages, there is an EU-perspective.
However, Serbia is still quite unknown as a business location in France, which probably explains why we still have an unfulfilled development potential. We support all initiatives aiming at promoting Serbia in France, but more can be done, including in the field of tourism, academic cooperation and innovation. Let me also add, more generally, that stability of the entire Western Balkans regions very important to attract foreign investors.
What are your first impressions of Serbia and Belgrade?
My first few months here allowed me to discover a very exciting country, in the heart of Europe but also of a region crossed by new tensions. I met with a variety of people who are fully engaged in their communities, who want to modernize the country, bring about social change.
I was also very humbled to see how France is present in Serbia and among Serbian people, how strong are the roots of our longstanding friendship and solidarity.
I am already fond of Belgrade: its kafanas, its rivers banks and street animations. I'm lucky that our Embassy is a stone's throw away of Kalemegdan, where it is always a pleasure to stroll. In this positive context, I see a huge untapped bilateral potential, thanks to a mutual will at all levels and what I would simply call "good vibes".