A concept based on carefully selected products from Greece to be served at any table.
Hrana Mediterana (Mediterranean Food) is a guarantee of the highest culinary standards and is a great addition to every kitchen. This concept brings products of protected geographical origin. The abundance of food that can be prepared thanks to Hrana Mediterana products can be served at breakfast, lunch, dinner, as salads, appetizers, side dishes, desserts…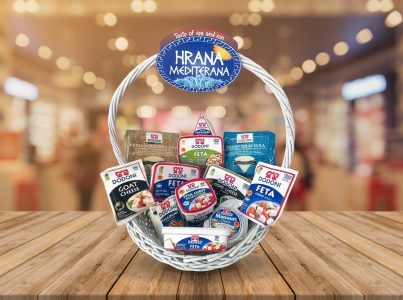 The Hrana Mediterana portfolio also includes products from the most reputable food producers. Dodoni, a producer of Greek dairy specialities, created on the slopes of Epirus with a touch of sea and mountain climate, is a part of this concept.
The current offer includes olives, extra virgin olive oil and olive paste from the leading producer of olives and extra virgin olive oil – Konstantopoulos. The best olive varieties are included in the Hrana Mediterana portfolio. The Kalamata extra virgin olive oil, which is made from koroneiki, a variety of olives from Kalamata, validates the top quality of Hrana Mediterana.
---
As of recently, the Hrana Mediterana concept also comprises Greek white cheeses made from cow's milk, the so-called Lefkotiri, produced by Belas.
---
Also, there are traditional Greek salads produced by Pitenis (melitzano salad, hummus), as well as Pitenis dried tomatoes. The Sithon honey from Sithonia and Thassos, from the eponymous honey producer, is a valuable addition to the health component that is a must in Hrana Mediterana. Their portfolio includes varieties of pine and wild mountain flower honey.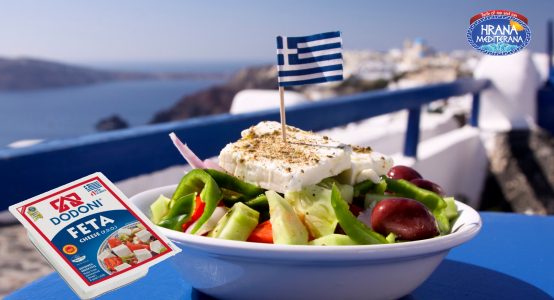 The Hrana Mediterana range also offers 100% natural freshly squeezed pomegranate juice ASOP, as well as pomegranate and chokeberry juice and organic pomegranate juice. Sweet preserves and jams from the producers of traditional Greek desserts, Papageorgiou, make the Hrana Mediterana range even more abundant. Papageorgiou's offer includes traditional preserves made of rose petals and oranges as well as pomegranate, fig and strawberry jams.