Source: eKapija
The United States of America want to continue to deepen the economic relationship with Serbia, U.S. Ambassador to Serbia Kyle Scott says in his interview with eKapija and adds that. the United States has the largest economy of any country in the world, and yet they are only Serbia's 18th largest trading partner.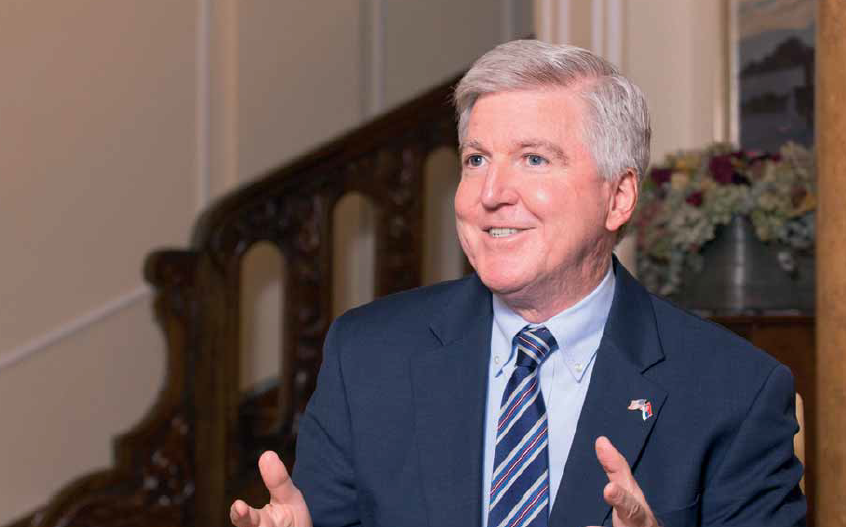 Scott says that U.S. companies see potential here thanks to the quality of Serbia's skilled, multilingual workforce and its commitment to EU accession, which underpins the country's political and economic stability. He points out that they both believe that Serbia is on the road to success.
Discussing the current situation in the country, he emphasizes that "everyone understands that Serbia is in a time of difficult and sometimes sensitive, even painful change".
– We want to help – Serbia has a lot of friends that want to help it get through this period of reforms and come out the other side stronger and more successful than ever – Scott adds.
We also talked about the operations of Serbian companies in the U.S, the Generalized System of Preferences, which facilitates the export of goods to America, as well as cultural, historical and other bonds between the two countries.
eKapija: At the Trade Winds conference, held last October, you said that the aim of the USA was to be one of the ten most important partners to Serbia. How do you see the current state of the economic relations of our two countries?
– Our economic cooperation is excellent, in large part because of the significant commitment by U.S. companies to conduct business in Serbia. There have been U.S. investments of almost USD 4 billion since 2000, and U.S. firms in Serbia now employ over 18,000 people.
U.S. companies often bring with them new technology, high labor and environmental standards, and good corporate practices.
Helping these companies succeed is important for Serbia's future – success stories and a transparent and welcoming business environment in Serbia are the best marketing tools to attract additional U.S. investors.
Our assistance programs are also an important part of our economic relationship, and USAID has done outstanding work to help Serbia modernize its business environment to get ready for the challenges of the future. Of about USD 1 billion in assistance to Serbia, roughly 40% has gone specifically to programs that advance Serbian economic development. Many people do not realize that in the area of economic assistance, the United States is Serbia's number one bilateral partner.
But we do want to continue to deepen the U.S.-Serbian economic relationship. The United States has the largest economy of any country in the world, and yet we are only Serbia's 18th largest trading partner.
eKapija: This conference and similar events are an opportunity for companies from our two countries to establish contacts. In which fields is there the most room for cooperation?
– It is no surprise that U.S. technology firms have a strong and growing presence here. We have rich experience in transforming research, science and innovation into successful businesses, and that's something we'd like to engage with more here in Serbia.
Many U.S. industries have established successful production bases here in Serbia. I'm sure this activity will continue to grow, as existing U.S. manufacturers expand their operations and as new companies come in over time.
We think there is great role for U.S. companies to play in helping address Serbia's tremendous need for environmental investment as it works toward EU membership. U.S. companies are also active and successful in Serbia's agriculture and healthcare sectors, for example.
U.S. companies remain important suppliers of industrial equipment that keep Serbia's power generators running, its natural gas flowing, its wind turbines circulating, and its oilfields and refineries operating.
Essentially if you name any industry, you will likely find American companies at or near the top in terms of their worldwide presence and expertise. So I wouldn't want to limit our potential cooperation in Serbia to one or two sectors. We are open for business across the entire economy.
eKapija: How often are you contacted by businessmen from the USA interested in investing in Serbia? Why do they choose Serbia to invest in and what are the biggest advantages that the country has that attract them?
– U.S. companies that are considering business or investment in Serbia regularly contact us. They see potential here thanks to the quality of Serbia's skilled, multilingual workforce and its commitment to EU accession, which underpins the country's political and economic stability.
(Photo: ASDF_MEDIA/shutterstock.com)
They see the benefits companies have gained by investing in other central and eastern European countries that participated in earlier rounds of EU accession, and they believe, as we do, that Serbia is on the road to success.
eKapija: How important is the existence of the American Chamber of Commerce in Serbia for the strengthening of business relations between the two countries? What kind of influence does it have and to what extent is the Embassy involved in its activities?
– When we want to know what the business community thinks about their operations in Serbia, or about planned or upcoming legislation, AmCham is the first place we turn.
Also, when Serbia needs to align its legislation with the EU, AmCham – with its experience and resources – is an important resource for the Government, which can draw on the collective wisdom of these businesses to understand how these new legal systems can be coordinated.
Just adopting rules on paper isn't enough – AmCham members can offer advice about implementation and helpful suggestions to avoid pitfalls that could needlessly make doing business in Serbia harder.
eKapija: On the other hand, AmCham regularly provides recommendations as to how to improve the business environment. What, then, are the biggest flaws and what can be done to make Serbia an even better destination for investments?
– One of the most important things Serbia could do is continue its hard work to improve the transparency and predictability of the administrative and regulatory environment.
Businesses need to plan. They need to know what is coming. They can adapt to sensible regulations, and they can react quickly when necessary, but we hear time and time again about how sudden, unexpected changes can cause business disruption.
The importance of an independent and efficient judicial system can't be stressed enough. Investors need to be confident that in the event of a legal dispute, they can expect court judgments that are timely, impartial, and enforceable. This is true even – and perhaps especially – when cases involve the state, or state actors.
Everyone understands that Serbia is in a time of difficult and sometimes sensitive, even painful change. We want to help – Serbia has a lot of friends that want to help it get through this period of reforms and come out the other side stronger and more successful than ever.
eKapija: How many US companies currently do business in Serbia? According to your findings, how satisfied are they with their operations in Serbia?
– There are about 100 U.S. companies of various size, doing business in Serbia. What is more important is that they seem to be very happy here. Many of them are investing in expansion of production facilities, like Ball Packaging, others are significantly increasing their workforce like NCR.
I am also very happy to say that many, many iconic U.S. companies like Coca-Cola, Microsoft, GE, Johnson & Johnson, just to name a few, have been present in this country for many decades and are here to stay!
Still, some of them mention large and complicated bureaucracy, lack of dialogue between the public and private sector, and limited transparency in certain areas as problems needing improvement.
eKapija: How present are Serbian companies in your country? How can their number and the scope of their operations in the USA increase?
– Not too present, I am afraid. I hope that the situation will change as the country's economy recovers and Serbia continues its progress to the EU accession. In general, I believe Serbia has a lot to offer to the U.S., especially in the food and agricultural sector.
(Photo: Jan Willem van Hofwegen/shutterstock.com)
Still there are several bright examples of Serbian know-how having great success in the U.S. One of these examples is in the hospitality business, where Serbian restaurant group, Street Guys Hospitality, operate two Ambar restaurants in Washington DC, promoting Serbian cuisine and culture to American consumers.
I also want to mention that the group was a part of the Serbian delegation to last year Select USA, Investment Summit, held in Washington DC, together with five other large Serbian companies looking to invest and expand their business in the United States.
The Summit is the highest-profile event that promotes Foreign Direct Investment (FDI) in the United States. This year, the summit will take place on June 20-22, 2018, and I would advise all Serbian companies interested in establishing their presence in the United States, to consider attending.
eKapija: It has recently been announced that the validity of the Generalized System of Preferences (GSP) has been extended until the end of 2020. How much do Serbian companies use GSP and where is there room for improvement?
– We are very pleased that Congress has reauthorized GSP through the end of 2020, and we agree that this is a tremendous opportunity for Serbian exporters to reach the U.S. market free of import duties. Serbian exporters have potential for duty-free exports in over 3,500 product categories. Some of these product groups may surprise you – from frozen raspberries to electric motors, and thousands of things in between.
Last year, of Serbia's USD 311 million exports to the United States in 2016, over USD 140 million was eligible for duty-free treatment under GSP.
When we talk to people around Serbia, however, we find that many businesses are not aware of the GSP program. We hope Serbian companies will explore the opportunities that GSP may present to them, and use this program to the fullest extent they can.
eKapija: According to your data, what did last year's merchandise trade between Serbia and the USA amount to? What did Serbia import the most, and what did it export the most to the USA?
– Our data show that Serbia has a trade surplus with the United States. Serbia exported USD 292.8 million in goods to the United States in 2017. The biggest product groups Serbia sent to America were ammunition, motor vehicles, tires, frozen berries, electric motors, iron and steel, engine parts and liquid pumps.
Again using our data, Serbia imported USD 111.1 million from the United States in 2017. The biggest product groups were digital processors for engines, x-ray and other medical equipment, airplane parts, leaf tobacco and "low value exports" – these could be items sent in individual packages with a customs declaration, such as by online retailers or individuals.
eKapija: It seems that the direct air service between Belgrade and New York is growing more and more successful, and the number of flights is therefore soon to increase. How important is this air route for both countries, especially in the sense of increased business cooperation and development of tourism? Is there room for connecting Belgrade with other American cities?
– We are absolutely delighted that Air Serbia now has direct service to New York. Our Embassy worked hard to support Air Serbia's efforts to receive approval from our Federal Aviation Administration for direct flights to the United States.
(Photo: Pressmaster/shutterstock.com)
If Air Serbia wishes to expand its flight offerings to the United States, we would welcome that decision. We would also be delighted if a U.S. carrier decided to launch direct flights to Serbia.
eKapija: The USA is actively helping Serbia on its way to joining the European Union. How do you rate the results Serbia has made in that respect so far and how do you rate the political relations of our two countries in general?
– We strongly support Serbia's desire to join the European Union and we work closely with the government to help achieve that goal. We believe that the reforms required for joining the European Union will greatly benefit Serbia. Serbia has made progress in many areas, but there is still important work to be done.
My view is that our bilateral relationship, rooted in a long history of cooperation, is strong and growing stronger. We work together every day to strengthen our relationship, overcome differences and pursue our greatest shared interest: a Serbia at peace with itself, at peace with its neighbors, and contributing to peace and stability throughout the world.
eKapija: Serbia and the USA have strong cultural and historical bonds. There are also hundreds of thousands of people of Serbian origin living in the USA. How integrated is the Serbian diaspora in the American society? Could we announce any upcoming activities of the Embassy in Serbia?
– We highly value the contributions that the Serbian diaspora have brought to the United States, from Nikola Tesla to Nemanja Bjelica, who currently plays for the Minnesota Timberwolves. These communities make up a vital part of tapestry of American culture and they serve as Ambassadors of Serbia's warmth and hospitality in all of the communities in which they live.
The exchange of people, ideas, and culture is one of the key pillars of our relationship and something that continues to bring us closer together.
We are currently preparing for a visit by experts who will speak at innovation centers around the country. As I mentioned, the United States has great expertise and experience in taking scientific and research ideas and turning them into successful business ventures.
Since the times of Nikola Tesla and Mihajlo Pupin, Serbian scientists and innovators have made outstanding contributions to the way we experience modern life. The next Tesla may be just around the corner – perhaps already at a Serbian university, working on fantastic new ideas.
We hope that Serbian innovators will be able to transform their ideas into practical success. If we can play a small role in helping Serbia develop the innovation and support infrastructure for that to happen, we will consider that a great success.

Milos Vlahovic