Since the beginning of its operations in Serbia, the company Lidl Serbia has taken care of the preservation of the environment, which is achieved, among other things, through various resource-saving measures, whose effectiveness is confirmed by the internationally recognized EDGE and LEED certificates. The energy management system with a series of measures to reduce energy consumption (ISO 50001) is just one of the ways that enables Lidl to save over 6,850 MWh of energy per year, which is enough for the twelve-month consumption of over 1,000 households in Serbia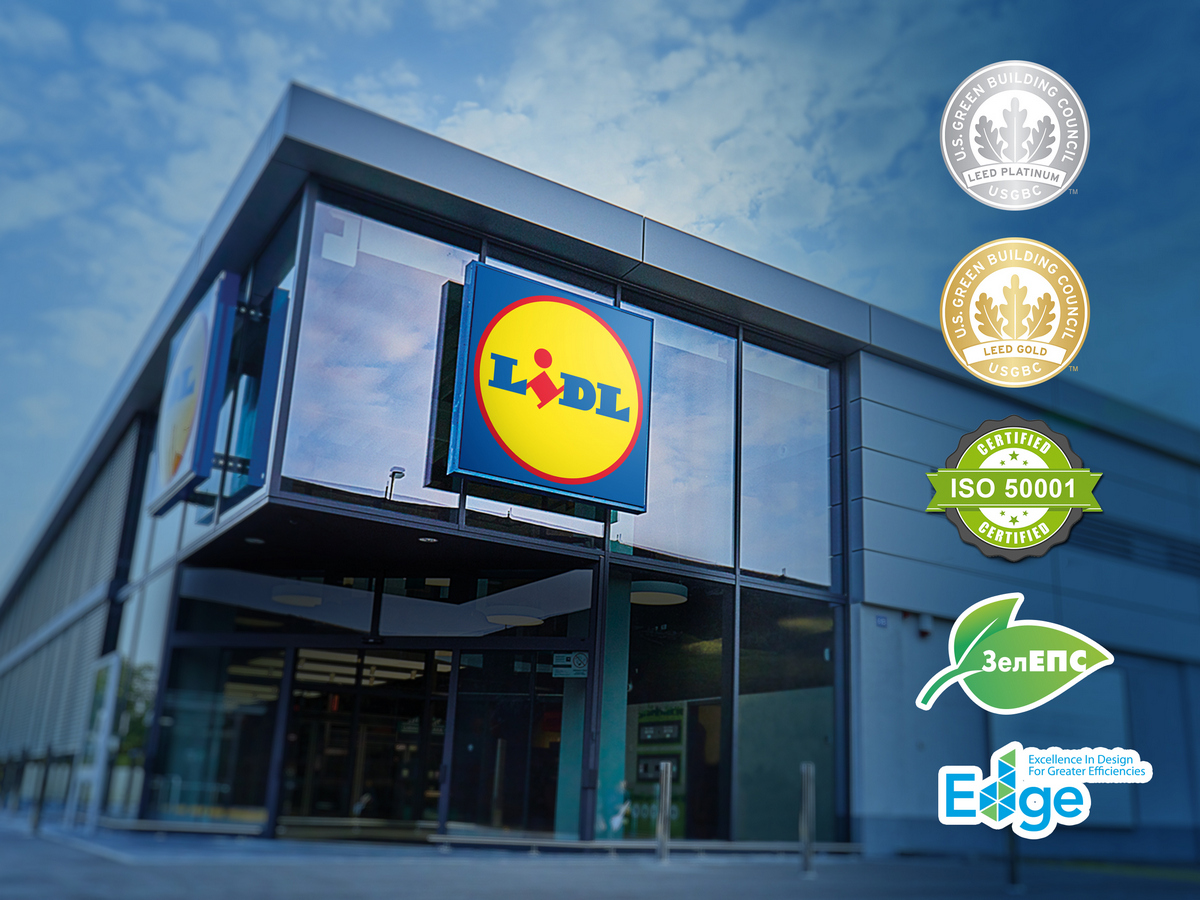 Since the very arrival of Lidl in Serbia, constructing the stores has been approached with the thought of a sustainable future, and thanks to that idea all Lidl stores have energy-saving LED bulbs, sensors that control the space lighting, as well as cooling devices of the latest technology with optimized defrosting. Thanks to these measures, on average, Lidl facilities (stores and logistics centers) use 30% less energy compared to facilities of similar size and purpose. This is confirmed by the EDGE certificates that 53 Lidl stores have received so far, as well as the logistics center in Nova Pazova, while the certification of newer stores is ongoing.
The logistics center in Nova Pazova, as well as the administration building of Lidl, have earned LEED certificates, which shows that during construction, the company was guided by the principles of sustainability and energy saving, so specifically, the logistics center saves 38% of energy, while the administration building saves even more than 50% of energy in comparison to similar objects. Solar panels, that can independently produce energy and cover about a third of the operating needs of the recently opened Lidl logistics center in Lapovo, have been installed. The logistics center in Lapovo received the highest level of LEED certification, platinum – one of 13 in the whole world. The energy savings at this Logistics Center compared to reference facilities according to the LEED standard is 45%.
"Sustainability and care for the environment are one of the most important topics in Lidl Serbia's business, which is why energy efficiency has always been an unavoidable aspect of our business. Thanks to the signing of the "ZelEPS" contract with the Electric Power Company of Serbia, we are the only retail chain that is completely supplied with green energy, that is with energy from renewable sources, which we are particularly proud of," said Ana Petrović, director of the Central Services department at Lidl Serbia.
Another confirmation of Lidl's success in the field of daily energy use is the ISO 50001 certificate awarded by the DEKRA organization, which entails the establishment and management of a system of energy consumption, energy sources and further strengthening of business through the improvement of energy efficiency in all domains of activity overall.
With everything aforementioned, Lidl Serbia annually saves over 6,850 MWh of energy, which is enough for the twelve-month consumption of over 1,000 households in Serbia.