Exotic and delicious traditional Egyptian dishes have always intrigued gastronomes. Egyptian cuisine reflects the country's rich history while local ingredients enhance its delicacy
Egypt is well-known for its long and ancient history, while food is one of the special segments of this exotic culture. In this interview, Maha Baraka, wife of the Egyptian ambassador to Serbia, speaks about the features of Egyptian cuisine and its traditional dishes.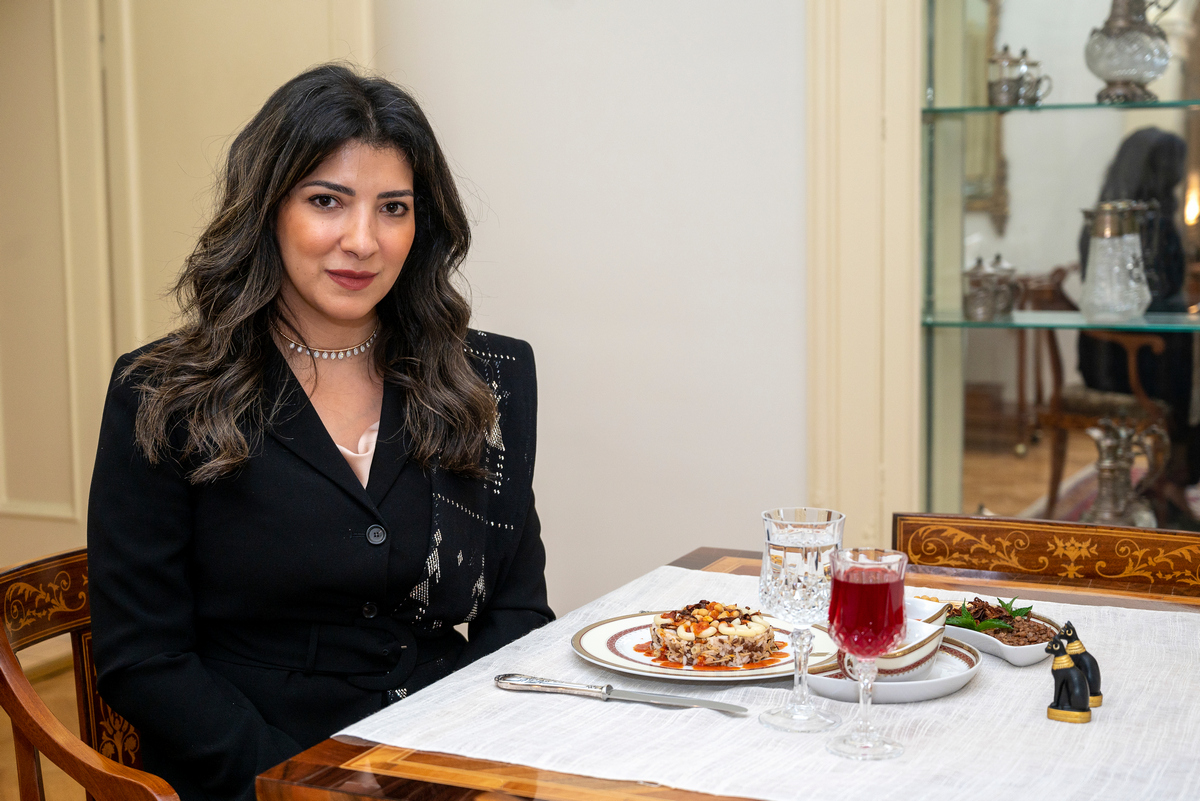 What are the main features of Egyptian cuisine?
Egypt has a very abundant and ancient culture and civilization. We have a long and boundless history, and food is definitely part of this philosophy. As we all know, food is a vital component of every culture. Our cuisine is plentiful and we have various types of food and spices. In ancient Egypt, as well as today, the cornerstone of our cuisine is aish baladi, a traditional Egyptian flatbread. The word aish comes from the word "life", as in the key of life…in Egypt, everything has a symbol, even food. Egypt has an exceptional geographical location on the Mediterranean shores and exceptionally fertile deltas of the Nile River, which provides us with qualitative and nutritious vegetables. Mainly, our cuisine is reliant on vegetables. Every day, individuals eat vegetables, rice, bread, and meat. In our cuisine, we also have a wide variety of meat, aside from chicken and lamb. We eat distinct meat compared to other countries and cultures such as rabbits, stuffed pigeons and ducks. Furthermore, we have a wide variety of seafood and different varieties of fish. Egypt also has numerous spices that are used in cooking all across the country, especially our secret combination of 7 spices boharat, a mix of cinnamon, nutmeg, cloves, pepper and other more Egyptian seasonings. Egyptian gastronomy is also rich in desserts and delicacies such as rice pudding, Zalabya, Basbousa, Om Ali etc.
---

Maha Baraka loves to prepare koushari, a popular domestic dish that everyone can eat. This vegan meal is rich in ingredients and plant-based protein. Egyptians love to eat it and drink hot or cold hibiscus tea, followed by Egyptian rice pudding as a dessert

---
Serbian cuisine is not much different from the Egyptian one. Take, for example, Serbian kebab (ćevap). We have the same meal in Egypt, but we make it with 7 spices so it has a different and stronger taste. The Serbian is also extremely tasty. Additionally, Serbs make moussaka the Egyptian way. Egyptian and Serbian cuisines are tremendously similar and diverse.
What do you miss the most about your country? Can you find all the necessary ingredients for the traditional Egyptian dishes in Serbia? 
The taste of Egyptian food depends on spices that we use daily, which makes it difficult sometimes to prepare traditional Egyptian dishes here, as it is not possible to find these spices in Serbia.
In addition, we eat a lot of mahashi, which is stuffed vegetables. This meal is similar to your sarma or stuffed peppers, but we use different types of vegetables which are smaller in size than the ones in Serbia. We stuff them with Egyptian short grain rice, minced meat and some green vegetables as well. Vine leaves are unfortunately not easily available here in Serbia. In Egypt, we stuff them with rice and minced meat as well.
 Do you like Serbian cuisine? What is your favourite Serbian dish? 
I really like ajvar, it is my favourite, especially the spicy kind. You have also have excellent peppers in Serbia. Having ajvar for breakfast became my habit. I enjoy it. I also like kebabs and gibanica with cheese.
What do you think of life in Belgrade? Did you manage to visit some other places in Serbia and what would you recommend to your friends to see here? 
Belgrade is a fantastic city, very vibrant and beautiful. Every day I go for a walk, on Terazije and by the Danube River and many other historical and unique sites. I like that the city is full of people who are very warm, welcoming and generous all the time. I am from Cairo, which is also a very vibrant city that doesn't sleep 24/7, and it is, more or less, very similar to Belgrade. That is why I like Belgrade so much, because it reminds me of my hometown.
Belgrade is different from other European cities where everything closes down after 7 PM. Belgrade is always alive. It is full of greenery and beautiful scenery, and the people are friendly as well. My family and I have been living here only for four months, but my son, who is 7 years old, likes Belgrade so much that he wants to live in it forever. He is learning the Serbian language and getting quite good at it. I would like to single out the magnificent architecture of the city, which is spectacular and unique. My dream is to visit Tara Mountain and Drvengrad.
Koshari
Koshari is a hearty vegan meal of lentil rice, chickpeas, spicy vinegar tomato sauce, pasta, and fried onions. This Egyptian koshari recipe is authentic and perfect for meal prepping.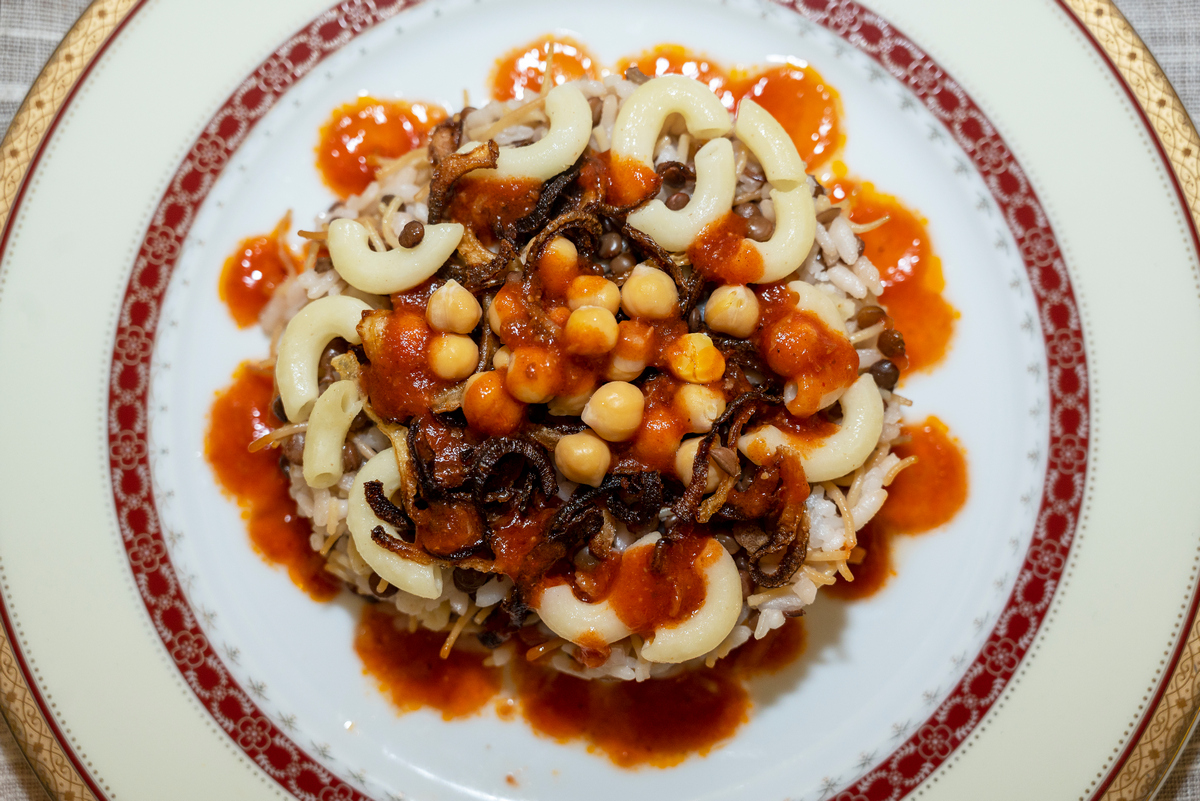 INGREDIENTS
4 medium onions (about 1.5 lbs)
1 cup dried chickpeas (or 2 – 15 ounce cans of chickpeas)** See note 3
½ bag of 1 lb spaghetti
½ bag of 1 lb elbow pasta
1 cup dried brown lentils
2 cups dry Calrose rice (or short-grain rice) **See note 4
8 whole tomatoes (about 2 lbs or 1 kg in weight)
2 tbsp tomato paste
9 garlic cloves
1 bell pepper (size of a clenched fist)
2 tbsp white vinegar
ground cumin
ground coriander
2 limes
oil for frying (preferably sunflower oil)** See note 5
flour (to toss the onions in prior to frying)
salt and pepper to taste
½ tsp sugar
chili flakes or chili powder (optional)
1 spicy chili (optional)
INSTRUCTIONS
SOAK DRY LENTILS AND DRY CHICKPEAS AHEAD OF TIME
Soak the dried lentils and dried chickpeas in water for 3 hours prior to making koshari.
PREPARE THE CHICKPEAS
See note 3 if using canned chickpeas. Boil 1 cup of dried chickpeas until semi-cooked (about 45 minutes to an hour). Drain water.
Add fresh water and ½ tablespoon of cumin. Boil chickpeas a second time for another 30 minutes.
Once chickpeas are cooked, squeeze ½ of a lime over chickpeas.
FRY THE ONIONS
Chop 2 medium onions into circles. Mix with flour and set aside for 30 minutes prior to frying.
Fry in oil, preferrably sunflower oil. Using a frying spatula, remove the onions from the oil. Set onto a paper towel and set aside.
Keep the sunflower oil to use some of it in other parts of the recipe.
MAKE THE FRESH RED SAUCE
Blend 3 tomatoes, 1 bell pepper, ½ medium onion, and 3 garlic cloves in the food processor.
If you would like a spicy sauce, add 1 spicy pepper.
Add ½ teaspoon of ground cumin, ½ teaspoon of ground coriander, 1 tablespoon of oil (from the fried onions), salt, and pepper. Add juice from 1 lime.
Blend and set aside.
MAKE THE KOSHARI RICE
Blend 1.5 medium onions in a food processor.
In a high rimmed stovetop pot, add 2 tablespoon of oil (from the fried onions). Cook the onions on medium heat for about 15 minutes.
Add the brown lentils (these will be about 2.25 cups after being soaked) and 3 cups of water. Bring to a boil. Boil for 5 minutes.
Turn down heat to medium-low. Add 2 cups of dry rice and 1 more cups of water.
Add salt and pepper. Mix the koshari rice and cover.
Continue to cook on medium-low heat covered until the rice has finished cooking (about 12 minutes).
Turn off the stove and allow the rice to rest covered for 5 minutes.
COOK THE PASTA
Boil water and add about 1 tablespoon of salt.
Break the spaghetti pasta in half, then break the half again making quarter size sections of spaghetti. Break about 15 spaghetti noodles at the same time.
Add the spaghetti pasta and elbow pasta to the boiling water.
Cook the pasta until desired firmness.
Drain the pasta and set aside.
KOSHARI VINEGAR RED SAUCE
Blend 5 medium tomatoes in a blender. Strain tomatoes into a bowl.
Fry 2 tablespoon of oil (or ghee) with 1 teaspoon chili flakes (or chili powder) for 30 seconds then add 5 minced garlic cloves.
Add 2 tablespoon of tomato paste and 2 tablespoon of vinegar for about 30 seconds before adding the blended tomatoes.
Add 1 teaspoon of cumin, 1 teaspoon of coriander, 1 teaspoon of salt, ½ teaspoon sugar, and 1 teaspoon of ground pepper.
Boil for about 10 minutes.
NOTES
Store koshari rice, pasta, fresh red sauce, koshari vinegar red sauce, fried onions, and chickpeas separately in the fridge for up to 5 days.
Whole wheat pasta is a suitable substitution.
Substitute 2 cans of chickpeas (15 ounce cans) for 1 cup dried chickpeas. Because canned chickpeas are already cooked, just drain the chickpeas. Boil for 5 minutes in water with ½ tablespoon of ground cumin. Then squeeze ½ a lime on top.
Use Calrose rice, Egyptian rice, or Japanese short-grain rice for this recipe. If using medium or long-grain rice, the water ratio will need to be adjusted.
After frying the onions, save the frying oil. Use some of the frying oil in other parts of the recipe.
The nutrition facts do not factor in the oil from frying the onions.