Marriott Hotels (www.MarriottHotels.com), part of Marriott International, today announced its debut in West Africa, with the highly anticipated opening of Accra Marriott Hotel (www.AccraMarriott.com). Owned by African Hospitality Limited, the hotel is strategically located opposite the Kotoka International Airport, making it the perfect "Gateway to West Africa". Set in the heart of Airport City, a burgeoning urban development, the Accra Marriott Hotel is just a few kilometers outside of the central business district providing easy access to major corporate businesses, government entities and well known city landmarks.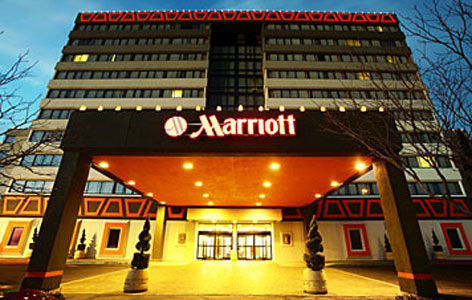 "We are thrilled to open the Accra Marriott Hotel, a highly anticipated addition to our Africa portfolio and a significant milestone in our journey" said Alex Kyriakidis, President and Managing Director, Middle East and Africa, Marriott International. "Accra is the heartbeat of Ghana, a dynamic city bustling with energy. A commercial, manufacturing, and communications center with great shopping and excellent nightlife, it makes an interesting travel destination both for business and for leisure. The Accra Marriott Hotel will add to the city's maturing hospitality scene, inspiring guests with more forward-thinking experiences and aesthetically inspiring spaces that speak to their inventive nature."
With 208 well-appointed rooms, 3 enticing dining venues, 800 square meters of meeting space, a pool and a fully equipped fitness center, Accra Marriott Hotel offers state-of-the-art business facilities. Contemporary design and local touches blend to create a distinct and vibrant aesthetic. Amenity-filled guest rooms, progressive dining, cutting edge technology, flexible and exemplary meeting facilities and a brand new social event experience make every guest stay special, while innovative spaces, such as The Greatroom, allow guests to seamlessly blend work and play. Modern and sophisticated in its approach, providing experiences that keep the mind balanced, sharp and inspired, the hotel is the ideal starting point for travelers to do their business or discover the bustling city of Accra.
Boldly transforming itself for mobile and global travelers, Marriott Hotels inspires brilliance leading the industry with innovations. At Marriott Accra Hotel, guests can experience the ease of mobile check in and enjoy an elevated guest experience through Mobile Guest Services, seamlessly delivered with the globally renowned Marriott Hotels service. To find out more about the hotel visit www.AccraMarriott.com and stay connected on Facebook.