Recognizable by the historic coat of arms of the municipality of Bale, the very name of this line of special products – Valle D'Istria – is a tribute to the municipality of Bale, where the Meneghetti brand was created and has been successfully developing for more than two decades.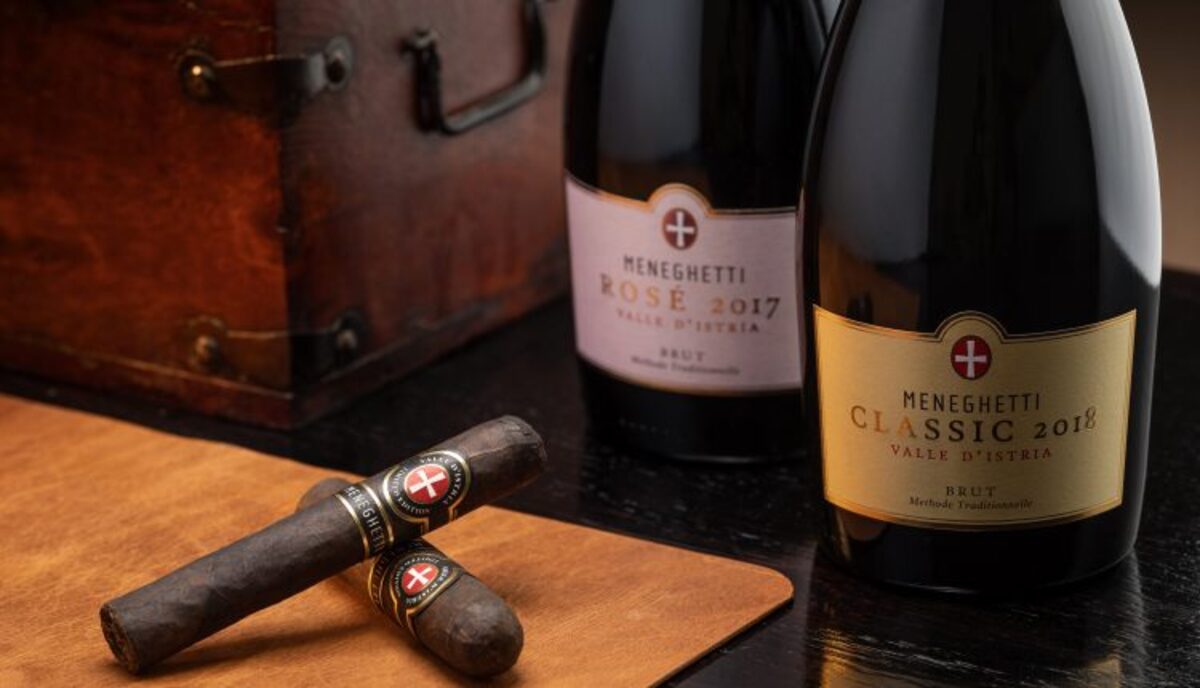 The selection includes Meneghetti Brandy XO, champagnes Meneghetti Classic, Meneghetti Classic Rose, limited editions Meneghetti Reserva 2015 and 2016 in magnum bottles (1.5L), and more recently handmade cigars from the manufactory in Nicaragua, unique in their blend and created exclusively for this Istrian brand.
More than two years of careful and precise creation under the baton of the famous cigar master blender Daniel Guerrera were needed in order for top tobacco experts to masterfully create eight types of high-quality cigars arranged in three lines: Classic, Maduro and Special.
In order for each hand-made cigar to show its full potential, it is ideal to combine them with fine spirits — such as Meneghetti Brandy XO, which is obtained from Meneghetti Red and White wines from the 2004 and 2005 harvests and aged for 12 years in "barrique" barrels. The deep color of old gold, the dense texture, the smell of ripe fruit of apricots, quinces, pears, with distinctive notes of oak and honey, is perfectly combined with the Valle d'Istria Presidente cigar, full of sweet aroma with spicy and peppery notes.
The Vale D'Istria line also includes prized sparkling wines — Meneghetti Classic and Meneghetti Classic Rose from different years (vintages), which are made using the traditional method (Méthode Champenoise). Meneghetti Classic is a wine with fine bubbles (perlage), recognizable and complex aromas. Dominant notes of ripe peaches and pears, aromas of white flowers and citrus, and subtle tones of fresh brioche are generally recognizable characteristics of world-renowned sparkling wines of the highest category. The creamy and elegant structure of this wine goes perfectly with the Meneghetti Valle d'Istria Classic Lancero cigar, which is woody and slightly peppery. Meneghetti Classic Rose is a sparkling wine of delicate cherry color, with rich and fine pearls, which is greatly appreciated by "connaisseurs".
GRAN SELECCIÓN
The Valle D'Istria Selection 8 Cigar Sampler is a collection of cigars in a specially designed box — from medium to full-bodied, and each fragrant cigar in this specially selected range of samples is the perfect gift for the most discerning cigar lovers.