We are currently developing a conceptual solution and project for a business and residential complex in an exclusive location in Novi Beograd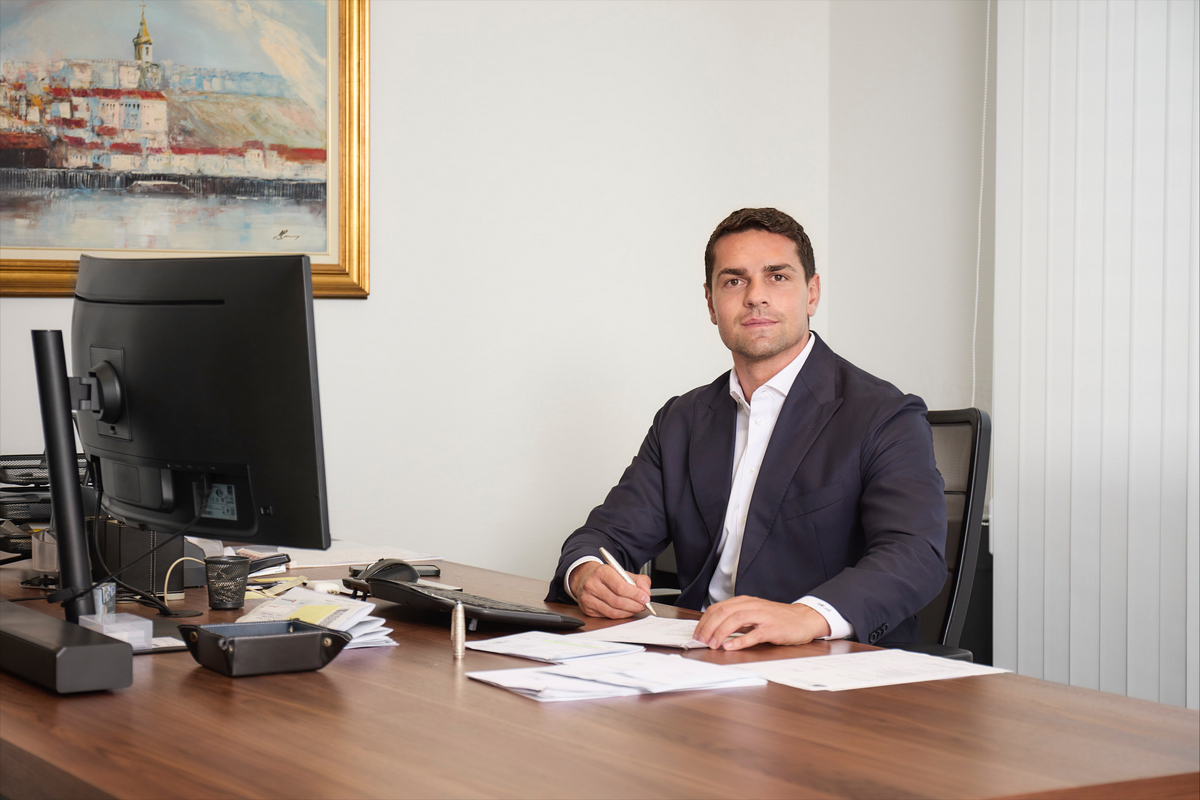 We spoke with an accomplished businessman of Serbian origin, Miloš Antić, whose family owns one of the most successful construction companies in Switzerland. The company will soon start implementing an exclusive project in Novi Beograd and is also planning one-of-a-kind projects in Dubai.
Your father started DHG Holding in Switzerland in the early 1990s. As someone who was born in that country, what can you tell us about that phase in the life of your family and the company?
I don't remember the company's inception because I was born in 1994 when my father Blagoje Antić founded its first company. I look back on my memories like when I visited the first construction site as a child with my father, and I remember how hard my father worked. The system in Switzerland does not allow you to have too much free time and the same applied to my family – we were used to order, work and discipline.
Switzerland offers opportunities in all segments of life and it is up to you whether you will use them.
Last year, DHG Holding bought land in Block 40, located between Heroja sa Košara Boulevard and a railroad. Have you finished designing this planned facility and is there anything that sets it apart from other similar facilities in the area?
Our local branch – DHG DOO – has managed to buy the mentioned plot at a public tender. We are happy about that because it is almost impossible to buy this kind of land in Novi Beograd at the moment. Both the conceptual solution and a project for a commercial and residential complex are currently being developed.
---
From its humble beginnings to date, DHG has grown into one of the most successful private shareholding companies in the industry
---
What was DHG Holding's first business activity and what the company mostly does today?
DHG Holding started as a finishing works and renovation company in the mid-1990, founded by my father. From these humble beginnings to date, DHG has grown into one of the most successful private shareholding companies in the industry. Today, our main focus is on expanding the real estate portfolio, but also on the construction of various types of buildings. DHG also offers professional building maintenance services, as well as the services that started it all – renovation and finishing works.
You have also recently launched new projects in Dubai. Could you elaborate? 
It is no secret that this Saharan city has attracted investors from all over the world in the last few years. We have also taken advantage of the offered opportunity for real estate development in Dubai. We are currently planning an extraordinary project in an excellent location, with a residential and commercial complex.
You were a professional athlete. How much did that experience help you in your business career?
The experience gained in that phase of my life helped me to see the importance of team and teamwork for the collective. Every part, no matter how small, is extremely important for the final picture. I try to carry this team spirit wherever I go and use it every time the opportunity arises. Perseverance is another good thing I learned from my former profession. I find this trait extremely useful in the ever-changing business world.
DHG Holding is an excellent example of a family-run company – apart from your father, you and your sisters also work in the company.
Yes, apart from me, my three sisters also work in the company as vice presidents of the DHG Group. My oldest sister, Dragana, is in charge of the real estate department, Milena is the head of marketing and also the legal representative of our company in Belgrade and is responsible for the operational part of it, while Blagica is the director of DHG Facility Services, which does professional maintenance of commercial and residential buildings.
---
When you say a family company, that doesn't just imply us (the family) – our employees are also our family
---
A family company brings a certain kind of relief in the business sense as we are all fully committed to the success of the company, but that does not mean that we are treated differently compared to other workers. Just like all our employees we have to prove ourselves and work hard towards the company's development. When you say a family company, that doesn't just imply us (the family) – our employees are also our family.
As a young businessman, where do you see yourself in the future – in Switzerland, Serbia, Dubai or a different location?
It is still too early to talk about that. I try not to narrow my horizons and limit myself. The world today is so interconnected and offers so many growth opportunities. It also depends on the opportunities that we will come across, which I'm sure will be plenty when it comes to a company like DHG. Switzerland is definitely my base and that will never change, but regarding the ongoing projects in Dubai, I am currently working between the United Arab Emirates and Switzerland.