Italian food is not only centred around eating. Rather, it is an all-around experience – it is history, identity, culture, quality, sharing, diversity, health.
Italian cuisine is famous worldwide, but often the names of some dishes only sound Italian. In her interview for Diplomacy&Commerce magazine, Alessandra, the wife of the Italian ambassador in Serbia, reveals what is truly Italian and how one of the most delicious desserts is prepared. She also talks about her liking for Serbian cuisine and tradition, as well as places she likes to visit.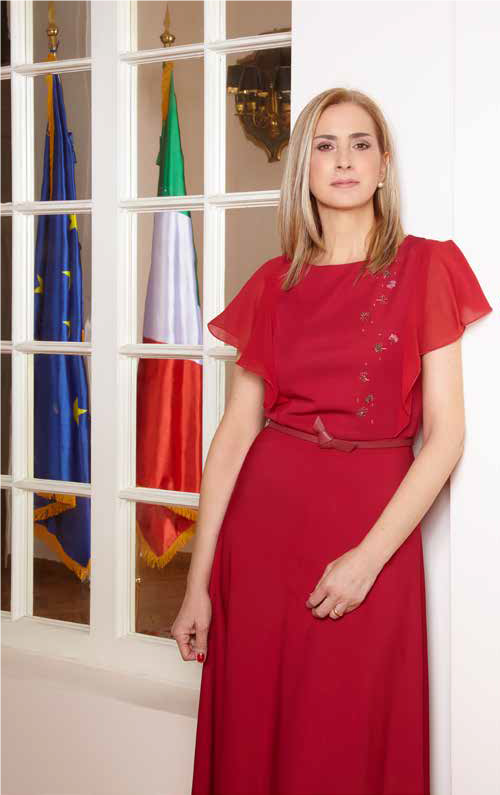 What are the main characteristics of Italian cuisine? What are the most popular Italian meals and sweets?
I do not want to sound "presumptuous", but there is no such thing as Italian cuisine. Our Country is world-known for its unique food and its dishes are among the most loved, popular – and unfortunately messed up – in the globe. What is the key to this success? I believe that, besides its extraordinary taste, Italian food is not only centred around eating, but it is an all-around experience: it is history, identity, culture, quality, sharing, diversity, health. It is a real journey throughout our country – from North to South – passing through the islands (including Sicily, where my husband and I come from). You can discover an incredible variety of culinary traditions, and each of them tells a different story or anecdote.
Stereotypes aside, Italian cuisine is much more than pizza and pasta. But if you are asking me about our best-known dishes, that's a real Pandora's box – risotto alla Milanese, amatriciana, lasagna… As for the sweets, there are plenty of desserts and cookies, but I would like to single out three of them – tiramisu (in memory of the person who invented it, Ado Campeol, who recently passed away), panettone (the 'king' of Christmas), and one of the symbols of my beautiful land, the Sicilian cannolo, which is becoming popular worldwide, including Serbia. Doesn't this make your mouth water?!
Do you like Serbian cuisine? What is your favourite Serbian dish and why?
Naravno! Serbian cuisine tastes great. I really like burek sa sirom; its crispy pastry with sour cheese is very appetizing. The poppy seeds strudel is simply delicious, not to mention the bajadera. I also appreciate the quality of Serbian wines and natural spirits. I have discovered some beautiful wineries in the country, which produce great wine, and interesting wine-tasting tours you can go to while enjoying the countryside. Of course, I have to mention rakija. My favourite one is dunja (quince). Apart from the dishes themselves, I enjoy the Serbian convivial spirit around the table – the familiar atmosphere, the pleasure of being together and sharing good food and the handed-down traditions. Italy and Serbia are very similar in this sense.
How do you like living in Belgrade? Which regions and cities have you visited and which would you recommend to your friends and why?
For me, this is the second time around living in Belgrade. I already lived here almost 15 years ago and coming back, I found a very vibrant and dynamic city. I enjoy Belgrade, especially its artistic and creative soul and its effervescent and youthful atmosphere. I also had the chance to travel around Serbia and I love Novi Sad with its cultural vibe (I also attended the Exit Festival), the beautiful art nouveau architecture of Subotica, and the landscape of Fruška Gora. I would surely recommend a visit to Serbia because it is a hidden gem; a very nice surprise for those who do not know the country and for those who want to make a genuine discovery, away from the most popular tourist destinations. I would definitely say that Serbia should be on every traveller's bucket list. Serbian people are very warm and welcoming!
CANNOLI SICILIANI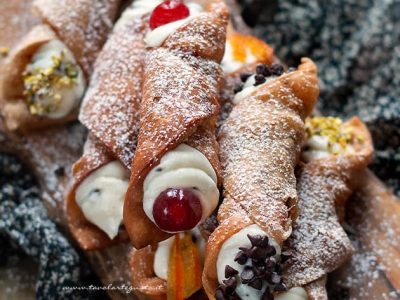 FOR THE SHELLS
2 cups flour 00
1 tablespoon bitter cocoa powder
50 gr caster sugar
1 egg
30 gr lard
1 oz Marsala wine
1 oz white wine vinegar
cinnamon powder
vanilla
1 pinch of salt
oil
FOR THE CANNOLI FILLING
800 gr ricotta cheese
300 gr caster sugar
dark chocolate drops
FOR GARNISH
powdered sugar
Candied cherries or oranges
chopped pistachios
chocolate chips
Instructions
Put in a large mixing bowl the flour, salt, cinnamon, cocoa powder and sift the caster sugar.
Add lard, egg, and then the vinegar mixed with Marsala wine; these liquids should be added slowly, stirring the mixture until you get soft but firm dough.
Knead the mixture for 5 minutes on a flat surface, until elastic, smooth and homogeneous, then wrap it in plastic and leave it to rest for at least an hour in the refrigerator.
Now you need to prepare the cannoli cream. For the topping, you need to place well-drained ricotta cheese inside a bowl and add sugar.
Gently stir the ingredients, cover the bowl with plastic wrap and place in refrigerator for at least an hour.
After the indicated time, take a very fine mesh sieve, place it on a bowl and with the help of a spatula, crush the ricotta and sugar down and press on it. You should see very fine cream coming out through the sieve.
Once the composition has the right density, add the chocolate chips (or what you prefer). Mix and place the cream cheese in the refrigerator, in a container with a lid.
Take the dough for the cannoli shells and place it on the table. Use a rolling pin to create a thin 1-2 mm pastry.
Make circles out of the dough, roll them around cannoli molds, brushing the ends with the egg whites before stacking them.
Heat the lard (or cooking oil) in a saucepan to between 170 and 180°C and then fry all the cannoli shells. When ready, put them on sheets of absorbent paper to get rid of the extra oil, and let them cool completely before removing the metal cylinders.
Once they cool, fill the cannoli shells with the cannoli cream that you will put in a pastry bag, using a smooth and wide nozzle.
Complete the process by placing the candied cherries or chopped pistachios at each end.
Top it with a generous sprinkling of powdered sugar and serve.