Start of construction for a plant in Nova Pazova near Belgrade
Opening scheduled for late 2022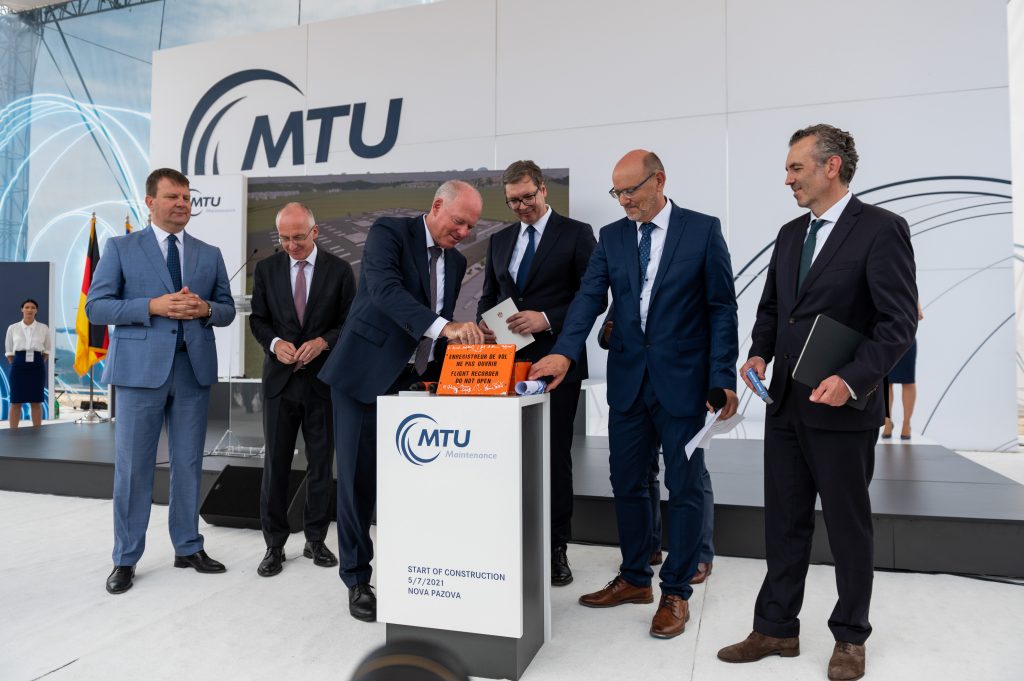 Munich/Nova Pazova, July 5, 2021 – MTU Aero Engines AG started construction work on its new repair facility for MTU Maintenance Serbia today. The commencement took place in the presence of Aleksandar Vučić, President of Serbia, and Thomas Jarzombek, Aerospace Coordinator of the German government. The ceremony was also attended by Germany's ambassador to Serbia, Thomas Schieb, and representatives from local authorities.
MTU is Germany's leading engine manufacturer and one of the world's largest providers of aircraft engine maintenance services. With this step, the company is expanding its existing MRO network. At the new site in Nova Pazova near Belgrade, MTU Maintenance Serbia d.o.o., a wholly owned subsidiary of MTU, will focus exclusively on the repair of commercial engine parts. MTU plans to start operations at the end of 2022.
"We welcome MTU's commitment to our country," says Serbia's President Aleksandar Vučić.
"I am convinced that MTU, as a global engine specialist, can become a key part of a strong aviation industry in Serbia. We are supporting this by expanding our infrastructure and investing in the training of highly qualified specialists."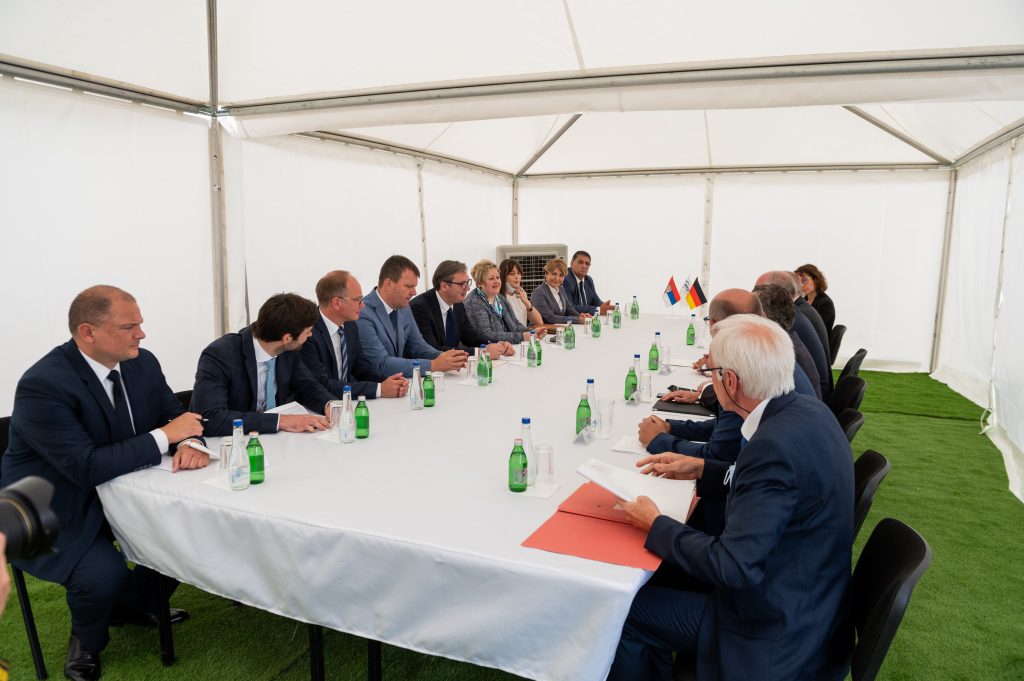 "The internationalization of the German aviation industry is an important pillar of the industry. MTU's commitment is proof of the confidence that German companies have in Serbia as a business location," said Thomas Jarzombek, the German government's aerospace coordinator and a member of the German parliament. "Today's groundbreaking is a pleasing example that despite the difficult conditions in aviation caused by the Corona pandemic, planned projects continue to be realized."
Commercial aircraft engine maintenance is a key driver of MTU's business success. An additional location provides the company with further flexibility and strengthens its global competitiveness.
"Commercial maintenance business accounts for more than 60 percent of our business volume – and the trend is rising. The new facility in Serbia will add efficiency to our high-performance network of MRO locations in Europe, Asia and North America," explains Michael Schreyögg, MTU Aero Engines' Chief Program Officer. "The ramp-up of this additional capacity in Serbia is an essential element in our ability to offer competitive services in the global market. MTU stands for quality and reliability among partners and customers. The basis for this is professional training and development, which has been the focus of our efforts in Serbia since the beginning of our project. We greatly appreciate the excellent support and partnership of the Serbian government."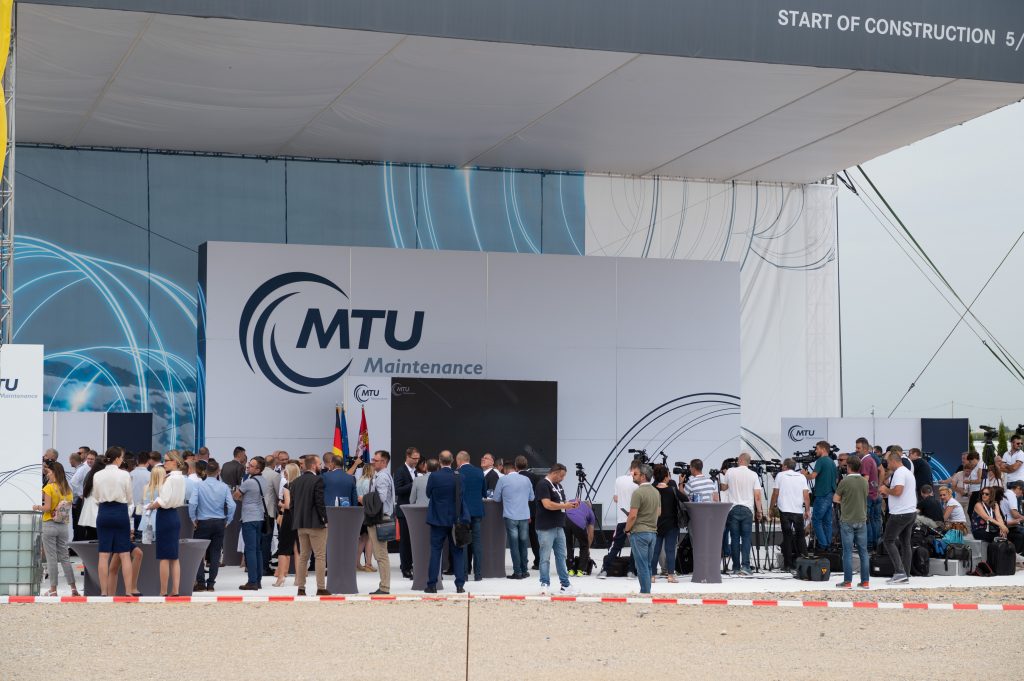 Over the past two years, MTU has worked with the Serbian Ministry of Education to develop the Aviation Academy in Belgrade into a leading training center for aviation professions. In line with the quality standards of the aviation industry, job profiles specially tailored to engine technology were implemented as early as September 2020, and the first MTU Maintenance Serbia specialists have now been trained. Additionally, employees are also already learning additional skills in on the job training at MTU locations in Germany and Poland. At present, MTU Maintenance Serbia has more than 60 employees on board. Over the next few years, the number of employees at the site is expected to grow to around 500.
---
About MTU Aero Engines
MTU Aero Engines AG is Germany's leading engine manufacturer. The company is a technological leader in low-pressure turbines, high-pressure compressors, turbine center frames as well as manufacturing processes and repair techniques. In the commercial OEM business, the company plays a key role in the development, manufacturing and marketing of high-tech components together with international partners. Some 30 percent of today's active aircraft in service worldwide have MTU components on board. In the commercial maintenance sector the company ranks among the top 5 service providers for commercial aircraft engines and industrial gas turbines. The activities are combined under the roof of MTU Maintenance. In the military arena, MTU Aero Engines is Germany's industrial lead company for practically all engines operated by the country's military. MTU operates a network of locations around the globe; Munich is home to its corporate headquarters. In fiscal 2020, the company had a workforce of some 10,000 employees and posted consolidated sales of approximately 4.6 billion euros.