EKO Serbia Company, a member of the Hellenic Petroleum Group, is expanding its network to reach 56 petrol stations. The new petrol station is located at Street Marija Bursać 50 in Zemun and it was built according to the latest technological, safety, and environmental standards.
The new station has an upgraded appearance, which, with all the other facilities, is even more adapted to the requirements and expectations of drivers. Drivers have at their disposal high-quality fuels of the premium category – Diesel Double Filtered and high-octane gasoline, EKO Racing 100, as well as Ekonomy fuels and LPG.
What makes EKO network unique is the service provided by their employees, as well as the loyalty program – EKO Smile Club – now even closer to drivers who live and work in this part of Belgrade.
With a modern marketplace, free internet, fresh coffee of the highest quality, free car checks, which are only one part of the offers available to all drivers 24 hours a day, the new petrol station will soon become a favorite place for all drivers.
On that occasion, Panagiotis Loukas, CEO of EKO Serbia, said: "In line with our business policy, we continue to expand our retail network in Serbia. The opening of a new service station in the year when EKO Serbia marks 20 years since its establishment, is the best confirmation that the company has a long term for its development in Serbia. We are constantly working to set high standards in business and provide the best services to our customers. The changes we are introducing are the result of new trends, market demands, advances in technology, and the company's goals to offer innovative and competitive energy products and services. "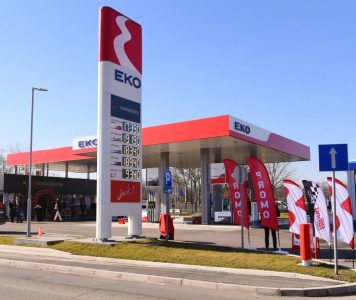 We were honored that one of our guests was His Excellency Georgios Diakofotakis, Ambassador of Greece in Serbia. Serbian Olympic athletes attended the opening ceremony, Andrea Arsović, first on the world rankings in the air rifle, and Dejan Majstorović, 3×3 basketball world champions. This is a confirmation of the friendship that resulted from the long-term cooperation between EKO Serbia Company and the Olympic Committee of Serbia.
"EKO Serbia has been investing in sports for years, it supports the Olympic Committee of Serbia and it is our trusted partner. Our cooperation has always been extraordinary, especially because one of the many virtues of the company EKO Serbia is maximum commitment and cares for people, and we nurture such approach about athletes and coaches", said Božidar Maljković, president of the Serbian Olympic Committee.
We are expecting all drivers at our new Petrol Station in Zemun.