The exhibition "Odlar Yurdu, Azərbaycan – Azerbaijan – the Land of Fire", organized as part of the Culture Day of Azerbaijan in Belgrade, and dedicated to the Azerbaijani cultural heritage, was opened in the Palace of Arts "Madlena" with a display of some of the pearls of the culture of this Eurasian country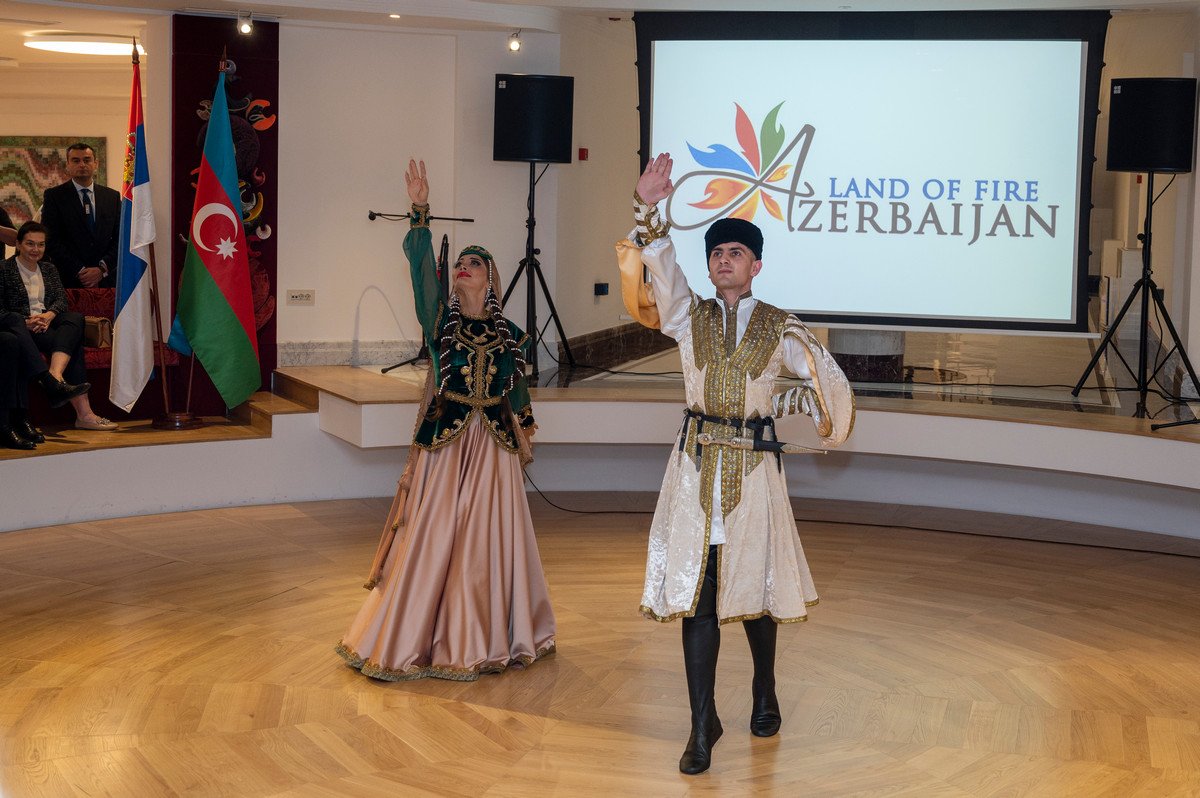 In his welcoming speech, the Ambassador of Azerbaijan H.E. Kamil Khasiyev expressed his gratitude to the collaborators who helped organize the exhibition, emphasizing that special thanks go to the artists and musicians for their talent and dedication.
– National art, national music, and national dances are a vivid expression of centuries-old cultural and artistic traditions of the people of Azerbaijan. They speak the universal language of beauty, harmony, and humanism – said Khasiyev.
The land of fire, the temples of many religions, the wonderful nature, and the fusion of East and West, showed all its magnificence through the concert of the State Ensemble of Azerbaijani Song and Dance by Fikret Amirov, whose presentation to the Belgrade audience marked the beginning of the three-day exhibition. Combining national music, choreography, and storytelling, this ensemble demonstrated the rootedness of Azerbaijanis in ancient heritage and history.
Exhibition by Yevgeni Turkoglu
Immediately after this performance, the guests had the opportunity to watch a short documentary film about the ancient traditions of carpet weaving in Azerbaijan – an art that combines nature, history, and the way of life in this Eurasian country and which made the Azerbaijani carpet to be added to the list of intangible heritage of UNESCO at the end of 2010.
This evening, another pearl of Azerbaijani culture and, according to UNESCO, a masterpiece of humanity's oral and intangible heritage – Mugham – was shown. This very complex art form performed by "Mugham" and Jasmine Trubetas is one of many classical compositions that combine classical poetry and specific local and musical improvisation.
Azerbaijani carpets
During the exhibition, lovers of enchanting world cultures will have the opportunity to see the traditional Azerbaijani carpets of Azerhalch as well as Karabakh – the national Azerbaijani costume of designer Gulnara Halilova. In a place especially interesting for the youngest, handmade toy characters inspired by Azerbaijani folklore stories by the Azerbaijani artist Diana Isayeva will be displayed.
In addition, the exhibition "Azerbaijan – the Land of Fire" features drawings made in the shower technique and abstract paintings inspired by the architecture of Baku and the beauty of the Absheron Peninsula by the Azerbaijani artist Yevgenija Turkoglu, who lives and creates in Belgrade.
Furniture and exhibition – Leyla Khasiyeva
Special attention was drawn to the works of designer Leyla Khasiyeva, a doctor of medicine by education and an artist by passion. Khasiieva applied the kurama technique, better known as quilting or patchwork, to the production of furniture, thus adding a spirit of innovation.
At the very end, visitors enjoyed tasting Azerbaijani tea and "pahlavi", the most famous national sweet made of thin layers of pastry with honey and chopped nuts.