The Association of Young Businessmen of Serbia and Shopen start-up, in partnership with Mastercard, are organizing SurfShop, an intensive online support program that will enable Serbian manufacturers and merchants to ride the wave of digitalization and improve their business through online sales.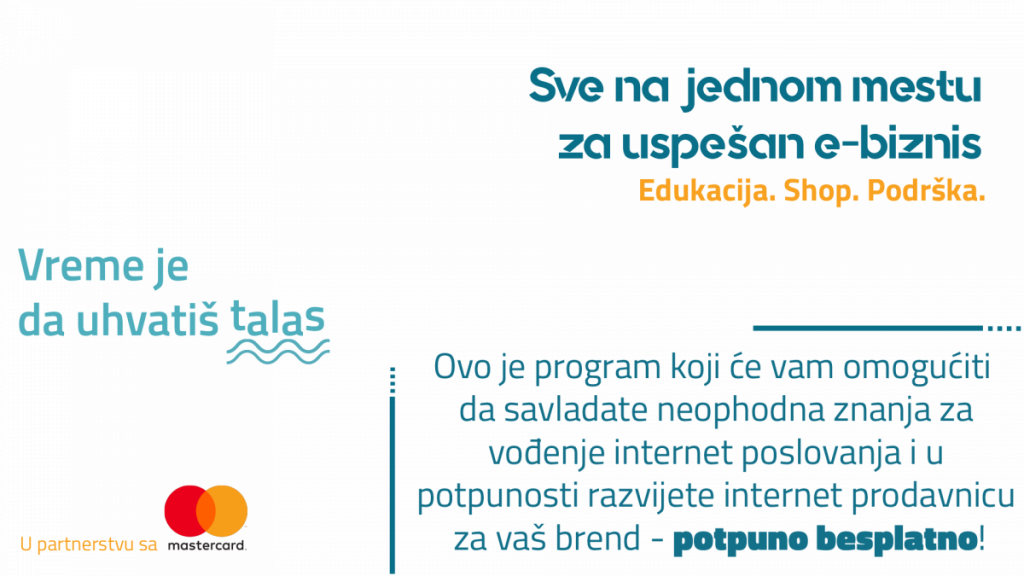 The SurfShop project is a unique and comprehensive program that, completely free of charge, provides its participants with everything they need to set up an online sales channel, i.e. education, technical requirements and support of mentors for eCommerce and marketing. During the two weeks of the intensive program, participants will have a chance to learn all about the opportunities provided by online shopping and obtain the knowledge they need to run an online store, from the necessary infrastructure to marketing and building an online community around their brand. While attending educational workshops, participants of the project will work on the development of their own online stores with the support of mentors who are experts in their respective fields.
SurfShop is organized by the Association of Young Businessmen of Serbia and Shopen start-up, in partnership with Mastercard, and it will provide participation for 100 Serbian companies which, in addition to this top educational program, will have the opportunity to use the Shopen platform for four months, as well as the Glorify app, which has been nominated for the best design tool recognition by the prestigious Product Hunt platform, for a month. The project was also supported by Vip mobile, and the participants will receive annual membership in the Association of Young Businessmen of Serbia.
Online commerce is the most significant trend in the global economy, which has not bypassed the Serbian market. The COVID-19 pandemic has further pushed users towards online commerce and online payments, while also emphasizing the business development opportunities that modern digital technologies provide to merchants. This trend presents a great opportunity to small businesses and merchants to open new business channels, increase the reach of their business and create a basis for their own sustainable growth.
According to foreign experts, e-commerce in Serbia should reach 3.3 million users by the end of the year and generate revenue of more than 370 million Euros.
It's time to ride the wave! SurfShop starts on October 7, and applications will be open from September 14 to October 1 on the website www.surfshop.rs.