We are moving our planet forward by creating innovative solutions for Health and Well-Being for people around the world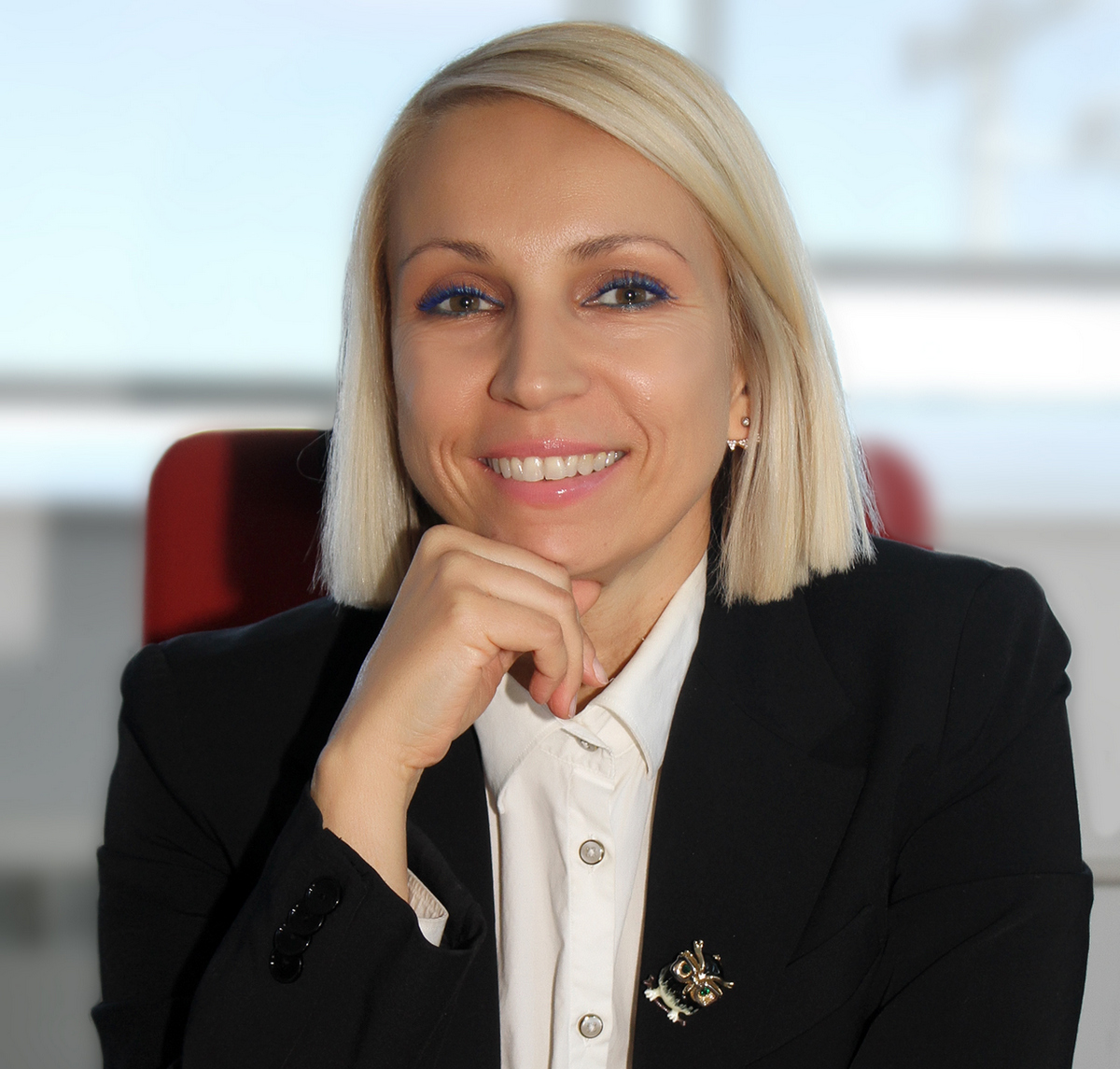 Top-quality baking and patisserie products arrived in Serbia a quarter of a century ago with the entry of the Belgian company Puratos to this market. When we speak about food, there's always the issue of health and sustainability. Let's see what Aleksandra Radičević, Puratos Serbia's General Manager, says about the company's sustainable projects and innovations.
Your company has recently presented its new visual identity, which includes a new logo, corporate colours, and the slogan "Food Innovation For Good." What does Puratos' new identity represent?
The Puratos logo is an expression of what we stand for and the value we bring to our customers. Our symbol is a unicorn, which represents ethical behaviour and courage. The unicorn has captured human imagination across the planet for more than 2,000 years as a symbol of purity, protection, and ethics and remains a ubiquitous icon today. Through a wordplay, "Food Innovation For Good" sums up everything we believe in – we are moving our planet forward by creating innovative solutions for Health and Well-Being for people around the world.
The topic of sustainability is very appealing nowadays. What makes chocolate production sustainable?
Our commitment to new generations is reflected in our socially responsible activities and constant work on optimizing the nutritional values of the products and solutions we offer.
As a company that operates responsibly, we have two main goals: we always choose raw materials, packaging, equipment, and eco-friendly services, contribute to the community, and provide quality over time, and we always choose suppliers that share our vision of sustainable development.
Cacao-Trace is a unique programme that enables cocoa farmers to raise their productivity levels through education. By helping farmers increase the value of their cocoa, we provide quality chocolate for generations to come.
In the future, we plan to expand this programme – currently active in Vietnam and Ivory Coast – to other countries in Southeast Asia, West Africa, and South America.
---
Cacao-Trace is a unique programme that enables cocoa farmers to raise their productivity levels through education

---
Chocolate producers and consumers can be sure that Cacao-Trace represents quality cocoa beans from sustainable and traceable cultivation. Constant development is closely monitored and evaluated by an independent audit.
The secret of the superior taste and aroma of Cacao-Trace chocolate comes from fermentation. As with wine production, fermentation is a key step in developing the potential flavour and aroma of each cocoa bean. Mastering this process ensures that only the highest quality cocoa beans become delicious Cacao-Trace chocolate.
When you buy products with the Cacao-Trace label, you are directly helping to reduce poverty in workers on cocoa farms. For each kilogramme of chocolate purchased, Cacao-Trace pays the Chocolate Bonus of EUR 0.10 directly to the farmers.
A simple and transparent payment is made through the Next Generation Cacao Foundation. In this way, a relationship is built between farmers, producers, distributors, and chocolate lovers around the world, a relationship in which each party wins.
Belcolade is our top-quality chocolate brand with a long tradition, which, in addition to the Cacao-Trace programmes, is quite innovative – plant-based solutions, single-origin, and sugar reduction coupled with the superior taste of real Belgian chocolate.
Puratos is known for its tradition and quality. How do you stay on top of your game and continue to innovate in small markets like Serbia?
The Puratos Company was founded in 1919. For over 100 years, we have been implementing innovative solutions in baking, patisserie, and chocolate. We operate in over 100 countries around the world and have 9,300 employees. Puratos has been present in the Serbian market since early 90s, and we have constantly been investing in improving the quality of baked goods and patisserie products. Taste Tomorrow is a unique global consumer habits survey conducted every two years. To better understand the expectations, behaviour, and attitudes of consumers towards baked goods and patisserie products, as many as 11,000 respondents in 44 countries participated in this research.
We use the gathered data as further guidelines in developing new products and concepts that we share with our customers. Healthy eating is the basis of everything we do. We want to play a proactive role in offering more nutritionally rich products on the market. Through the partnership, we help our customers to be successful in their businesses.
The construction of a new factory, spanning over 4,000 square metres, in Kragujevac, is underway, and once finished, we are going to have twice bigger production capacities. Quality is the standard by which we measure all our actions, and that is why we advocate the highest standards and continuously improve our operations and the quality of our products and services.
In order to provide your customers with information about how consumers evaluate their products, you offer them a unique service – sensory analysis. Could you tell us more about Puratos Sensobus?
Puratos Sensobus is a unique concept that helps us discover what consumers really want. It is a fully equipped sensory analysis laboratory on wheels. It can go to any location to identify consumer preferences on the spot. The lab can receive up to 300 consumers per day who are there to give their opinions. This data is analyzed by our researchers, and the results are used as suggestions to manufacturers and supermarkets regarding which products and solutions best meet consumer requirements.
Sensobus allows us to test price ranges, product communication, packaging appearance, criteria that affect product selection, etc. In just a few days, we can collect a representative sample right where consumers make their daily purchases in front of the supermarket.
Last summer, we had the opportunity to host Sensobus at the at the outer premises of Mega Maxi Ada, where we researched several local projects.
When boarding the Sensobus, consumers are seated in one of eight seats where they are presented with different samples and answer various questions about their habits and preferences when it comes to baked goods and patisserie products. In this way, we get clear guidelines that help our customers and us in the development of new products.
---
Health and Well-Being are the basis of everything we do

---
How would you rate the current situation in Serbia's bakery and patisserie market, and how do you see its further development?
In the early 2000s, our market, which had been quite traditional up to that point, opened up to strong Western influences. It has become fast growing in terms of our offer, new categories, and innovation. The era of globalization has begun.
This great transformation was initiated by the entry of the first global supermarket chain, Delhaize, into the Serbian market in 2000. Another major growth accelerator that strongly impacted the baked goods category took place in 2018 with the entry of Lidl, another global supermarket chain, to the Serbian market. These changes brought an increase in quality levels, including the quality of baked goods. It is the consumer who actually benefits from this thanks to better quality, greater selection, and faster service.
Traditionally, we are a white bread market, but data show that in the past 10 years, bread consumption per capita has decreased from over 100kg to 67kg, and the offer is increasingly moving in the direction of quality and variety. Consumers want short and clear product information. They want the list of ingredients to contain as many natural and familiar ingredients as possible. The main trends in baking are clean labels, superfoods (chia, quinoa, goji, acai berries), seeds, sprouted grains, nutritionally valuable ingredients, wholemeal flour, and other types of non-white flour, but above all, sourdough. Sourdough has been a dominant global trend for years, not only in baking but also in the patisserie industry (crackers, pretzels, etc.). Our market recognizes and follows global trends.
In the last few years, there has been a noticeable market consolidation, especially in the baked goods industry. There is a decline in the number of traditional bakeries, and on the other hand, bakery chains have continued to grow.
Also, the patisserie market is not highly industrialized – we have a strong patisserie industry, but we do not have a classic industrial patisserie manufacturer. There are large productions, partly automated and partly based on manual work, which are focused on exporting to the EU but also on local marketing through supermarket chains. Artisan producers, who focus on craftsmanship and hand-made products, played a major role in promoting the growth of the patisserie market. Of course, we should not forget the role of hoteliers and restaurateurs when it comes to constant innovation in product range and quality.
Big cities and urban areas dictate trends and have been moving in the direction of premiumization and specialization. Artisan bakers and patisserie producers must follow trends, constantly innovate, invest in the premium segment, or specialize in certain types of products (e.g., only doughnuts, only rolls, only dumplings, etc.) where the focus is placed on one type of product but a wide range is generated through different tastes and variations on the same theme. Traditionally, our market is strongly influenced by Italian patisserie.
The coronavirus pandemic and the unstable global political/economic situation have been the triggers of big changes. In this new reality, consumer habits and expectations have changed dramatically – health care (not only physical but also mental), personalized and healthier choices, sustainability, and the future of our planet are increasingly becoming relevant when making decisions about what to purchase. As manufacturers, we must be aware of this change and constantly listen to the demands of our customers and consumers. The future belongs to agility, innovation, and quality.