The second event within the project Let's chef together was held in the unique ambience of the President Palace Belgrade Hotel on May 30, organized by Color Media Communications in partnership with Lidl Serbia and the aforementioned President Palace Belgrade Hotel.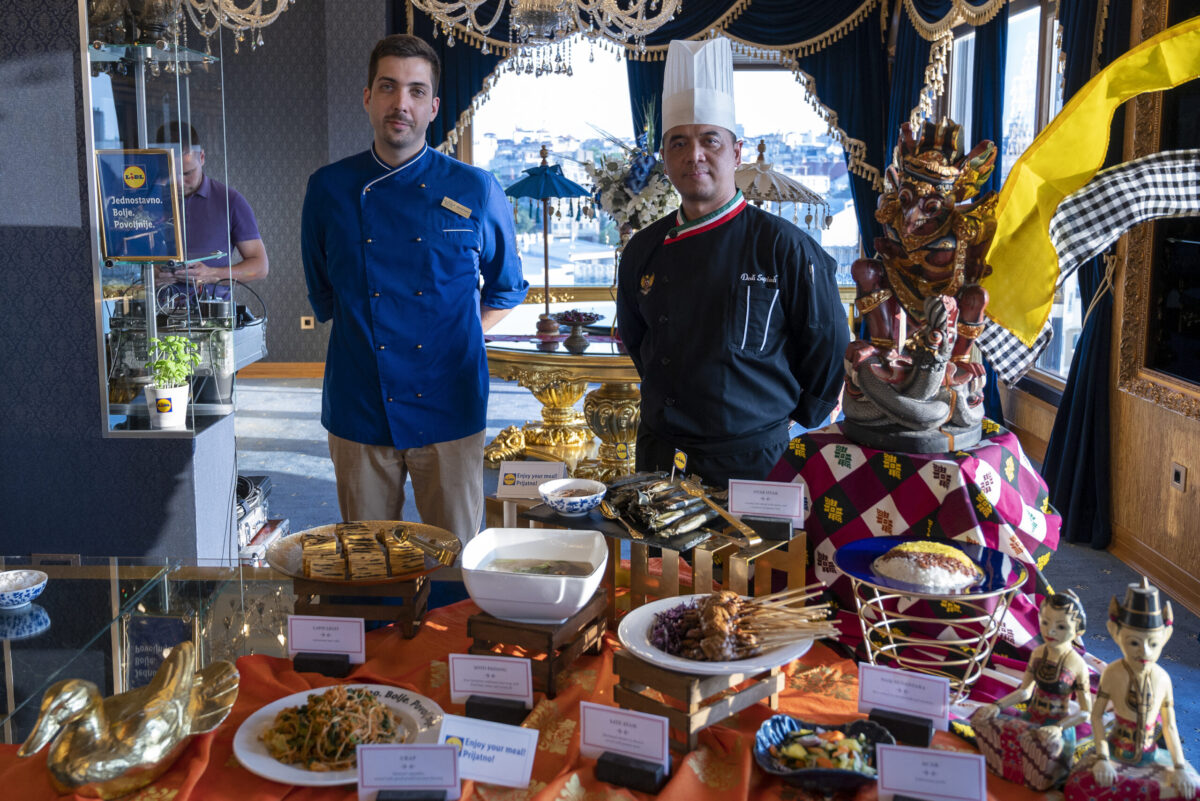 "Food can be used as a strategic tool to strengthen a country's tourism industry. The Indonesian government has strongly supported the development of culinary tourism as a special tourism sector, intensively promoted abroad. Indonesian culinary tourism is not just about rich traditional food there is, more importantly, the socio-cultural values behind the food itself "- stated the Ambassador of Indonesia, H.E. Mr. Yudha.
As H.E. Mr. Yudha told us, "Indonesia is now reopened to international travelers who would like to visit the country. Fully vaccinated travelers are no longer required to show a negative RT-PCR test on arrival and are no longer subjects to quarantine. ".
The performance of the traditional Indonesian dance "Cendrawasih" performed by the dance group Bidadari, which was founded and operates within the Embassy of Indonesia, was the highpoint of the event.
"It is a great honor for us to embark on a gastronomic adventure with the Embassy of Indonesia this week, where we made exotic dishes with the help of Lidl groceries that took us to this beautiful land of scattered islands and rice fields." This way, we invite our consumers to use Lidl groceries to feel the charms of cuisines all over the world, even those countries that they have not had the opportunity to visit ", said Martina Petrović, Head of Corporate Communications at Lidl Serbia.
"This time, in our hotel, we met and introduced the guests to the culture and beauty of Indonesia. I have to admit that I am a big fan of Indonesian food, so this gathering was really special and authentic for me, especially thanks to the performance of traditional folklore and the opportunity to introduce guests to the great dance performed in our restaurant. We are looking forward to the next challenges and new embassies that we will host, but also to all the specialties of excellent chefs who will prepare top dishes side by side with our chef "- said Olivera Škorić, marketing manager at Presidential Palace Belgrade Hotel.
A numerous number of guests attend the event. Members of the diplomatic corps, media, bloggers and influencers enjoyed the Indonesian dishes and the warm sound of their traditional music in an informal atmosphere.