Symbolically on the occasion of the Earth Day, Color Media Communications is organizing an online conference Serbia Goes Green – Green Economy as the Pillar of Environment, which will be held on Thursday, April 22, 2021, starting at 11 am. All interested viewers will be able to follow the conference via the LINK
---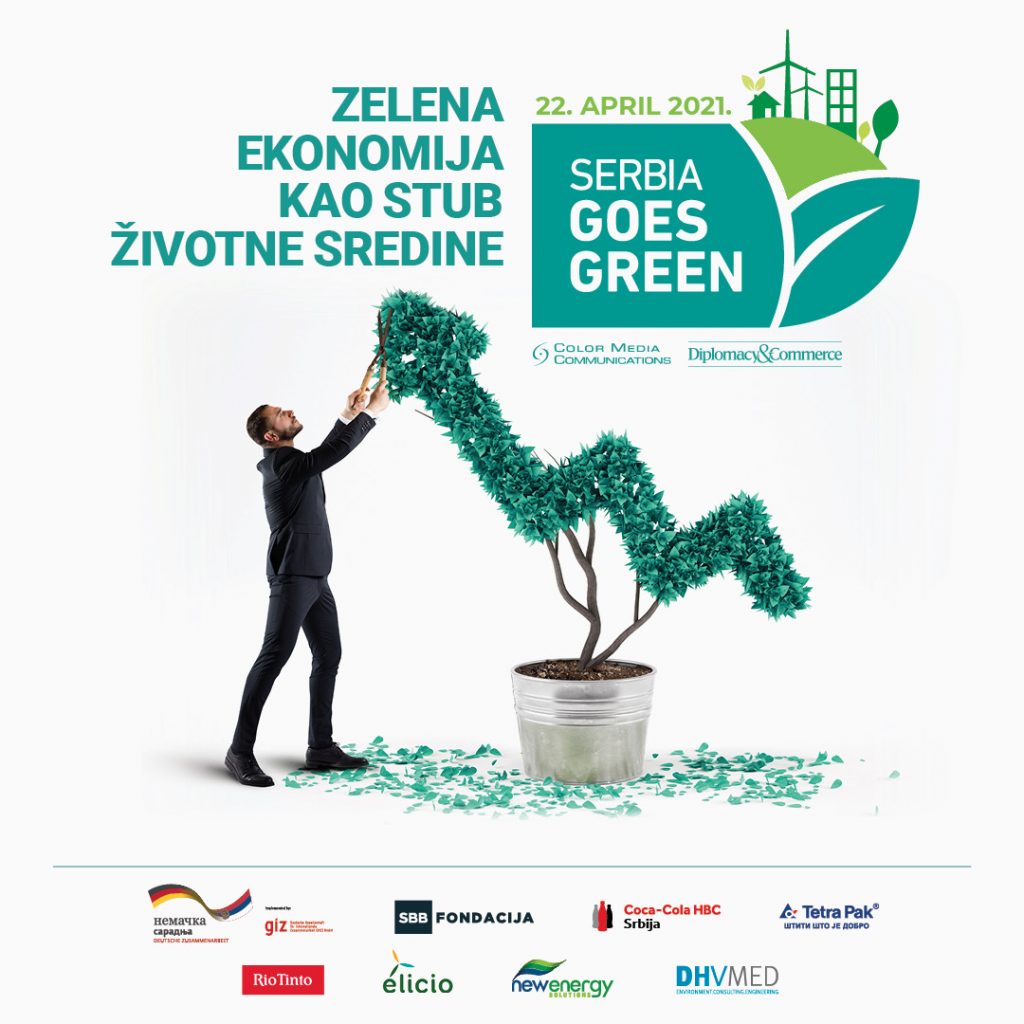 ---
The need to take more care of the environment we live in is not new, only the current unstable epidemiological situation caused by Covid-19 has confirmed that we must raise the awareness of the people around us every day and take more care of the world we live in. At this conference, we will try to bring closer the most important spheres for the improvement of the environmental protection. The questions we will raise will be connected with what Serbia is doing on its way to a green economic destination, what is available from renewable energy sources and how much we use them, in what condition is our recycling industry, and last but not the least, environmental compliance and regulation in Serbia It is certain that we will open a large number of important questions for eminent speakers from various areas of business for Serbia and its ecologically enlightened path.
In the first panel SERBIA AS A GREEN INVESTMENT DESTINATION – Ecological approach for economic progress we have a pleasure to virtually host Srđan Gavrilović, Commercial Strategy Manager, Rio Sava Exploration, Jovana Lukić, director, SBB fondation, prof. dr. Đorđe Mitrović, Faculty of Economics, University of Belgrade, Zoran Jakovljev, Advisor, GIZ Srbija and Goran Matović, Lead Engineer, GEFF Serbia Leasing. Moderator will be Ruža Veljović, Diplomacy and Commerce magazine.
In the second panel RENEWABLE ENERGY SOURCES IN SERBIA – Business environment, legislation and development perspectives we have next participants Christophe Bols, Elicio Country Manager Serbia, Aleksandar Popović, project manager, GIZ Serbia, Marijan Rančić, Business Development Director of New Energy Solutions and Miloš Kostić, co-owner of the companies MT- KOMEX, Solaris Energy I CEEFOR. Moderator will be Danijela Isailović, Manager – The Renewable Energy Sources of Serbia Association.
In the third panel THE FUTURE OF SERBIAN CIRCULAR ECONOMY – Recycling industry in Serbia we'll be talking with Ivan Karić, State secretary, The Ministry of Environmental Protection of the Republic of Serbia, Tisa Čaušević, Public and Regulatory Affairs Manager at Coca-Cola HBC Serbia, Dragan Rajković, Regional Sustainability Director – Tetra Pak, prof. dr. Aleksandar Jovović, Faculty of Mechanical Engineering, University of Belgrade and Nenad Ratković, Sales and Purchase Manager, Eco-Recycling. Moderator will be Suzana Obradović, Association of Recyclers of Serbia, Secretary General.
In the fourth panel ENVIRONMENTAL COMPLIANCE AND REGULATION IN SERBIA – Focus on air, contaminated land, industrial and hazardous waste there are next participants Daniela Meilmann, Business Development Manager, DHVMED Israel, Siniša Mitrović, Chamber of Commerce and Industry of Serbia, Radovan Đukić, Deputy Mayor of Apatin, Marinko Ukropina, Managing Director SGS Beograd, SGS Adriatica, SGS Slovenia & SGS Bosnia and Herzegovina and Kristina Cvejanov, Business & CSO Consultant, Green Loop Consulting. Moderator for this panel, Vanja Kovačev, media expert.
---
You can see more details about the conference HERE
---
The conference is supported by the next companies: German Organization for International Cooperation (GIZ), SBB Foundation, Coca-Cola,Tetra Pak, RioTinto, Elicio, New Energy Solutions and DHVMED Israel.