Belgrade Waterfront has announced the sales beginning of the new collection of exclusive apartments The Residences at The St. Regis Belgrade, which will be opened in Kula Belgrade. The new assortment of branded St. Regis apartments, world-famous residential units, which will be opened in Belgrade as first ones in Europe, is called Signature collection.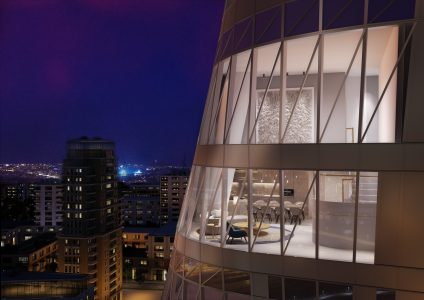 These elegant apartments will span across the area from 14th to 19th floor of monumental Kula Belgrade, the future symbol of the capital and centrepiece of Belgrade Waterfront. The apartments will be placed in a unique, architecturally interesting part of Kula Belgrade, which allows them to have a statement, dramatically slanted windows providing not only amazing distance view but also extended "up" and "down" vistas. The Signature collection is comprised of two and three-bedroom duplex apartments, with materials hand-selected by St. Regis' award-winning designers, to ensure residents' perfect comfort.
Nikola Nedeljkovic, Belgrade Waterfront general manager, says: "In Belgrade Waterfront, we are devoted to bringing the top of the class world residential experiences to Serbia, and Signature collection of The Residences at The St. Regis Belgrade is precisely one of those. These apartments are created for people who strive towards perfection in everything they do – including the choice of an ideal new home to fully support their lifestyle. It is an honour that we get to continue the exquisite St. Regis tradition, more than a century-long, here in Belgrade".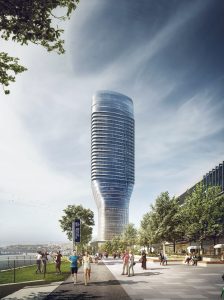 Signature collection of The Residences at The St. Regis Belgrade will bring an unparalleled residential experience to the Serbian capital. The statement windows allow for the beautiful flood of natural light, while also opening stunning, unique panoramic views. The open-plan kitchens, living and dining areas, as well as the bathroom, come equipped with sleek fixtures such as designer cabinets and wardrobes, with top of the class finishing works. The apartments are otherwise unfurnished, allowing for the individual adjustments according to different styles.
The residents of The Residences at The St. Regis Belgrade will also have access to services of the famous St. Regis butler and concierge service, as well as soothing spa centre, massage room, sauna, marble pool and a fully equipped gym. The extraordinary interior and exterior are completed with unrivalled services: the staff will enthusiastically fulfil every resident's wish. Also, tenants will have the possibility of enjoying all other services available within The St. Regis Belgrade hotel.
The Residences at The St. Regis Belgrade are first branded St. Regis apartments to be opened in Europe, including 220 elegant apartments overlooking Sava river and Kalemegdan fortress, ideally placed in the heart of the new city centre. Kula Belgrade, the future highest building in Serbia, is a modern construction of the exquisite design, with a unique observation deck providing an unforgettable panoramic view of the city.
Before the Signature collection, Grand collection apartments were also launched within The Residences at The St. Regis Belgrade, and they are still available for purchase. You can find more information at the website belgradewaterfront.com.