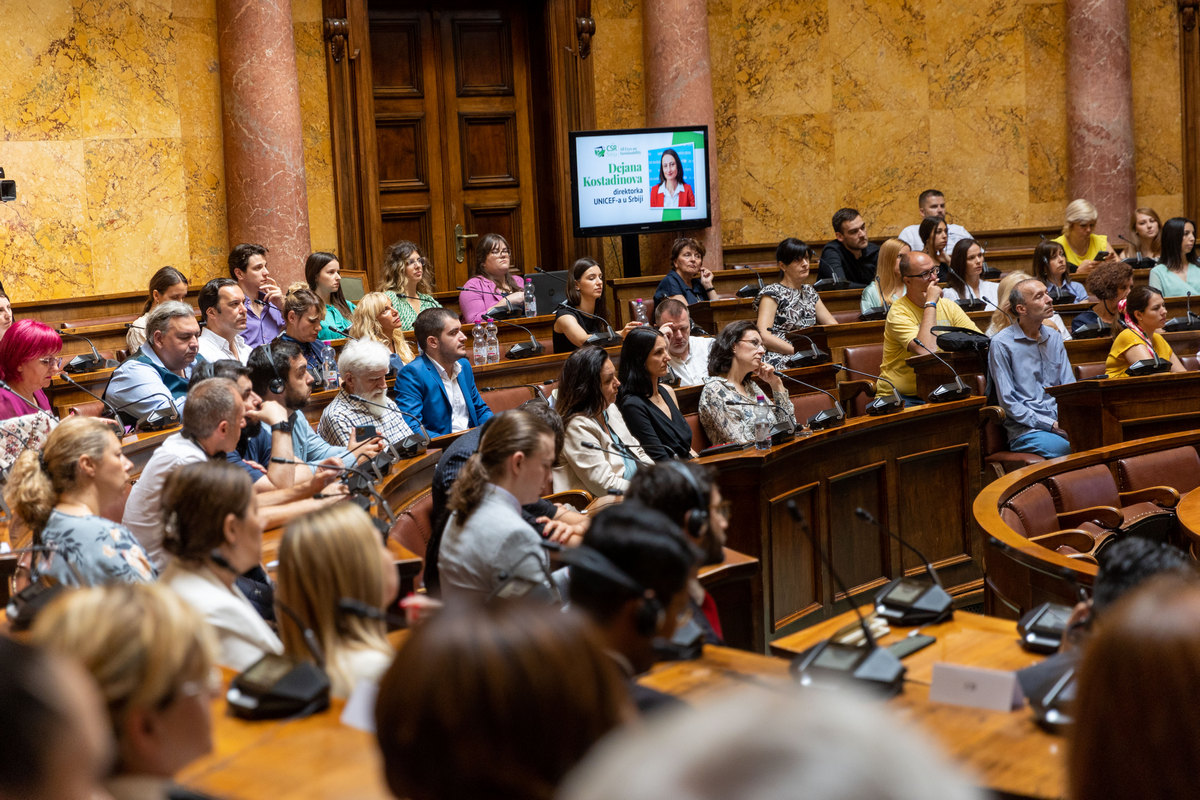 On Thursday, 30th June 2022, the eighth CSR Serbia 2022 conference dedicated to socially responsible business was held at the National Assembly of the Republic of Serbia. The focus of this year's conference was sustainable business, and the conference gathered all stakeholders whose activities directly affect a better and healthier business environment in Serbia. The conference was supported by UNICEF Serbia, Delta Holding, and Wiener Stadtische insurance company.
Ivica Dačić, the Speaker of the National Assembly, welcomed the conference participants and said that social responsibility in doing business should be implied and implemented.
"The state authorities have made many good steps in this regard, and we are also investing a lot of effort to stimulate employers to behave as socially responsible companies – starting from the employment of persons with disabilities to adopting numerous regulations to prevent discrimination at work and incentives for various types of socially responsible business. This is our obligation that stems from the state performing its social function, and we will continue bettering ourselves in that regard," said Mr. Dačić.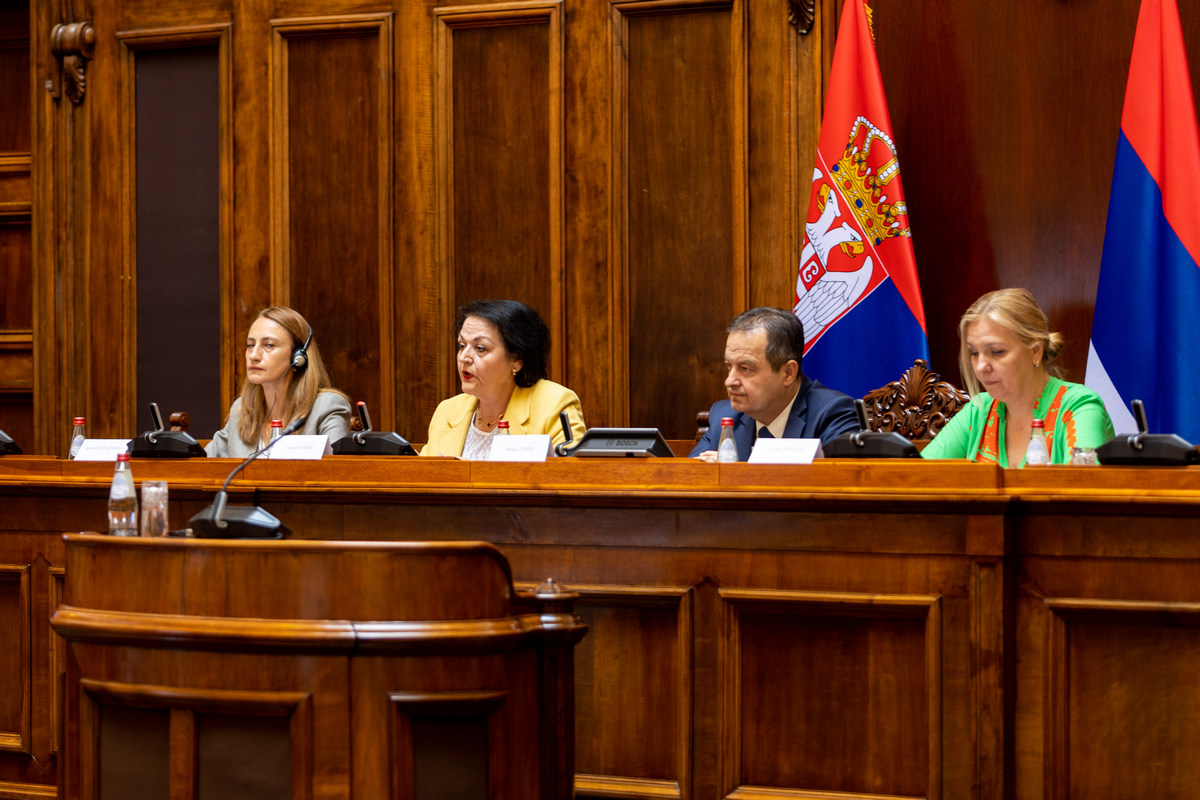 Gordana Čomić, Minister for Human and Minority Rights and Social Dialogue, also spoke at the conference. In her speech, she underlined that the line Ministry's role is to help companies to make more humane profits.
"A human rights strategy is being drafted in Serbia, where the private sector plays a vital role. Also, it is important to establish a framework which clearly defines how we respect human rights, how companies see them, how we see human development, and ensures that people who work with us and towards the company's development will be appreciated and protected", stated Ms. Čomić.
Gordana Predić, the special adviser to the Minister of Culture and Information, said during her presentation that culture represents the essence of a socially responsible society and, as such, is of crucial importance for the socially responsible operations of companies.
"The Ministry of Culture and Information encourages the media to deal with this issue in a socially responsible manner and to inform citizens about these important topics," Ms. Predić added.
It has become increasingly obvious that what arts and culture can offer is very important to companies, concluded Ms. Predić.
Deyana Kostadinova, director of UNICEF Serbia, was the last speaker in the first round of presentations. In her address, she pointed out that "children's rights are a fundamentally important investment for our sustainable future. A company that integrates respect for children and support for them in its strategy and operations creates positive effects for children and society, from which it can have concrete benefits".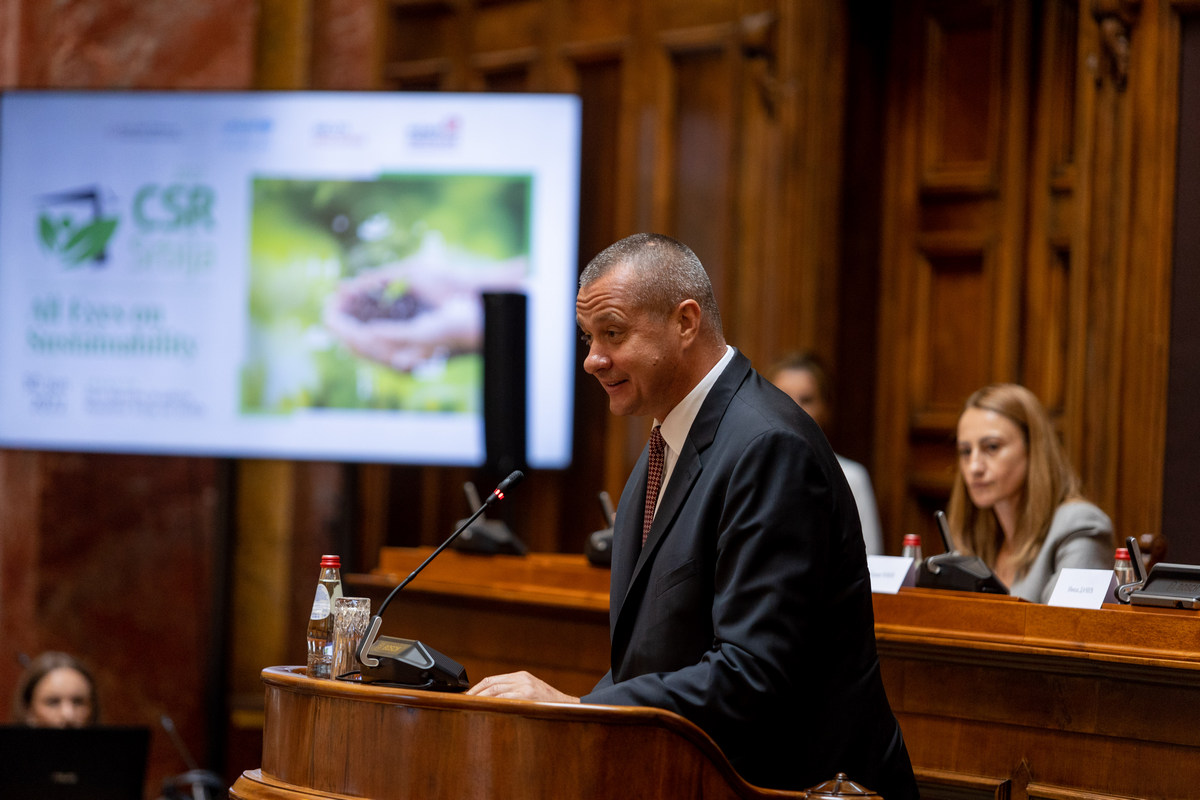 Robert Čoban, CEO of Color Press Group, said that the socially responsible behavior of all individuals must not only be mentioned declaratively in the company's articles of association, mission, or vision, but we should all live it every day.
"We need to reiterate every day how important it is to help people weaker than ourselves, whether you are an individual, a company, or a public institution, and that's why organizing events like this is important. Today, for the eighth consecutive time, we are promoting good practices, sharing ideas, and trying to get citizens, companies, and institutions in our country to act upon this," concluded Mr. Čoban.
LEAVE NO ONE BEHIND – Equal opportunities for all members of society was the name of the first panel at the conference, moderated by Vesna Savić Djukić, Head of the Department for Cooperation with the Private Sector and Fundraising Specialist at UNICEF. Marija Beslać, Director of Communications and Partnerships at the Nordeus Foundation, Sanja Rajačić, Director of the Internal Communications and CSR Department at Banca Intesa Belgrade, and Milica Popović, Corporate Communications Manager at Delhaize Serbia, participated in the panel discussion.
The panel participants gave a comprehensive overview of the activities that UNICEF and its partners have been carrying out to protect children and young people while, at the same time, focusing on working with them so they can realize their full potential.
"Business with a purpose, a business that takes care of its employees, children, and young people, and environmental protection are becoming a reality because companies have realized that it is possible to do business successfully and actively contribute to a socially responsible society, at the same time," said Ms. Savić Djukić.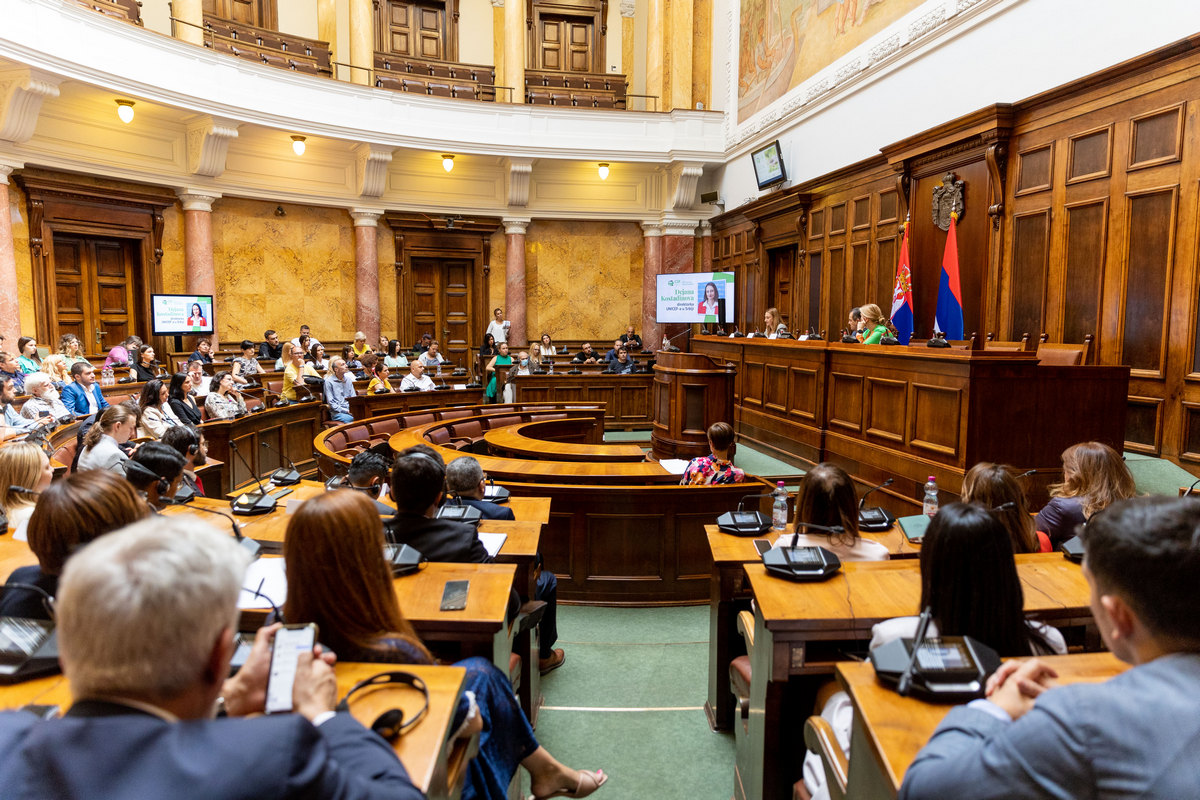 DESIGN BETTER FUTURE – Leaders of sustainable business was the second panel with the following participants – Tijana Koprivica, Sustainable Business Director at Delta Holding; Tamara Vlastelica, Professor at the Faculty of Organizational Sciences of the University of Belgrade; Tijana Janković, from the Trag Foundation and Vesna Bjelić, editor of Telegraf.rs. Nenad Stojković, from MSG Global Solutions, was the panel moderator.
"Delta Holding's ongoing CSR projects include "Our Village," "Digital Village," and "Third Parent." Our village" was launched in late 2018 to develop agriculture and restore villages in Serbia. The project was first launched in the villages Mala Jasikova and Dubočane, near Zaječar. This year, Bačko Novo Selo has also joined the project. Through this project, we transfer know-how about modern production while providing professional support in financing and product placement. We are implementing the Digital Village project in Mokrin. The goal of this project is the modernization and digitalization of agricultural activities. The Third Parent project focuses on helping families at risk of having their children taken care of by social welfare institutions. We are implementing this project with the Putokaz Association. The project's goal is to preserve biological families through working with social workers and Delta Holding providing these families with financial assistance," said Ms. Koprivica.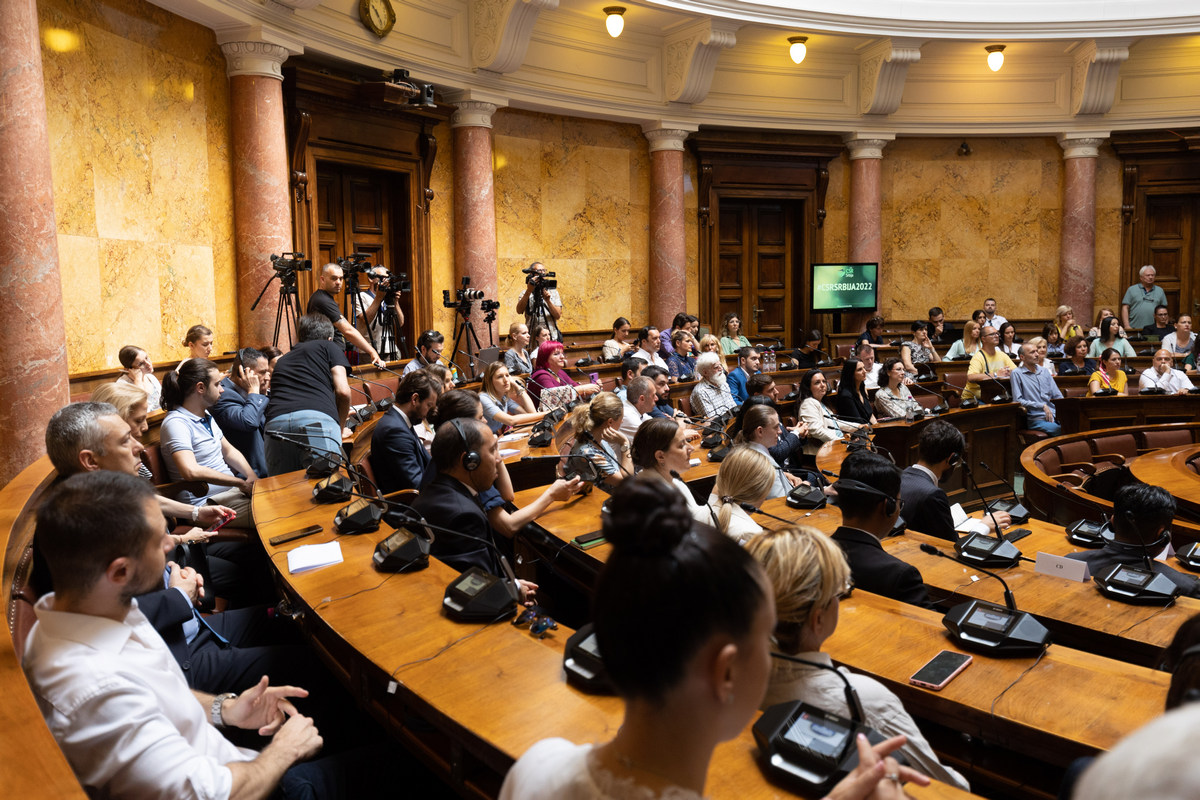 SOCIAL RESPONSIBILITY AND CULTURE was the last panel of this year's conference. Miodrag Dinulović, director of the Kraljevo Theatre, Slavko Spasić, Director of the Natural History Museum in Belgrade, Tijana Palkovljević Bugarski, Director of the Matica Srpska Gallery, Novi Sad, and Jelena Medaković, Director of the Belgrade City Museum, took part in the panel while the PR specialist Ivana Beatović Jovanović was the panel moderator.
The panelists agreed that all cultural institutions work as socially responsible organizations. There are several ways in which culture affects society in each of them. Also, cultural institutions raise essential issues that need to be discussed and launch socially responsible campaigns in which companies in Serbia can and should participate within the scope of their socially responsible activities.
As with the previous conferences, we presented new ideas, discussed new ways of improving socially responsible business, and highlighted successful examples of doing business with a purpose. Companies in Serbia have a long way to go when it comes to social responsibility, and this conference shows that all stakeholders have been continuously working and improving their CSR, be it companies, state administration, non-governmental sector, or individuals who are also changing the world for the better in their micro-universe.