1. What consequences will the pandemic have on the society as a whole, especially on the poorest segments and vulnerable groups in the society?
2. What should we do to make our planet a better and more humane place to live?
---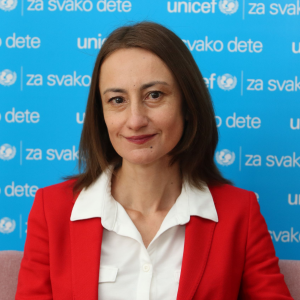 The biggest reason for hope are the children
1. This is a universal crisis and, for some children, the impact will be lifelong. Children are not the face of this pandemic but they risk being among its biggest victims, as children's lives are being changed in profound ways. They are being affected, in particular by the socio-economic impacts. The harmful effects of this pandemic will not be distributed equally. They are expected to be most damaging for children from the poorest families.
This crisis has also created an opportunity for transformative thinking about investments in children. Timely, quality and context-specific assessments are critical to understand the scale and scope of the crisis. Based on this, national policies and programmes are needed to safeguard and expand social spending for children to ensure inclusive social service delivery, especially for vulnerable children.
2. As we kick off UNICEF's 75th anniversary, we are reminded that the biggest reason for hope are the children and young people of today. They are taking the lead on demanding urgent action and empowering themselves to learn about and shape the world around them. They are taking a stand and we need to listen to them.
We must work together with them to find the solutions they need to tackle the challenges of today, to build better futures for themselves and the world they will inherit. What we do for, together with and on behalf of children and young people now will shape their fate for years to come.
---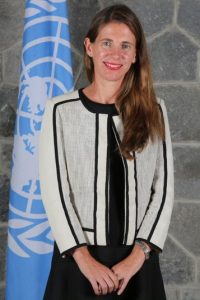 Investments in digitalization and green economy
1. The COVID-19 pandemic impacted the whole world and had far reaching negative consequences on our health, economy, education, and environment. Despite a temporary decline caused by the lockdown, greenhouse gas concentrations are at record levels and continue to increase. The crisis is threatening to increase poverty and inequalities at a global scale. A UNDP study found that 44 million people might be pushed into extreme poverty by 2030.
In Serbia it is the informal workers, small farmers, the elderly, and Roma population, who are particularly vulnerable to this crisis. Also, because of depopulation some local communities lacked capacities to respond effectively to the crisis.
Women are disproportionally affected, as 76% of health care workers and the majority in the informal economy and labour-intensive manufacturing sectors. With lockdowns in place, they are also at higher risk of violence at home.
2. COVID also brought unprecedented innovation and digital transformation, solidarity within and across societies as well as recognition of the importance of health services and the dangers of over-exploitation of the environment. We should build on these learnings to make lasting change and progress towards the SDGs. The immediate priorities are to increase our health security, improve well-being and equality for all, and ensure stronger resilience of society and the economy to future shocks. But perhaps the greatest and most pressing challenge is to protect our planet for future generations, and tackle climate change. As the latest UNDP's Human Development Report showed, the economy can no longer keep growing at the expense of the planet. Investments in digitalization and green economy that include vulnerable and poor populations have the potential to accelerate the development trajectory the world was on before the pandemic.
---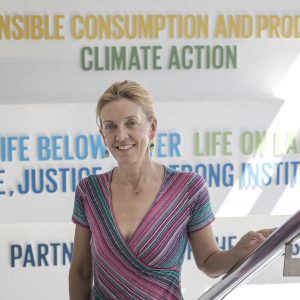 In Serbia, there was an immense effort of solidarity
1. The pandemic was a wake up all for the whole humanity, and we are still struggling to regain our balance. We experienced deep collective suffering, albeit in many different ways. But this global suffering should not make us forget that the pandemic had a disproportionate impact on vulnerable groups, such as older people, people with disabilities, poor households in neglected settlements, workers in the informal sector. While the UN supported the response to the crisis extensively, our action was very clearly focusing on these more vulnerable segments, with the ultimate objective to uphold rights, and mitigate the impact of the restrictive measures, such as the loss of jobs and revenues, the absence of basic water and electricity infrastructure, the drop in protection services, etc… We put a lot of efforts to ensure that children from all communities could continue to access education, which was extremely complicated in many households where space, infrastructure, and capacities did not exist to support remote education.
On the positive side, I must say that in Serbia, there was an immense effort of solidarity within and between communities, and I believe this really contributed to keeping the country out of woods for most of the crisis. And we also saw the blossoming of many initiatives from the private sector to address new challenges. And finally, the crisis has also put the green agenda back at the top of our development priorities. Very clearly, a sustainable recovery will be built on the multiple opportunities provided by the energy transition, shaping a cleaner and healthier environment for our life and that of future generations.
2. In time of crises or transformational changes that impact a community or the whole society, we have a duty, as individuals, to act responsively and contribute positively to the common good. The COVID pandemic has generated both good and bad, with misinformation being used as a weapon to exacerbate tensions of all kinds. The pandemic is teaching us that more than ever, we need to embrace uncertainty as part of our life, and we must continue to fight ignorance and cynicism with education, ethics, collaboration and optimism. It is teaching us that solidarity, empathy, committed action based on facts and science, are the greatest tools to address inequalities. This is what the unique principle of Leave No One Behind in Agenda 2030 is about, promoting equality and non-discrimination. We will reach our common global goals only if we are able to create equal opportunities for all, and consider the planet and our minds as our biggest, most bountiful assets to nurture and expand now and in the future. From now onwards, every investment in Serbia, by Serbia, should ensure that the social, economic and environmental impacts are considered in the best interests of all.
---
What will be the pandemic's overall impact on the various economies and how long is it going to take for the economies and companies around the world to recover?
What will be the focus in the coming years regarding to sustainable business, especially in the segment of small and medium-sized enterprises?


---

Sebastian Sosa, IMF Resident Representative For Serbia

To ensure less unequal and resilient societies

1.The pandemic has had a devastating impact on households and communities across the world. And while it poses a threat to people everywhere, some will clearly bear the worst brunt of its impact.

There is major risk that low-income countries will languish for years to come. According to IMF estimates, by the end of 2022, their cumulative per capita income will be 22 percent below pre-crisis projections—compared with 13 percent for advanced economies. The pandemic impact has been uneven also within countries, with the young, the low-skilled, women, and informal workers disproportionally affected by job losses. Millions of jobs have already been lost, and an estimated additional 100 million people will be living in extreme poverty worldwide if the crisis persists. And millions of children are still facing disruptions to education. For girls in poorer countries, school closures could signal the end of their school careers altogether. These are grim facts that highlight the enormous challenges and human suffering caused by the pandemic.

2.The pandemic has reminded us how interdependent we are. Global interconnectedness has created huge economic and social benefits for decades, but also facilitated the rapid spread of the pandemic. The global health crisis also reminds us that problems affecting humanity must be addressed by all of us. Governments, businesses, and the civil society should all focus on and demand policies to build back better from this crisis—that is, to ensure less unequal, more inclusive, and resilient societies.

Building back better and making the world a more humane place to live in depends heavily on strong international cooperation. Since the pandemic will not be over anywhere until it is over everywhere, stronger international collaboration is needed to accelerate the vaccine rollout in poorer countries. Given their limited resources, many poor nations also need debt burden relief to be able to tackle the health crisis and meet peoples' basic needs. And strong international cooperation is needed to timely and effectively address the planet's environmental challenges.

---