The play "Children", based on the novel of the same name by Milena Marković, winner of the prestigious "NIN's Award" for the novel of the year, directed by and with music by Irene Popović, premiered in October 2021 on the Great Stage of the National Theatre. This piece, as an unusual stage combination of music and poetry, in a completely new stage form – an opera in 17 songs, translates Milena's poetry into musical movement and voice, proving that poetry is closest to music in its rhythm and emotion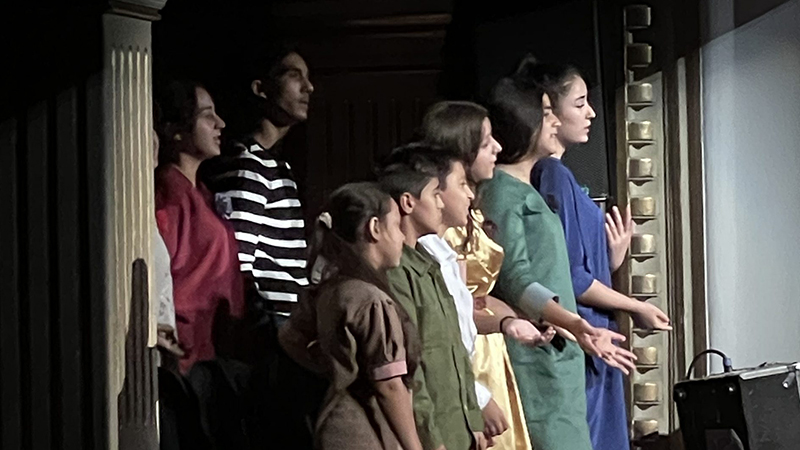 This premiere is also a great event for the children from the "Music of Hope" program, since the composer and director Irena Popović put a lot of trust in us, and our "Choir of Hope" will perform those choral numbers. To convey to you at least a fraction of how we felt during the preparations for the premiere, we asked our prof. Biljana Simenović, who leads the choir, tells us about her impressions so far:
"Although we have already had many performances, this is the first professional production in which we are participating, and we are truly honoured. I would like to thank the theatre, the author's team and the director because they received us so warmly, as well as the cast who made the children overcome their "fear of the big stage" in record time. This is a big challenge and a big responsibility, and the children did their best to show themselves in the best light and get the most out of this unique experience.
From the very beginning, the children showed dedication and seriousness that I have never seen in them, nor in much older and more experienced artists. This is especially important considering the context from which our children come and the life difficulties they face in their daily lives. Seeing them responsible, focused, and enthusiastic on the big stage in such a serious piece truly inspires hope and inspires everyone in the team to teach and clear the path of art to reach every child and open a new world of possibilities.
Be sure to come to one of the shows during the season to support us. The piece is touching, extremely high-quality and emotional, and we will try to be better every day and weave a part of ourselves into every sentence and track entrusted to us."
You can get your tickets at the ticket office of the National Theatre or electronically via the link.
Actors: Nela Mihailović, Suzana Lukić, Predrag Miletić, Vanja Milačić, Pavle Jerinić, Milena Djordjević, Bojana Stefanović, Bojana Bambič, Dragana Varagić, Aleksandar Vučković, Miona Marković, Teodora Sparavalo, Jelena Blagojević, Vladan Matović and singers Tamara Mitrović, Iskra Sretović and Marko Kostić.