What is Naive Bayes algorithm? How do we connect Serbia and Japan over Kaizen implementation principles? What can we learn about environmental protection and mobile payments in public transportation from Japanese experience? How much are Serbians devoted to Japan and its culture?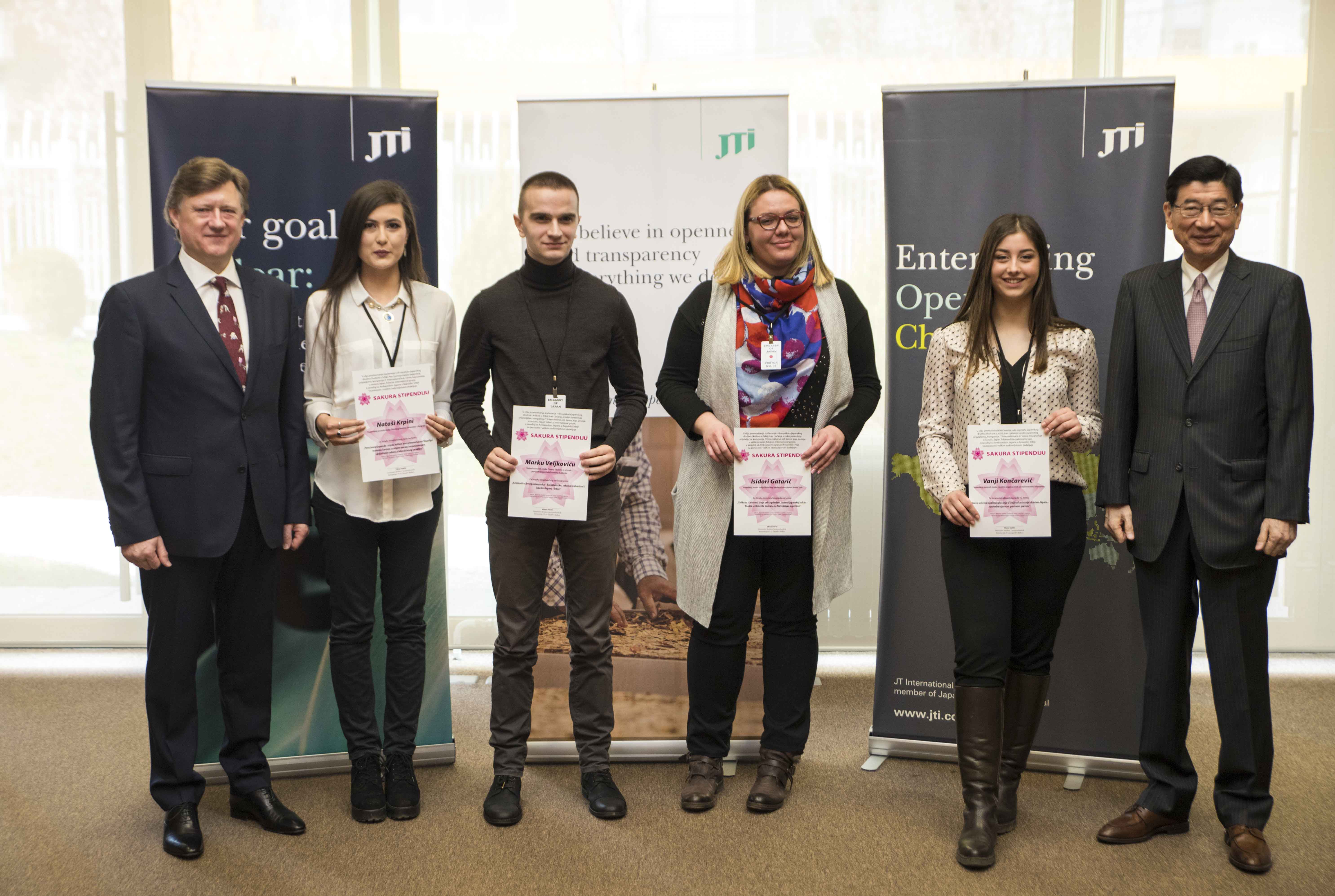 These are just some of the topics covered in academic reseach papers, awarded with Sakura Scholarships for the best ideas related to Japan. Japan Tobacco International and Embassy of Japan started Sakura Scholarships to inspire students and researchers in Serbia to explore Japan. From over a hundred great ideas, committee chose the following:
Isidora Gatarić – "To what extent are Serbian citizens truly devoted to Japan and Japanese culture – Sentiment analysis based on Naïve Bayes algorithm"

Marko Veljković – "White collar crime – characteristics, legal mechanisms and experiences of Japan and Serbia"

Nataša Krpina – "Linking Japanese and Serbian culture through application of kaizen philosophy and maxim sanzara by drawing murals and organizing educational interactive workshops"

Sanela Milosav – "Preserving the environment through the implementation of the Japanese recycling and waste management system in Serbia"

Vanja Končarević – "Development of the mobile payment system in Serbia, using the experience of Japan – use in public city transport"
H.E. Mr. Junichi Maruyama, Ambassador of Japan to Serbia used this opportunity to deliver to JTI GM in Serbia Mr. Veklitch the hand-written Recognition of Japanese Embassy for JTI's contribution in promoting Japanese culture in Serbia.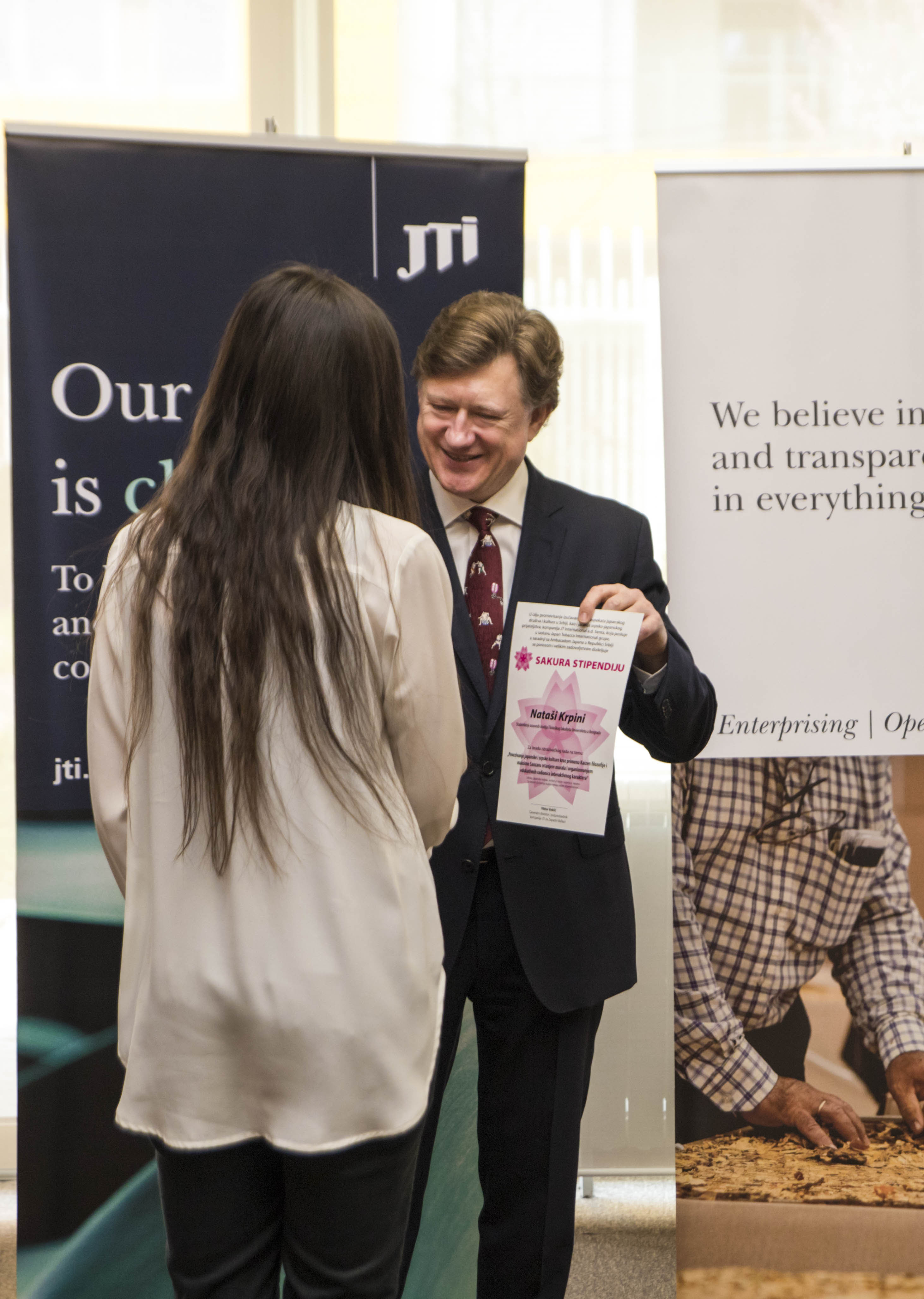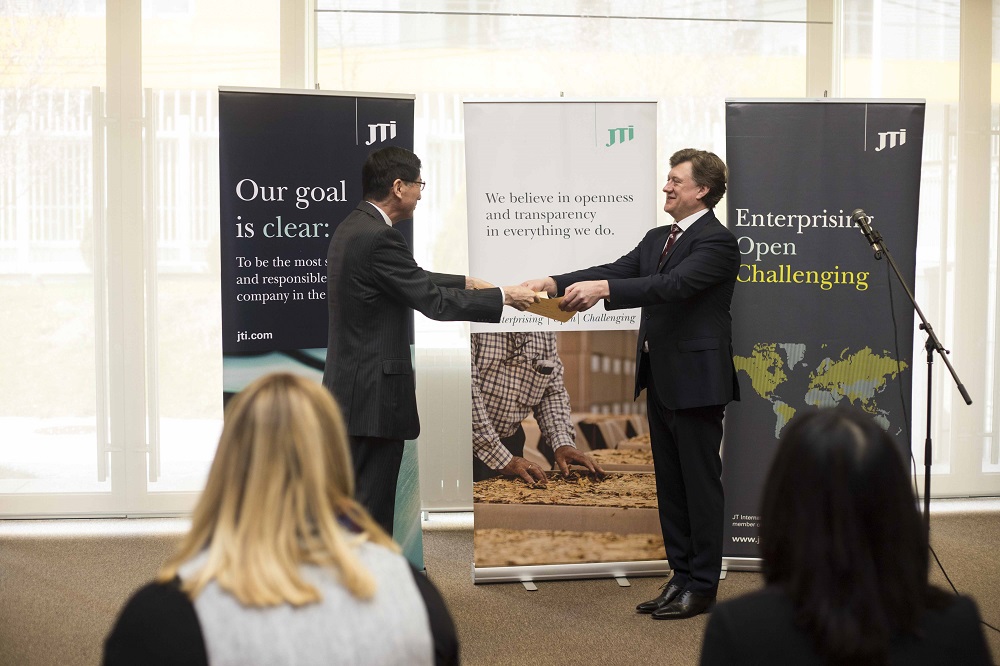 Mr. Victor Veklitch, General Manager and Vice President of JTI Adriatica, addressed the winners and the audience.
"Your Excellency Mr. Maruyama, dear friends from Japanese Embassy, thank you for recognizing JTI's contribution in promoting Japanese culture in Serbia. It is a real honour and I would like to express our gratitude for it. We will put this recognition signed by hand at the special place to serve as a motive for the future activities related to promotion of Japanese culture and heritage", said Victor Veklitch.
He added that JTI strongly believes that talented researchers and students, such as Sakura scholarship winners, will bring prosperity to Serbia and contribute to promoting better understanding between the two nations.
One of the winners Isidora Gatarić said: "I greatly appreciate Sakura scholarship. It will enable me to gain practical experience in the implementation of Sentiment Analysis, one of the most popular methods of machine learning, on concrete research work related to Japan and Japanese culture. I hope that our work will motivate other students with similar ideas to apply for the upcoming Sakura competitions."
"I am very excited and thankful to both JTI and the Embassy of Japan for the chance given and I hope that some of the Japanese spirit and way of thinking will bloom in Serbia as well", added Nataša Krpina, another scholar.
Sakura scholarship competition celebrating its 7th anniversary is intended for students or researchers without full-time employment and a good research idea that may come from the field of Japanese language, literature and culture, Social and Technical Sciences, to Economy and Kaizen. Sakura scholarship is named after the Japanese Cherry Tree, known as the symbol of happiness and prosperity.
Japan Tobacco International, following its origins, is dedicated to bringing the best from Japan to Serbia and to contributing to even stronger relations between the two countries. Apart from Sakura Scholarship JTI has brought some of Japan's most important artists, among which theatre "A La Place", the percussion band "Ondecoza", Gocoo drums, the traditional band Variki, the famous pianist Ingrid Fujiko Hemming and this year famous JapalKan.