On Tuesday 25th of April, the Woom online conference was held on the topic "How to run a company in the modern business universe". Professionals and business leaders from various industries gathered at the conference to discuss the importance of empowering employees in the corporate world, as well as in start-ups.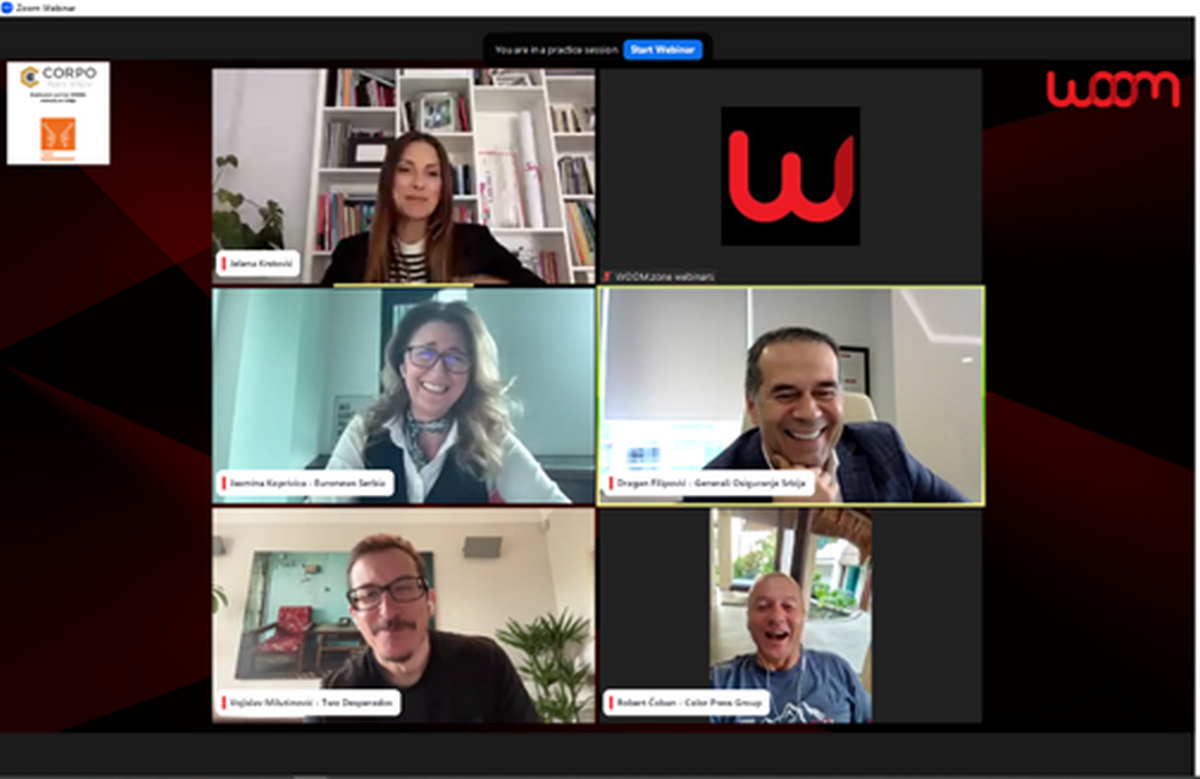 The speakers were Vojislav Milutinović, director and founder of Two Desperados, Dragan Filipović, director of Generali Osiguranje Srbije, and Robert Čoban, president of Color Press Group. The meeting was moderated by Jasmina Koprivica, director of digital affairs at Euronews.
Considering that employees are the key success factor of any company, the topic of people management is very important for every employer. The speakers answered questions from their point of view about the challenges they encountered during their careers when choosing their closest collaborators. Also, considering the current positions and the industries they are in, the speakers openly discussed the topic of motivating employees, as well as the topic of what kind of personnel profile is most interesting in industries such as gaming, media, and insurance. Although the main focus is actually on topics such as leadership, teamwork, career development, and employee motivation techniques, the most interesting conversation was held on the topic of what awaits future generations – how much are today's employees ready to take risks, to learn, to accept responsibilities, and where will the personnel who are not willing to take risks, but are ready to follow the rules and stick to conservative business, find a place? When asked how much freedom they give to their employees and what they actually consider freedom, the speakers looked first of all at the diversity of the needs of the sector, which they represent, and the importance of hierarchy, which for some exists and for others does not exist in the traditional sense, as we have known it until today.
Although it is difficult to draw one conclusion from the conference, it can be said that the speakers agreed that business culture is very important for the growth and advancement of companies in modern society. This culture includes the way people behave in the organization, as well as the way the organization treats its employees, customers, and partners. Considering that modern society is continuously changing, adapting the business cultures of companies becomes crucial for success and growth in today's business environment. Companies that have a positive and healthy business culture that encourages teamwork, innovation, respect, and transparency are usually more successful and productive than those that do not have clearly defined values and standards.
"Business culture 2.0 Entrepreneurship plays an important role in attracting and retaining talent. Today, people are not only choosing a job based on security and salary but are looking for a work environment that will provide them with opportunities for personal and professional development, as well as a culture that promotes work-life balance. Also, they want a job where they can take risks and grow globally, without any traditional, corporate constraints. This is everything and the perspective of the Two Desperados company," said Vojislav Milutinović, founder and director of the Two Desperados gaming company.