President of the Chamber of Commerce of Vojvodina (PKV) Boško Vučurević and secretary of the Committee for Foreign Economic Relations Milan Stojanov attended the opening ceremony of the international economic exhibition "Expo-Russia Serbia 2017" on Wednesday, 15 March 2017 in Belgrade hotel "Metropol". The opening ceremony was attended by the leadership of Serbia, members of the Cabinet of Ministers, representatives of business circles and diplomatic corps.

The fourth international exhibition "Expo-Russia Serbia 2017", held the Fourth Belgrade Business forum which gathers about 200 representatives of the Serbian and Russian companies, but also other countries of Southeast Europe. The aim of the event is to further intensification of economic relations between Russia and Serbia in the context of the Free Trade Agreement between the two countries, as well as enhancing economic cooperation with other countries in the region.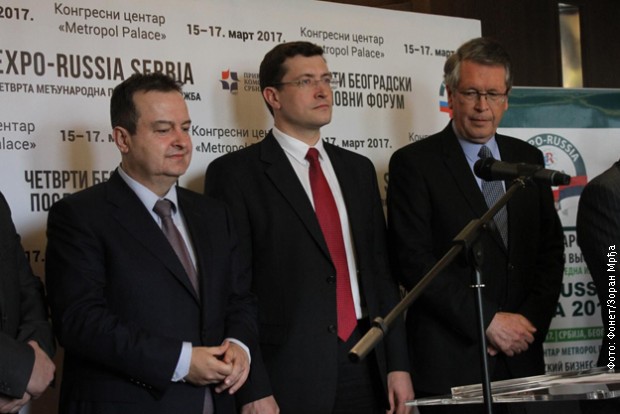 The business program of the exhibition and business forum includes a number of thematic round tables, presentations of Russian and Serbian companies, meetings with representatives of ministries, bilateral meetings of businessmen.
Exhibitions Organiser is AD "zarubezh'e-Expo", under the auspices of the Trade-Industrial Chamber of the Russian Federation (RF) and the Serbian Chamber of Commerce (PKS), with the support of the State Duma and the Federation Council, the Ministry of Foreign Affairs of Russia, Ministry of Economic Development of RF, Ministry industry and trade RF, Ministry of education and Science of the RF, the Ministry of agriculture RF, the Embassy and the trade Representative of Russia in Serbia, the Serbian Embassy in Russia, the International association of global funds (MAFM), "Rossotrudničestva" and the Russian Centre for Science and culture in Serbia "Russian dom ", as well as the leaders of other countries in the Balkan peninsula.until 17 March 2017.