Now we know why its motto is Truly Different.
Location at the very heart of the city, smart classrooms, Cambridge programme, STEAM subjects, numerous extracurricular activities and a gateway to the best universities and colleges around the world – all of this is synonymous with the International School, a unique Cambridge secondary school in Serbia. We decided to pay them a visit to see the environment in which future 'ambassadors' of our country are growing up.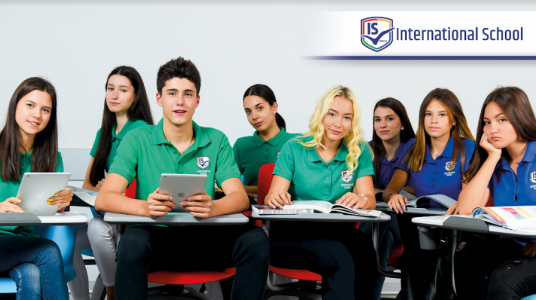 An oasis of learning and friendship in the heart of the city
If you head from Saint Sava Church along Vračar's cosmopolitan streets, the road will take you to the cosy Šumatovačka Street where you will see a prestigious secondary school in which students are preparing for the best universities around the world. After Zorana Živanović welcomed us on behalf of the staff, we went on a tour of the school. It was immediately evident that each classroom tells a story and that together they are a staple of a 21st-century school.
"This is our Study Hub, i.e. the intelligent classroom equipped with state-of-the-art educational technology", explained Zorana while presenting the creative ways in which the students use the interactive whiteboard, laptops, tablets, the 3D printer, 3D pens, the 3D scanner, and other teaching gadgets.
According to Zorana, the Learning Centre is the students' favourite nook. Here they rest, play the guitar or the piano, play table football, and build up energy for new challenges. Although we wanted to stay a little longer, we couldn't resist the mouth-watering aroma coming from the school canteen which provides students with well-balanced meals every day. This is where we continued our conversation.
A multicultural environment for the children's development
Lunch break was underway and for a moment we forgot which country we were in, as all around we could hear perfect English.
"Lessons in our school are exclusively in English", proudly said Zorana, adding: "Owing to a holistic education and two Cambridge programmes (IGCSE and A-Levels) which yield two international Cambridge diplomas (ICE and AICE), the students have no problem enrolling at the best universities around the world". The reason behind the students' accomplishments and the school's prestige is precisely this blend of top-quality teaching, Cambridge programmes, dedicated teachers and comprehensive extracurricular activities. It was clear to us that the International School is an open and cosmopolitan school that respects diversity and fosters a sense of togetherness.
Future international leaders earning an education in Serbia
Our visit to the International School confirmed that Serbia is providing children with internationally recognised skills and expertise necessary for success in the 21st century. If you would like to see what modern education looks like, go to www.international-school.edu.rs or visit the school in person.