In the last few years, Energotehnika-Južna Bačka has been recording constant growth of its business revenue. The company occupies one of the top positions in the Serbian economy, and is the energy leader in the country. We are talking to the company's director, Dragoljub Zbiljić about the business results in 2018 and plans for this year.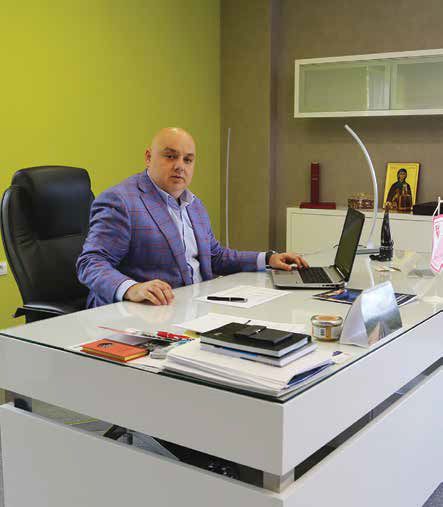 Your company's motto is "We accept challenges and projects that others dare not to". Which projects from last and this year were the most challenging?
— I would like to single out the Kovačica wind farm as the most challenging project that Energotehnika – Južna Bačka successfully implemented last year. Kovačica is the third biggest wind farm in Serbia with 38 wind turbines and the total installed capacity of 104.5MW. Our company was engaged in the construction of connection infrastructure, installation of cable lines, transformer substations and 220kV transmission lines, through which the wind farm is connected to the electric power system of Serbia. Also, our professional team has been hired on the project of construction of cogeneration power plants. Since cogeneration is one of the ways to increase energy efficiency and produce green energy, there is a growing interest in these systems among companies. One such project that Energotehnika – Južna Bačka is currently finalizing is called "Design, Delivery and Construction of a Cogeneration Plant of up to 10MW" for the public utility company, Beogradske Elektrane, which is being implemented in Voždovac. The project is realized through a programme financed by KFW Bank called "Rehabilitation of the remote heating system in Serbia – Phase 4". Also, we have successfully implemented the project of construction of the cogeneration plant Zapad for the public utility company, Novosadska Toplana, which was launched in October 2016. In the first 17 months of its operation, the plant produced 107 million kilowatt-hours of electric and the same quantity of heat, which is a sufficient quantity of green energy for the constant supply of electricity to about 18,000 households. Following this project, Energotehnika – Južna Bačka has been engaged as the main contractor on the construction of a new cogeneration plant "Jug". This new cogeneration plant will have the installed power of 4 MWe and 4 MWt, and the planned annual production of 30 million kilowatt- hours of electric and the same quantity of heat.
How much has your business growth benefited from economic growth in Serbia and Vojvodina?
— According to the estimates of the State Bureau of Statistics, the economic activity in Serbia measured by the rate of real growth of gross domestic product in the third quarter of 2018, compared to the same period the previous year, stood at 3.7 percent. The National Bank of Serbia has revised the expected growth rate to 4.0 percent in relation to the initial projection of 3.5 percent (the Ministry of Finance estimates 4.2 percent for this year). In just few years, Serbia's economy has transformed itself into a developing economy with low inflation, it has eliminated fiscal deficit, has a declining public debt and the stable banking system and the labour market that is recovering, all of which resulted in having a favourable and predictable business environment. All of the above has positively influenced the growth and development of Energotehnika-Južna Bačka, which has been recording a steady growth in operating income over the past several years, and is one of the top companies in Serbia and the energy leader in the country.
Considering that you have recently started investing in tourism, how important is this sector for your portfolio?
— I have a strong trust in Serbian tourism and Serbian tourist potential. This is also the main reason why we entered this completely new business branch for us, since, so far, we have dealt exclusively with energy and commerce. I am sure that the state has recognized this tourist potential and will pay special attention to this segment in the future. After the purchase of a hotel two and a half years ago and initial investments, today we are at the end of the investment cycle worth almost 10 million euro, which has completely changed the Fontana Hotel, and dare I say it, the concept of tourism in Vrnjačka Banja itself. Today, this is a modern hotel, with quality service and all accompanying amenities required for top recreational, sports and spa tourism. We can say with certainty that we will be interested in similar investments in the future.
In the past two years, you have received several significant awards as a business leader. How much do they contribute to bolstering the company's brand?
— Our employees and the partnership with our clients based on mutual trust and the desire that whatever we build together should be to the benefit of the entire community remain our biggest values. This is the key to the success of our business in which we have achieved outstanding results. By working hard and constantly applying new knowledge, innovations and technologies, each of us in the company is also improving themselves and their team, and are buidling a strong company, good people and good society as a whole. The awards that I have received personally and on behalf of Energotehnika-Južna Bačka in the last few years, are the result of hard, committed, team work. We see the awards as a validation of the quality of our products and services, which certainly affects the company's value and brand recognition, and represents important intangible assets for the company, while, at the same time, contribute to its overall performance. Honestly, I am very proud of personal awards and company awards, but I want to underline that none of that would be possible without my colleagues, whom I would like to thank for their huge support and understanding.
In implementing innovation in the company, how much do you rely on domestic academic resources?
— In late 2017, we signed a Memorandum of Understanding with the Faculty of Technical Sciences. Thanks to this Memorandum, the Faculty and our company started to cooperate on implementation of scholarship programmes for students who achieved excellent academic results, as well as helping them financially to achieve top results at international student competitions. This is only the first step in strengthening the links between the academic sector and our company. The cooperation between our company and the education sector is very important and concrete results of this cooperation are already visible, i.e. they are reflected in current joint projects and joint education of future workforce. This kind of cooperation can significantly reduce the brain drain in the country, which is a precondition for continuing with the economic and social development of Serbia.
How does your company contribute to establishing links between economy, education, and public policies?
— One of the first lessons you learn while studying economics is that a company, by definition, is a business entity that is founded to gain or maximize profit. I think this is correct in theory, but in practice, however, I would say that we have to deviate slightly from this postulate in order to survive and be successful in the long run. Through our previous work we have demonstrated that we strive for a healthy business and social environment and that our profit doesn't always come first. We are extremely committed to helping those who need help, through various forms of cooperation, sponsorships and donations, all in line with our capabilities. Previously, I mentioned the intensive cooperation on various projects with the Faculty of Technical Sciences and the Mihajlo Pupin High School. Lastly, I can confidently say that we are truly a socially responsible company and we intend to be so in the future too.