As a responsible company, Apatin Brewery is focused on issues where they can have the greatest impact across two key pillars: People and Planet. What does it really mean? They explain – if we care about people, water, climate, and packaging, we will protect our planet and leave it healthier for the next generations.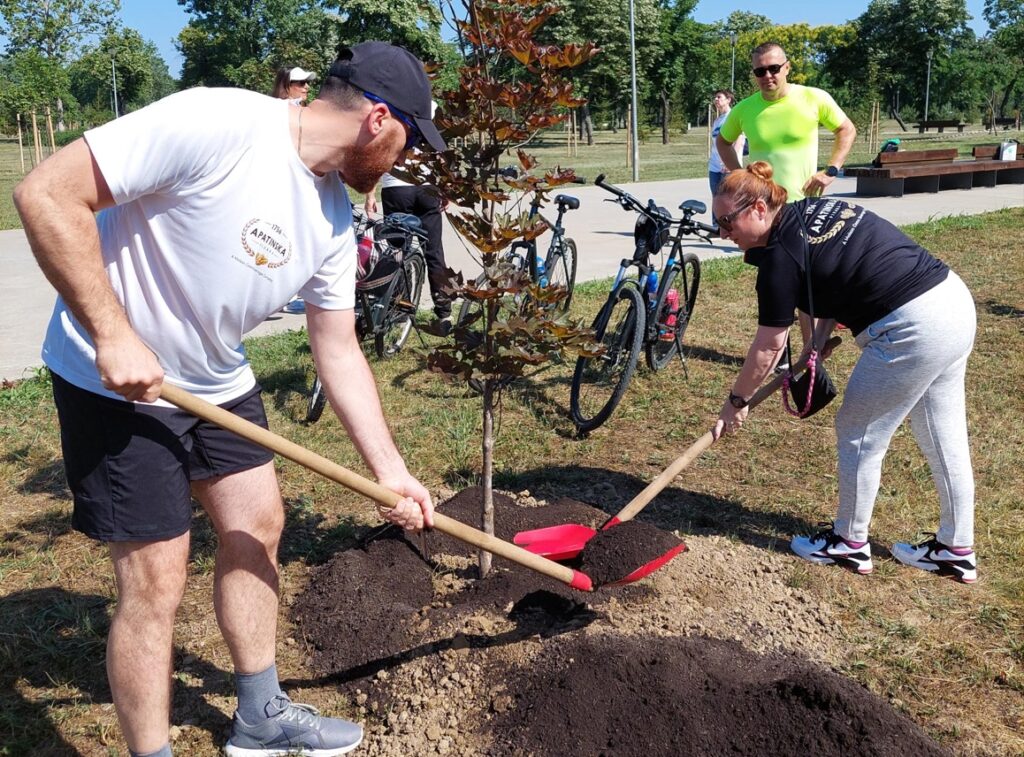 APATIN BREWERY GREEN AGENDA
Our people – People are the heart of Apatin Brewery. We strive to create a culture where employees are motivated to bring their diverse perspectives and experiences to the table. We are committed to championing diversity, equity, and inclusion in everything we do, and we nurture a workforce that reflects our local communities.
Our water imprint – We use water in every phase of our brewing process – from our agriculture supply chain to our bottling lines. As a responsible company, we participate in numerous initiatives to improve water stewardship in our industry.
Our climate imprint – Climate change is one of the most pressing global challenges of our lifetime and we believe our industry has a crucial role to play in mitigating the impacts of climate change. Decarbonizing operations and building a more resilient and responsive business are among our top priorities.
Our packaging imprint – To keep more material out of landfills, we are developing increasingly innovative solutions based on the circular economy with smaller environmental footprints. This means designing with circularity in mind and joining forces with others to push for more effective recycling solutions.
ALIGNED WITH UN SUSTAINABLE DEVELOPMENT GOALS
 If we look from the wider perspective, Molson Coors Beverage Company, which Apatin Brewery is a part, is committed to maintaining an ongoing dialogue with its employees, consumers, investors, suppliers, local communities, and government institutions, in order to gain a clearer insight into the issues that matter most to them and expectations they have from the Brewery as a responsible company. "Open and continuous communication with stakeholders is crucial for us in identifying strategic areas of engagement, as well as upcoming trends, and the risks and opportunities they bring.
We have aligned our sustainability targets with the nine UN Sustainable Development Goals most relevant to our business like: Zero hunger, Good Health and Well-Being, Gender Equality, Clean Water and Sanitation, Affordable and Clean Energy, Decent Work and Economic Growth, Responsible Consumption and Production, Climate Action, Partnership for the Goals", Slobodanka Cucić, Legal and Corporate Affairs Manager of Apatin Brewery said.
Apatin Brewery celebrated World Environmental Day by planting Canadian maple trees
Magnificent Canadian maple trees were planted by the employees of the Apatin Brewery on World Environment Day. The promenade near Ušće, in the area near the Museum of Contemporary Art, has become richer for new trees whose branches will attract everyone by their recognizable copper-red color.
Employees of the Apatin Brewery came to the event organized by the Serbian Chamber of Commerce with the support of the "Plant Your Own Shade" organization and other responsible companies and organizations by bicycle, thus completing the message they want to convey to make an impact on environmental protection issue.
"Apatin Brewery cares about the protection of the environment and continuously and systematically implements activities that support the green transition and a sustainable future. Today we came by bicycle to plant trees, and we are proud to continue the tradition of cooperation with the organization "Plant Your Own Shade" and the Serbian Chamber of Commerce. What we can announce is several projects from our side by the end of the year, which also have a strong impact on increasing the use of green energy and respect for the principles of the circular economy ", they said in Apatin Brewery.
Photo: Apatin Brewery