Be carefree and happy during the most beautiful and the most turbulent days before delivery and after your baby arrives home with the support of experienced pediatricians, midwives, nurses, and pediatric nursing staff from the Bebologija medical office and 'Midwife and Baby' services because your child's good health is our only goal.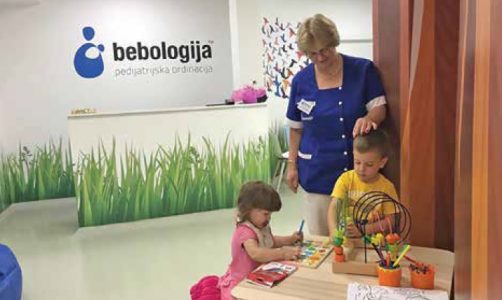 WHAT IS THE MIDWIFE AND BABY SERVICE?
The Midwife and Baby service provides support with preparing for delivery and stays at the maternity hospital, as well as taking care of the baby once it gets home. You might think that you know everything about baby care, but there are still things that could occur and cause you to feel unsettled. This is why the Midwife and Baby service was designed. In the weeks before and after childbirth each parent will feel safer with professional support. Our medical staff will make sure that this demanding and turbulent period in your life is also one of the most beautiful.
---

You can customize the service of the midwife and the visiting nurse to suit your own needs and choose the package and time that best suits you.

---
THE MIDWIFE WILL INFORM YOU OF THE FOLLOWING:
How to prepare for maternity hospital
The contents of the bag you'll take to the hospital
Rules during your stay at the hospital
All about breastfeeding – preparing and practicing on a dummy
Symptoms of the beginning of delivery and childbirth itself
All about mother's care after childbirth
THE VISITING NURSE WILL HELP YOU TO:
Properly breastfeed and nourish your baby
Take care of the baby – bathing, dressing, skincare
Identify and resolve the baby's stomach problems
Recognize your baby's requirements
Calm your baby and put it to sleep
THE PEDIATRICIAN FROM BEBOLOGIJA WILL:
Visit you on the 15th day after childbirth
Find out how your baby is progressing
Answer your questions
Assess the general state of the baby at 30 days after birth
Assess the growth and development of your baby
 ABOUT BEBOLOGIJA The team of specialists from the pediatric office Bebologija is made of experienced pediatricians and top experts of various specialties. They are here to share knowledge and experience in all areas of pediatrics, as well as to get our "big" patients diagnosed and adequately treated, according to the latest protocols.
The founder of Bebologija's pediatric office is Miloš Relić, a pediatric specialist with 20 years of experience, recognized by many families, and especially the children as a physician who takes away fear and makes them smile.
The team of pediatric specialists from Bebologija comprises of more than 10 experienced physicians, all top experts of various specialties. Bebologija is located in Dedinje, just across Hyde Park.
Three modernly equipped offices span over 150 square meters. Bebologija's offices meet all the highest standards – there are two separate entrances, a separate baby toilette, a breastfeeding and dressing area, as well as an ultrasound machine for hips.
There is also a possibility of doing diagnostic analyses based on blood sample analysis in five minutes or a few hours such as a complete blood count (CBC), C-reactive protein (CRP), quick swabs, etc.
BEBOLOGIJA – Your partners in parenting