Early bird until 9th September!
Save the date and book your exclusive seat for the 1st edition of theInternational Forum for innovations – Innovation Explorer Forum Serbia.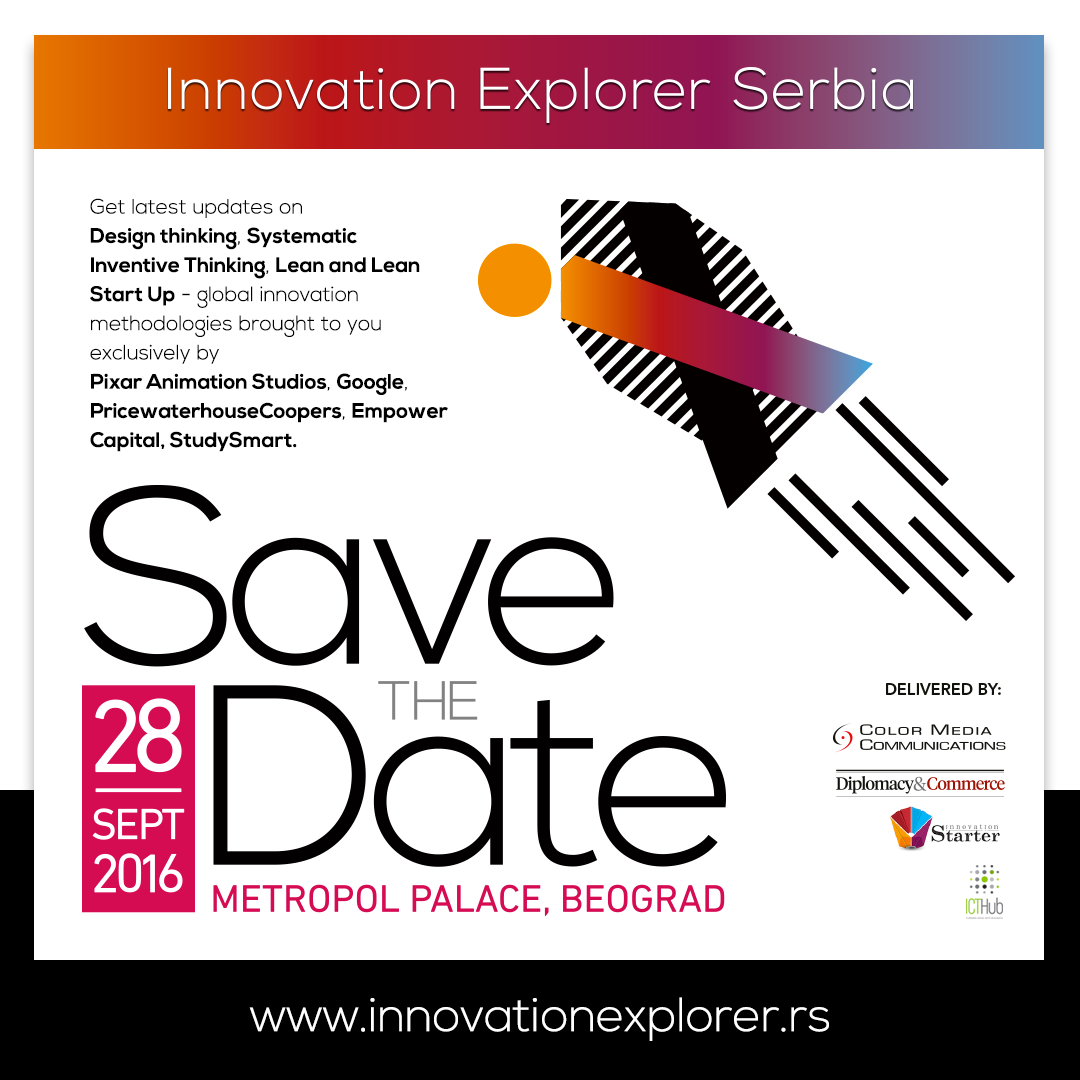 Innovation Explorer Forum and its exclusive speakers, the leading global innovators like Pixar Animation Studios, Google, PricewaterhouseCoopers, Systematic Inventive Thinking, Empower Capital, StudySmart, will present the main methods for innovation as Design Thinking, Systematic Inventive Thinking, Lean and Lean Startup.
The Innovation Explorer Forum will present trends in the key categories of innovation:
– Creativity
– Disruptive Innovation
– Open Innovation
– Development of new products and services
– Social innovation
Innovation Starter and Color media Communications have looked for the successful balance between the experience of Business Consultants in innovations and Entrepreneurs. The names of the Companies above should not mislead you – the Speakers will speak not only for technological innovations but on the contrary – innovations in processes, services and business models in all industries – the 2016's focus. Check out the list of the Forum Presenters who are proven names in the Industry and who are visiting Serbia for the first time!
​Anthony Hristov, Art director at PIXAR, USA
​Karolina Lewandowska, Change and Transformation Manager at Google UK
Constantine (Dino) Kiritsis, International Curriculum Development Expert, PwC CEE, Greece
​Anna-Marie Vilmovska, Secretary for innovation policy, President of Bulgaria, Bulgaria
​Elvin Gury, CEO of Empower Capital, Bulgaria
Registered users can also participate in two practical workshops: Design Thinking and Systematic Inventive Thinking organized by Innovation Starter.
To register for Innovation Explorer Forum Serbia- September 28th 2016 visit http://www.innovationexplorer.rs/
​Book your place for Innovation Explorer Serbia in time, because the number of seats is limited!