"Italian Lighting Technique: Smart Lighting for Smart Cities – Italian Excellence in Made-to-Measure Lighting Design" (23.03.2022 – 17:00h)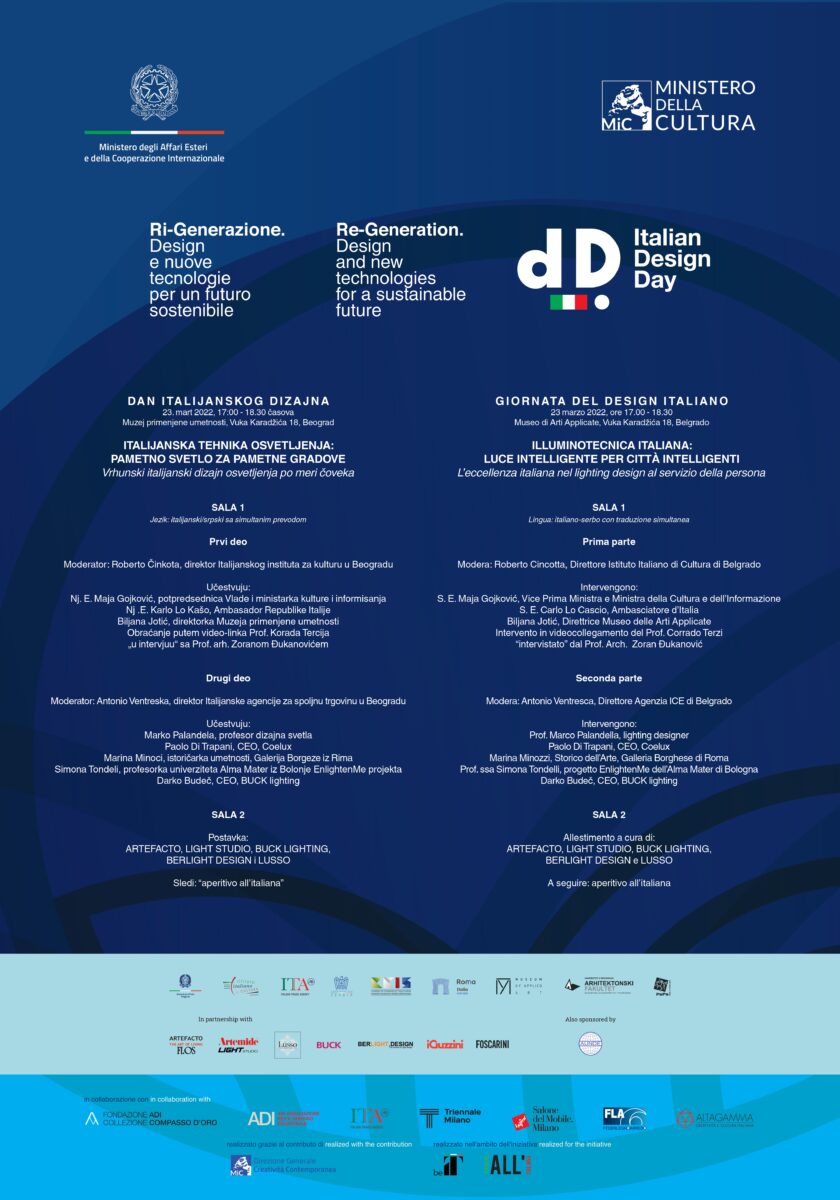 This year, the Italian Design Day (IDD) is being held for the sixth time, and on that occasion, the Italian Embassy in Belgrade, the ICE Agency in Belgrade and the Italian Cultural Institute Belgrade, together with the Italian-Serbian Chamber of Commerce, Confindustria in Serbia, the Museum of Applied Arts in Belgrade and the Faculty of Architecture of the University of Belgrade, are presenting a conference titled 'Italian Lighting Technology: Smart Lighting for Smart Cities – Italian Excellence in Made-to-Measure Lighting', which will be held on March 23, 2022, at 5:00 PM, at the Museum of Applied Arts in Belgrade.
Italian Design Day is an initiative promoted by the Italian Ministry of Foreign Affairs and International Cooperation in cooperation with the Ministry of Culture, the Association for Industrial Design (ADI), the Compasso d'Oro Foundation, the ICE Agency, Confindustria, the Milan Triennial, the Milan Furniture Fair, the Federlegno Arredo Federation and the Altagamma Foundation, to promote the excellence of Italian design worldwide.
The 2022 conference topic is "Re-generation – Design and New Technologies for a Sustainable Future". 
Through the story that is based on the experience of Professor Corrado Terzi, an architect specializing in lighting design, as well as other leading experts in this field, the conference participants will discuss the topics related to functional and architectural use of light. Also, several projects will be presented at the conference.
Thanks to the partnership with Artefacto, Buck Lighting, Berlight Design, the Artemide Light Studio and Lusso, this year's conference in Serbia will also feature a wide selection of lighting fixtures from leading Italian companies that are also renowned internationally.
Why lighting technology? 
Light, no matter how "invisible", is an integral "material" of architecture. It defines, elevates, creates, refines, shapes, affects the perception of space and influences the well-being of man. Lighting technology is therefore increasingly being established as a new range of design that combines innovation, craftsmanship, creativity, environmental sustainability, energy efficiency, and psychophysical well-being and health in the urban environment.
Lighting design is tailored to the cities of the future, where the quality of life and environmental protection go hand in hand with product appeal. Also, these topics are at the heart of Rome's bid to host EXPO 2030.
There is no conference registration fee, but visitors are required to register prior to the conference, subject to available seats.