Business meeting of Italian and Serbian businessmen – Roadshow Serbia was held on 7 May in the Regional Chamber of Commerce in Niš. The aim of the organization of this meeting was to present the work and activities of the Chamber of Italian-Serbian businessmen (CCIS), its members, as well as networking with the Italian and local business community.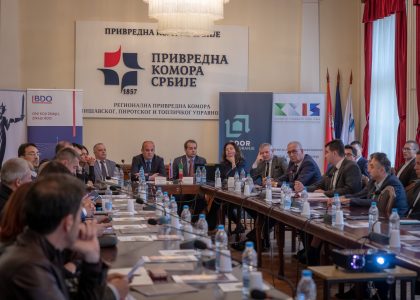 In addition to the representatives of Italian Chamber and the member of the Board of Directors Anin De Venecia – General Manager Aunde SRB doo, was attended by the representative of the Embassy of Italy in Belgrade, Economic Attaché Mr. Fabricio Kozimi. Great support was provided by CCISP members, Stanković & Partners lawyers from Niš, BDO Business Advisory from Belgrade, logistics logistics company 2b Logistics and DDOR osiguranje part of Unipol Group that brought the audience closer to their activities and dealt with interesting topics in the field of business, legislation and tax policy .
The joint conclusion of the meeting is that the economic cooperation in the future will be further enhanced by connecting businessmen from Italy and Serbia in the form of similar initiatives and other activities of CCISP, presented to the present businessmen in Nis.
After the successful completion of the business meeting, the representatives of  CCISP, RPK Niš and members of the Chamber visited the factory complex of our long-time member, the Italian investor Olimpias SRB in Niš.